Sampling: A Different Kind of Election "Map"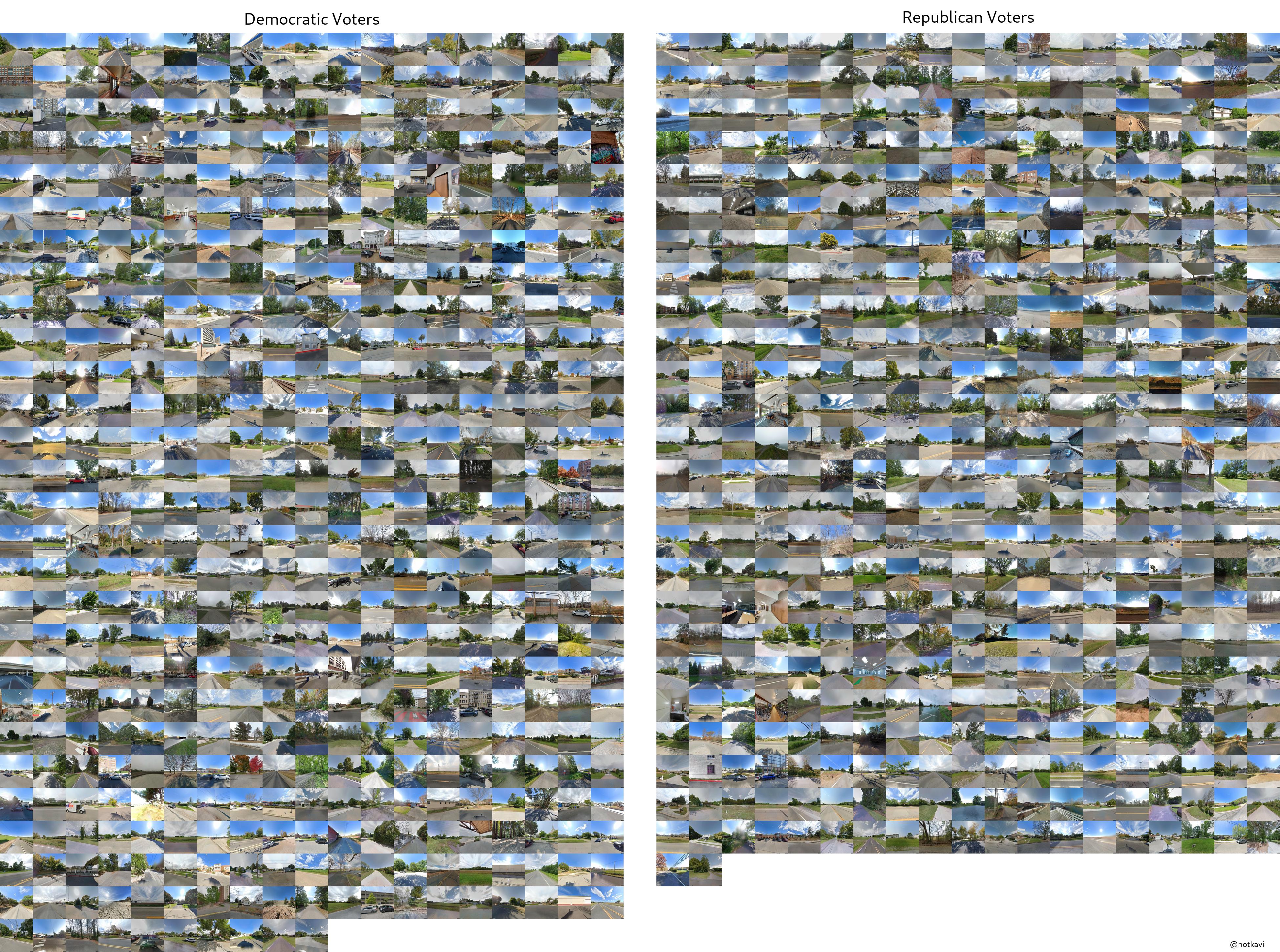 Election maps tend to obscure a couple things that I think are interesting about American elections.
First, about 33% of Trump supporters, and about 30% of Biden supporters lived in precincts that voted for the other party, so show up in the other party's color on the map!
Second, the map tends to overstate the number of people who live in purely rural areas.
The combination of these two effects leads to in my view a fairly big distortion of our pictures of blue and red America, but especially red America, which people begin to picture as entirely middle-of-nowhere rural areas.
Instead, here's a sampling of 1000 voters and what their neighborhoods look like. This has the benefit of giving you a picture of what Biden's America and Trump's America look like: not two disjoint nations, but two overlapping and intertwined distributions. You can click each dot to jump down to the voter represented by the dot.
Biden's voters are placed on the left, while Trump's are on the right. I have provided an image of what their street might look like on Google Streetview, as well as the lean of their precinct. If you click on the image, it will take you to a Google maps link for their precinct's center, so you can see where it is.
I think, beyond everything else, one of the biggest takeaways I have is just how empty suburban areas in the South and Midwest are. I grew up in a fairly dense suburb of LA, where lot sizes are about a sixth of an acre and have lived in small cities ever since, so I pictured, e.g., "Georgia suburbs" to be similar. Instead, they look a lot like what I picture when someone says "rural America".
Technical details: to sample the voters I first figured out how many Trump and how many Biden voters should be picked, then for each candidate I sampled precincts randomly, weighted by how many of that candidate's voters lived in the precinct. I excluded Kentucky from this sampling as I do not have precinct data for Kentucky. The precinct data is from a combination of the NYT and VEST and I try to find a street with a "street-like" address (so not a freeway or major road) inside the precinct, whenever possible. The images should be taken as a broadstrokes vibe of the precinct rather than something super specific.
Voter 1's Neighborhood

27°37'0"N 80°28'21"W

approx. 7017, 8th Street, Indian River County, Florida, 32968, United States

Precinct Margin: R+24%

Voter 2's Neighborhood

34°6'50"N 84°34'53"W

approx. JD's Bar-B-Que, 6426, Bells Ferry Road, Southfork, Woodstock, Cherokee County, Georgia, 30189, United States

Precinct Margin: R+36%

Voter 3's Neighborhood

37°41'40"N 122°7'3"W

approx. Edendale Middle School, 16160, Ashland Avenue, San Lorenzo, Alameda County, California, 94580, United States

Precinct Margin: D+60%

Voter 4's Neighborhood

35°51'29"N 80°4'38"W

approx. 113, Maplewood Avenue, Fair Grove, Thomasville, Davidson County, North Carolina, 27360, United States

Precinct Margin: R+65%

Voter 5's Neighborhood

40°37'12"N 74°47'59"W

approx. Cushetunk Mountain Nature Preserve, Yellow Trail, Readington Township, Hunterdon County, New Jersey, 08833, United States

Precinct Margin: R+12%

Voter 6's Neighborhood

35°27'50"N 81°1'18"W

approx. New Hope Baptist Church, North Little Egypt Road, Lincoln County, North Carolina, 28037, United States

Precinct Margin: R+42%

Voter 7's Neighborhood

38°44'36"N 121°20'29"W

approx. Vineyard Road, Placer County, California, 95678, United States

Precinct Margin: R+6%

Voter 8's Neighborhood

33°29'12"N 81°33'47"W

approx. 1967, Joyner Pond Road, Aiken County, South Carolina, 29803, United States

Precinct Margin: R+38%

Voter 9's Neighborhood

42°58'0"N 78°50'59"W

approx. 295, Hartford Avenue, Ellwood Park, Buffalo, Erie County, New York, 14223, United States

Precinct Margin: D+32%

Voter 10's Neighborhood

45°12'23"N 93°19'10"W

approx. 2090, 130th Avenue Northwest, Oaks, Coon Rapids, Anoka County, Minnesota, 55448, United States

Precinct Margin: D+4%

Voter 11's Neighborhood

31°51'53"N 81°42'24"W

approx. 1472, Hodges Road, Liberty County, Georgia, 31313, United States

Precinct Margin: R+1%

Voter 12's Neighborhood

48°8'17"N 122°17'10"W

approx. 3944, Rose Road, Lake Goodwin, Snohomish County, Washington, 98292, United States

Precinct Margin: R+5%

Voter 13's Neighborhood

41°41'7"N 71°27'29"W

approx. 124, Cowesett Road, Cowesett, Warwick, Kent County, Rhode Island, 02886, United States

Precinct Margin: D+13%

Voter 14's Neighborhood

44°18'43"N 105°28'29"W

approx. 420, Meadow Rose Avenue, Gillette, Campbell County, Wyoming, 82716, United States

Precinct Margin: R+83%

Voter 15's Neighborhood

34°5'44"N 118°12'28"W

approx. PetrolX, N Figueroa Street, Highland Park, Los Angeles, Los Angeles County, California, 90065, United States

Precinct Margin: D+72%

Voter 16's Neighborhood

29°31'41"N 98°39'9"W

approx. 8422, Brixton Street, Braun Station, San Antonio, Bexar County, Texas, 78254, United States

Precinct Margin: D+0%

Voter 17's Neighborhood

35°56'50"N 78°55'36"W

approx. 112, Grey Elm Trail, Durham, Durham County, North Carolina, 27713, United States

Precinct Margin: D+70%

Voter 18's Neighborhood

29°35'8"N 82°0'24"W

approx. 110, Floradandy Road, Putnam County, Florida, 32640, United States

Precinct Margin: R+33%

Voter 19's Neighborhood

37°7'57"N 76°23'27"W

approx. 562, Wythe Creek Road, Rivergate, Poquoson, Virginia, 23662, United States

Precinct Margin: R+43%

Voter 20's Neighborhood

36°18'23"N 119°23'1"W

approx. Aviation Way, Visalia, Tulare County, California, United States

Precinct Margin: R+16%

Voter 21's Neighborhood

29°37'47"N 95°34'49"W

approx. Cash Road, Stafford, Fort Bend County, Texas, 77477, United States

Precinct Margin: D+19%

Voter 22's Neighborhood

40°55'3"N 73°51'50"W

approx. Yonkers Raceway, Trenchard Street, Dunwoodie Heights, City of Yonkers, Westchester County, New York, 10704, United States

Precinct Margin: R+19%

Voter 23's Neighborhood

40°27'18"N 80°3'58"W

approx. 3411, Chartiers Avenue, Sheraden, Pittsburgh, Allegheny County, Pennsylvania, 15204, United States

Precinct Margin: D+37%

Voter 24's Neighborhood

40°37'0"N 73°58'52"W

approx. 2113, 62nd Street, Brooklyn, Kings County, City of New York, New York, 11204, United States

Precinct Margin: D+8%

Voter 25's Neighborhood

40°4'24"N 80°40'21"W

approx. 31, Jenna Way, Royal Oak Estates, Wheeling, Ohio County, West Virginia, 26003, United States

Precinct Margin: R+21%

Voter 26's Neighborhood

35°57'36"N 77°53'59"W

approx. 1199, South Old Carriage Road, Westry, Rocky Mount, Nash County, North Carolina, 27804, United States

Precinct Margin: R+20%

Voter 27's Neighborhood

38°59'26"N 94°16'14"W

approx. 2898, Southwest 3rd Street Terrace, Blue Springs, Jackson County, Missouri, 64014, United States

Precinct Margin: R+17%

Voter 28's Neighborhood

45°49'12"N 90°26'36"W

approx. Voight Road, Town of Fifield, Price County, Wisconsin, 54524, United States

Precinct Margin: R+28%

Voter 29's Neighborhood

45°36'15"N 94°11'32"W

approx. Maple Avenue, Sauk Rapids, Benton County, Minnesota, 5377, United States

Precinct Margin: R+13%

Voter 30's Neighborhood

41°17'16"N 85°47'38"W

approx. 99, EMS C28E Lane, Island Park, Kosciusko County, Indiana, 46582, United States

Precinct Margin: R+54%

Voter 31's Neighborhood

47°31'14"N 122°36'11"W

approx. 3577, Lund Avenue Southeast, Parkwood, Conifer Park, Kitsap County, Washington, 98366, United States

Precinct Margin: D+7%

Voter 32's Neighborhood

35°52'3"N 86°28'27"W

approx. 4386, Pretoria Run, Butler Estates, Murfreesboro, Rutherford County, Tennessee, 37128, United States

Precinct Margin: R+14%

Voter 33's Neighborhood

40°18'7"N 75°21'37"W

approx. 515, Meetinghouse Road, Franconia, Franconia Township, Montgomery County, Pennsylvania, 18964, United States

Precinct Margin: R+19%

Voter 34's Neighborhood

40°17'23"N 83°57'38"W

approx. 247, Jefferson Street, Quincy, Miami Township, Logan County, Ohio, 43343, United States

Precinct Margin: R+71%

Voter 35's Neighborhood

40°48'51"N 74°29'47"W

approx. 116, Lake Road, Butterworth Farms, Morris Plains, Morris Township, Morris County, New Jersey, 07960, United States

Precinct Margin: D+25%

Voter 36's Neighborhood

42°49'14"N 71°14'7"W

approx. 96, High Street, Salem, Rockingham County, New Hampshire, 03079, United States

Precinct Margin: R+13%

Voter 37's Neighborhood

38°31'27"N 122°44'41"W

approx. Pond Trail, Santa Rosa, Sonoma County, California, 95439, United States

Precinct Margin: D+42%

Voter 38's Neighborhood

33°52'14"N 118°22'25"W

approx. 2112, Carnegie Lane, El Nido, Redondo Beach, Los Angeles County, California, 90278, United States

Precinct Margin: D+47%

Voter 39's Neighborhood

39°44'51"N 104°58'16"W

approx. 1375, East 20th Avenue, City Park West, Denver, Colorado, 80205, United States

Precinct Margin: D+75%

Voter 40's Neighborhood

33°52'56"N 117°52'17"W

approx. 451, West Madison Avenue, Old Town Placentia, Placentia, Orange County, California, 92870, United States

Precinct Margin: R+1%

Voter 41's Neighborhood

32°23'35"N 111°3'40"W

approx. 4513, West Mesquital del Oro, Pima County, Arizona, 85742, United States

Precinct Margin: R+9%

Voter 42's Neighborhood

30°26'49"N 97°46'23"W

approx. 8405, Foxhound Trail, Hunter's Chase, Jollyville, Austin, Williamson County, Texas, 78729, United States

Precinct Margin: D+44%

Voter 43's Neighborhood

28°1'37"N 82°35'9"W

approx. 8911, Saddletree Way, Hillsborough County, Florida, 33635, United States

Precinct Margin: D+22%

Voter 44's Neighborhood

43°10'15"N 79°2'29"W

approx. 505, Cayuga Street, Lewiston Heights, Village of Lewiston, Town of Lewiston, Niagara County, New York, 14092, United States

Precinct Margin: D+4%

Voter 45's Neighborhood

36°34'57"N 93°6'52"W

approx. 1705, Savage Road, Mincy, Taney County, Missouri, 65679, United States

Precinct Margin: R+62%

Voter 46's Neighborhood

34°3'4"N 118°6'46"W

approx. 1057, South Orange Avenue, Monterey Park, Los Angeles County, California, 91755, United States

Precinct Margin: D+37%

Voter 47's Neighborhood

36°31'36"N 79°40'53"W

approx. 11247, East Meadow Road, Green Acres, Draper Village, Rockingham County, North Carolina, 27288, United States

Precinct Margin: R+26%

Voter 48's Neighborhood

40°43'53"N 86°13'54"W

approx. 7482, East 250 S, Cass County, Indiana, 46994, United States

Precinct Margin: R+59%

Voter 49's Neighborhood

33°58'28"N 83°57'18"W

approx. 411, Grenier Terrace Northeast, Gwinnett County, Georgia, 30045, United States

Precinct Margin: D+53%

Voter 50's Neighborhood

38°55'57"N 95°53'29"W

approx. 7421, Southwest Docking Road, Shawnee County, Kansas, 66402, United States

Precinct Margin: R+37%

Voter 51's Neighborhood

34°2'23"N 118°13'50"W

approx. Santa Fe Avenue, Arts District, Downtown, Los Angeles, Los Angeles County, California, 90021, United States

Precinct Margin: D+75%

Voter 52's Neighborhood

30°16'32"N 87°40'5"W

approx. 900, East 22nd Avenue, Gulf Shores, Baldwin County, Alabama, 36542, United States

Precinct Margin: R+54%

Voter 53's Neighborhood

43°4'39"N 87°53'58"W

approx. Roverwest Dog Exercise Area, North Bremen Street, Riverwest, Milwaukee, Milwaukee County, Wisconsin, 53212, United States

Precinct Margin: D+77%

Voter 54's Neighborhood

43°43'5"N 84°20'22"W

approx. 3675, North Hope Road, Lincoln Township, Midland County, Michigan, 48642, United States

Precinct Margin: R+29%

Voter 55's Neighborhood

40°35'57"N 75°23'57"W

approx. 603, Sayre Street, Fountain Hill, Lehigh County, Pennsylvania, 18015, United States

Precinct Margin: D+30%

Voter 56's Neighborhood

33°46'11"N 92°7'21"W

approx. Huddleston Road, Cleveland County, Arkansas, 71660, United States

Precinct Margin: R+56%

Voter 57's Neighborhood

41°9'25"N 96°2'24"W

approx. Rolling Hills Church, North Monroe Street, Papillion, Sarpy County, Nebraska, 68046, United States

Precinct Margin: R+12%

Voter 58's Neighborhood

41°41'33"N 83°36'7"W

approx. Telephone Exchange Central Office, 2414, West Sylvania Avenue, Deveaux, Fitch, Toledo, Lucas County, Ohio, 43560, United States

Precinct Margin: D+15%

Voter 59's Neighborhood

37°13'41"N 121°59'12"W

approx. 18, Ellenwood Avenue, Los Gatos, Santa Clara County, California, 95030, United States

Precinct Margin: D+48%

Voter 60's Neighborhood

33°19'45"N 111°48'1"W

approx. 12911, South 131st Street, Gilbert, Maricopa County, Arizona, 85233, United States

Precinct Margin: R+3%

Voter 61's Neighborhood

45°40'43"N 121°32'32"W

approx. 1600, Tucker Road, Hood River County, Oregon, 97031, United States

Precinct Margin: D+19%

Voter 62's Neighborhood

30°23'10"N 91°56'6"W

approx. 1099, East G Land Road, St. Martin Parish, Louisiana, 70512, United States

Precinct Margin: R+66%

Voter 63's Neighborhood

30°23'24"N 89°5'13"W

approx. 3225, 20th Avenue, Gulfport, Harrison County, Mississippi, 39501, United States

Precinct Margin: D+41%

Voter 64's Neighborhood

36°4'5"N 82°59'18"W

approx. 1319, Culbertson Road, Greene County, Tennessee, 37743, United States

Precinct Margin: R+70%

Voter 65's Neighborhood

41°49'48"N 71°23'27"W

approx. 15, Taber Avenue, Wayland, Providence, Providence County, Rhode Island, 02906, United States

Precinct Margin: D+80%

Voter 66's Neighborhood

33°8'58"N 96°55'38"W

approx. 7628, Snug Harbor Circle, Denton County, Texas, 75036, United States

Precinct Margin: D+9%

Voter 67's Neighborhood

39°45'28"N 84°10'11"W

approx. 41, Drummer Avenue, Saint Annes Hill Historic District, Dayton, Montgomery County, Ohio, 45403, United States

Precinct Margin: D+42%

Voter 68's Neighborhood

38°2'54"N 87°22'31"W

approx. 582, West Taylor Avenue, Chandler, Warrick County, Indiana, 47610, United States

Precinct Margin: R+13%

Voter 69's Neighborhood

34°33'27"N 112°20'22"W

approx. 7210, East Sienna Springs Lane, Prescott Valley, Yavapai County, Arizona, 86314, United States

Precinct Margin: R+39%

Voter 70's Neighborhood

33°40'10"N 117°17'40"W

approx. 31643, Chaparral Way, Lake Elsinore, Riverside County, California, 92532, United States

Precinct Margin: D+1%

Voter 71's Neighborhood

45°4'15"N 93°22'46"W

approx. 6377, Sumter Avenue North, Brooklyn Park, Hennepin County, Minnesota, 55428, United States

Precinct Margin: D+42%

Voter 72's Neighborhood

26°25'54"N 81°44'18"W

approx. 21008, Torre Del Lago Street, Bella Terra, Lee County, Florida, 33928, United States

Precinct Margin: R+31%

Voter 73's Neighborhood

35°54'36"N 78°55'35"W

approx. 604, Forge Road, Crooked Creek, Durham, Durham County, North Carolina, 27713, United States

Precinct Margin: D+74%

Voter 74's Neighborhood

41°34'27"N 72°23'44"W

approx. 232, Cato Corner Road, North Westchester, Colchester, New London County, Connecticut, 06415, United States

Precinct Margin: D+8%

Voter 75's Neighborhood

35°46'50"N 78°37'33"W

approx. E Edenton St at Idlewild Ave, East Edenton Street, Idlewild, Seaboard Station, Raleigh, Wake County, North Carolina, 27601, United States

Precinct Margin: D+88%

Voter 76's Neighborhood

36°48'43"N 76°23'41"W

approx. 308, Snead Fairway, Manor View, Portsmouth City, Virginia, 23701, United States

Precinct Margin: R+22%

Voter 77's Neighborhood

42°36'15"N 83°6'35"W

approx. 5768, John R Road, Troy, Oakland County, Michigan, 48085, United States

Precinct Margin: D+7%

Voter 78's Neighborhood

45°17'42"N 92°41'53"W

approx. 263rd Street, Town of Farmington, Polk County, Wisconsin, 54020, United States

Precinct Margin: R+35%

Voter 79's Neighborhood

38°54'1"N 77°0'55"W

approx. 303, H Street Northwest, Mount Vernon Square, Washington, District of Columbia, 20548, United States

Precinct Margin: D+88%

Voter 80's Neighborhood

33°36'59"N 117°51'16"W

approx. 2101, Yacht Wanderer, Newport Beach, Orange County, California, 92660, United States

Precinct Margin: R+8%

Voter 81's Neighborhood

42°18'37"N 88°51'30"W

approx. 10810, Caledonia Road, Belvidere Township, Boone County, Illinois, 61008, United States

Precinct Margin: R+19%

Voter 82's Neighborhood

31°53'13"N 82°34'4"W

approx. 299, Joe Hester Road, Hazlehurst, Jeff Davis County, Georgia, 31539, United States

Precinct Margin: R+73%

Voter 83's Neighborhood

41°6'11"N 85°6'22"W

approx. 2911, Rolston Street, Fort Wayne, Allen County, Indiana, 46805, United States

Precinct Margin: D+5%

Voter 84's Neighborhood

37°45'51"N 120°50'19"W

approx. 487, Pedersen Road, Oakdale, Stanislaus County, California, 95361, United States

Precinct Margin: R+31%

Voter 85's Neighborhood

32°48'29"N 117°13'35"W

approx. 4809, Beryl Way, Pacific Beach, San Diego, San Diego County, California, 92109, United States

Precinct Margin: D+41%

Voter 86's Neighborhood

44°2'38"N 121°12'12"W

approx. 61762, Teal Road, Deschutes County, Oregon, 97702, United States

Precinct Margin: R+20%

Voter 87's Neighborhood

41°25'41"N 87°40'44"W

approx. 650, Clover Lane, Park Forest South, University Park, Will County, Illinois, 60484, United States

Precinct Margin: D+83%

Voter 88's Neighborhood

27°25'51"N 82°34'21"W

approx. 7, U Avenue, Bayshore Windmill Village, Manatee County, Florida, 34207, United States

Precinct Margin: R+6%

Voter 89's Neighborhood

37°40'47"N 121°2'41"W

approx. 2728, Sparks Way, Modesto, Stanislaus County, California, 95350, United States

Precinct Margin: D+24%

Voter 90's Neighborhood

33°36'48"N 86°40'41"W

approx. 1096, Springville Road, Spring Lake Estates, Birmingham, Jefferson County, Alabama, 35215, United States

Precinct Margin: D+65%

Voter 91's Neighborhood

32°56'20"N 96°38'43"W

approx. 1375, Wagon Wheel Road, Garland, Dallas County, Texas, 75040, United States

Precinct Margin: R+2%

Voter 92's Neighborhood

38°55'47"N 104°44'58"W

approx. 4239, Ginger Cove Place, Newport Heights, Colorado Springs, El Paso County, Colorado, 80923, United States

Precinct Margin: R+17%

Voter 93's Neighborhood

42°45'35"N 73°52'26"W

approx. White Course, Central Court Trailer Park, Lisha Kill, Town of Colonie, Albany County, New York, 12205-4221, United States

Precinct Margin: R+2%

Voter 94's Neighborhood

32°28'14"N 96°0'54"W

approx. 1605, County Road 2421, Van Zandt County, Texas, 75103, United States

Precinct Margin: R+78%

Voter 95's Neighborhood

42°9'57"N 73°20'47"W

approx. 99, Brush Hill Road, Brookside, Great Barrington, Berkshire County, Massachusetts, 01230, United States

Precinct Margin: D+67%

Voter 96's Neighborhood

41°2'10"N 73°45'59"W

approx. 45, Barker Avenue, City of White Plains, Westchester County, New York, 10601, United States

Precinct Margin: D+49%

Voter 97's Neighborhood

35°44'48"N 79°20'4"W

approx. 197, Evans Chapel Road, Town of Siler City, Chatham County, North Carolina, 27344, United States

Precinct Margin: R+14%

Voter 98's Neighborhood

38°52'41"N 121°16'24"W

approx. 500, Snapdragon Lane, Lincoln, Placer County, California, 95648, United States

Precinct Margin: D+0%

Voter 99's Neighborhood

43°46'33"N 87°57'28"W

approx. Woodland Road, Town of Plymouth, Sheboygan County, Wisconsin, 53085, United States

Precinct Margin: R+31%

Voter 100's Neighborhood

41°31'25"N 73°4'13"W

approx. 119, Taft Pointe, Waterbury, New Haven County, Connecticut, 06708, United States

Precinct Margin: D+0%

Voter 101's Neighborhood

40°38'48"N 73°53'54"W

approx. 727, East 101st Street, Brooklyn, Kings County, City of New York, New York, 11236, United States

Precinct Margin: D+92%

Voter 102's Neighborhood

34°44'33"N 86°43'35"W

approx. 104, Stoneridge Circle, Stone Ridge, Madison, Madison County, Alabama, 35758, United States

Precinct Margin: R+28%

Voter 103's Neighborhood

33°34'14"N 111°45'38"W

approx. 9223, North Crown Ridge, Fountain Hills, Maricopa County, Arizona, 85268, United States

Precinct Margin: R+25%

Voter 104's Neighborhood

44°9'44"N 92°10'22"W

approx. 258, 5th Street Southwest, Plainview, Wabasha County, Minnesota, 55964, United States

Precinct Margin: R+38%

Voter 105's Neighborhood

33°6'47"N 117°19'14"W

approx. Avenida Encinas, Carlsbad, San Diego County, California, 92009-1114, United States

Precinct Margin: D+18%

Voter 106's Neighborhood

33°44'29"N 118°20'40"W

approx. Mariposa Trail, Rancho Palos Verdes, Los Angeles County, California, 90275, United States

Precinct Margin: D+6%

Voter 107's Neighborhood

40°45'13"N 74°0'24"W

approx. West 29th Street, Manhattan Community Board 4, Manhattan, New York County, City of New York, New York, 10001, United States

Precinct Margin: D+75%

Voter 108's Neighborhood

37°41'50"N 113°3'4"W

approx. 13th Hole Trail, Cedar City, Iron County, Utah, 83721, United States

Precinct Margin: R+53%

Voter 109's Neighborhood

34°42'40"N 87°6'30"W

approx. 11744, Nuclear Plant Road, Browns Ferry Nuclear Power Plant, Limestone County, Alabama, 35611, United States

Precinct Margin: R+35%

Voter 110's Neighborhood

34°15'35"N 85°9'48"W

approx. 168, Griffin Street, Hell's Hollow, Rome, Floyd County, Georgia, 30161, United States

Precinct Margin: R+2%

Voter 111's Neighborhood

33°57'36"N 118°9'32"W

approx. 6032, Gotham Street, Bell Gardens, Los Angeles County, California, 90201, United States

Precinct Margin: D+66%

Voter 112's Neighborhood

43°8'6"N 77°32'17"W

approx. 2615, East Avenue, Town/Village of East Rochester, Monroe County, New York, 14610, United States

Precinct Margin: D+30%

Voter 113's Neighborhood

40°50'5"N 74°5'45"W

approx. 278, Garden Street, East Rutherford, Bergen County, New Jersey, 07073, United States

Precinct Margin: D+11%

Voter 114's Neighborhood

29°23'43"N 98°43'54"W

approx. Mulberry Creek, Stoney Creek, Bexar County, Texas, United States

Precinct Margin: D+17%

Voter 115's Neighborhood

41°20'1"N 73°47'7"W

approx. 3686, Curry Street, Jefferson Valley, Jefferson Valley-Yorktown, Westchester County, New York, 10598, United States

Precinct Margin: R+9%

Voter 116's Neighborhood

41°53'20"N 72°55'6"W

approx. 296, Barbourtown Road, Canton, Hartford County, Connecticut, 06019, United States

Precinct Margin: D+18%

Voter 117's Neighborhood

29°48'19"N 95°23'52"W

approx. Hamilton Middle School, East 21st Street, Houston, Harris County, Texas, 77008, United States

Precinct Margin: D+38%

Voter 118's Neighborhood

35°9'31"N 89°59'56"W

approx. 765, Hawthorne Street, Memphis, Shelby County, Tennessee, 38107, United States

Precinct Margin: D+63%

Voter 119's Neighborhood

26°14'4"N 81°40'47"W

approx. 3472, 3rd Avenue Northwest, Golden Gate Estates, Collier County, Florida, 34120, United States

Precinct Margin: R+34%

Voter 120's Neighborhood

39°20'49"N 76°47'57"W

approx. 9041, Old Court Road, Randallstown, Baltimore County, Maryland, 21244, United States

Precinct Margin: D+81%

Voter 121's Neighborhood

39°23'28"N 84°21'40"W

approx. 7983, Princeton Road, The Trails of Four Bridges, Jericho, Liberty Township, Butler County, Ohio, 45044, United States

Precinct Margin: R+26%

Voter 122's Neighborhood

25°45'21"N 80°13'8"W

approx. 1435, Southwest 18th Street, Shenandoah, Miami, Miami-Dade County, Florida, 33145, United States

Precinct Margin: R+2%

Voter 123's Neighborhood

38°55'53"N 77°1'25"W

approx. 3318, Georgia Avenue Northwest, Pleasant Plains, Washington, District of Columbia, 20012, United States

Precinct Margin: D+90%

Voter 124's Neighborhood

32°50'10"N 116°56'17"W

approx. 8749, Almond Road, Winter Gardens, Lakeside, San Diego County, California, 92040, United States

Precinct Margin: R+27%

Voter 125's Neighborhood

33°38'56"N 112°17'27"W

approx. Willowbrook Golf Course, 10600, North Boswell Boulevard, Sun City, Maricopa County, Arizona, 85373, United States

Precinct Margin: R+23%

Voter 126's Neighborhood

40°27'5"N 86°7'40"W

approx. 3101, South Washington Street, Kokomo, Howard County, Indiana, 46902, United States

Precinct Margin: R+23%

Voter 127's Neighborhood

44°1'29"N 88°32'23"W

approx. 205, West Irving Avenue, Middle Village, Oshkosh, Winnebago County, Wisconsin, 54901, United States

Precinct Margin: D+25%

Voter 128's Neighborhood

45°23'25"N 122°46'13"W

approx. Tualatin Country Club, Tualatin River Trail, Cook Park, Tigard, Washington County, Oregon, 97062, United States

Precinct Margin: D+35%

Voter 129's Neighborhood

36°13'46"N 121°7'44"W

approx. Metz Road, King City, Monterey County, California, 93930, United States

Precinct Margin: D+37%

Voter 130's Neighborhood

63°25'2"N 157°40'18"W

approx. Unorganized Borough, Alaska, United States

Precinct Margin: D+22%

Voter 131's Neighborhood

39°52'57"N 75°21'39"W

approx. 88, Medbury Road, Avendale, Nether Providence Township, Delaware County, Pennsylvania, 19086, United States

Precinct Margin: D+28%

Voter 132's Neighborhood

41°25'20"N 87°36'28"W

approx. 1679, South State Street, Crete, Will County, Illinois, 60417, United States

Precinct Margin: R+19%

Voter 133's Neighborhood

33°59'8"N 118°5'33"W

approx. 6530, Bequette Avenue, Pico Rivera, Los Angeles County, California, 90660, United States

Precinct Margin: D+57%

Voter 134's Neighborhood

21°20'9"N 158°4'26"W

approx. Archery Center, Fort Barrette Road, City Center, Makakilo City, Kapolei, Honolulu County, Hawaii, 96707, United States

Precinct Margin: D+9%

Voter 135's Neighborhood

33°48'30"N 84°46'25"W

approx. 676, Timber Ridge Trail, Paulding County, Georgia, 30141, United States

Precinct Margin: D+1%

Voter 136's Neighborhood

36°33'9"N 84°31'12"W

approx. Grape Ruff Road, Scott County, Tennessee, 37841, United States

Precinct Margin: R+76%

Voter 137's Neighborhood

33°56'37"N 118°20'50"W

approx. West 102nd Street, Inglewood, Los Angeles County, California, 90304, United States

Precinct Margin: D+66%

Voter 138's Neighborhood

41°0'0"N 74°21'5"W

approx. 27, Western Avenue, Butler, Morris County, New Jersey, 07405, United States

Precinct Margin: R+12%

Voter 139's Neighborhood

41°9'58"N 111°56'10"W

approx. 1600, Mohawk Lane, Ogden, Weber County, Utah, 84403, United States

Precinct Margin: R+19%

Voter 140's Neighborhood

45°38'48"N 122°39'26"W

approx. 3505, N Street, Rose Village, Vancouver, Clark County, Washington, 98663, United States

Precinct Margin: D+38%

Voter 141's Neighborhood

41°26'58"N 81°41'45"W

approx. 3888, West 20th Street, Brooklyn Centre, Cleveland, Cuyahoga County, Ohio, 44109, United States

Precinct Margin: D+29%

Voter 142's Neighborhood

41°16'47"N 87°48'41"W

approx. 3425, East 11000N Road, Kankakee County, Illinois, 60468, United States

Precinct Margin: R+35%

Voter 143's Neighborhood

40°2'46"N 75°4'35"W

approx. 1260, Knorr Street, Lawndale, Philadelphia, Philadelphia County, Pennsylvania, 19149, United States

Precinct Margin: D+63%

Voter 144's Neighborhood

41°45'31"N 86°4'44"W

approx. 50541, Little John Lane, Sherwood Forest Estates, Granger, Saint Joseph County, Indiana, 46530, United States

Precinct Margin: R+10%

Voter 145's Neighborhood

36°58'22"N 121°58'34"W

approx. 2523, Harper Street, Yacht Harbor Manor, Twin Lakes, Santa Cruz County, California, 95062, United States

Precinct Margin: D+62%

Voter 146's Neighborhood

45°46'47"N 115°12'20"W

approx. Butter Creek Road, Idaho County, Idaho, United States

Precinct Margin: R+74%

Voter 147's Neighborhood

32°40'40"N 97°22'15"W

approx. 4733, Melita Avenue, Fort Worth, Tarrant County, Texas, 76133, United States

Precinct Margin: D+14%

Voter 148's Neighborhood

41°27'56"N 87°4'20"W

approx. Factory Street, Valparaiso, Porter County, Indiana, 46385, United States

Precinct Margin: R+3%

Voter 149's Neighborhood

37°46'43"N 122°24'19"W

approx. SOMA Pilipinas - Filipino Cultural Heritage District, 3rd Street, Union Square, San Francisco, California, 94107, United States

Precinct Margin: D+80%

Voter 150's Neighborhood

47°40'48"N 117°21'23"W

approx. 2451, North Sycamore Street, Minnehaha, Spokane, Spokane County, Washington, 99217, United States

Precinct Margin: R+16%

Voter 151's Neighborhood

41°30'34"N 90°31'58"W

approx. Great River Trail, Rock Island, Rock Island County, Illinois, 61299, United States

Precinct Margin: D+43%

Voter 152's Neighborhood

42°24'8"N 83°45'20"W

approx. 8000, Park Road, Northfield Township, Washtenaw County, Michigan, 48189, United States

Precinct Margin: D+6%

Voter 153's Neighborhood

44°57'10"N 92°42'48"W

approx. Hanley Road, Hudson, Saint Croix County, Wisconsin, 54016, United States

Precinct Margin: R+0%

Voter 154's Neighborhood

39°43'53"N 121°51'25"W

approx. 948, West Sacramento Avenue, Chico, Butte County, California, 95926, United States

Precinct Margin: D+62%

Voter 155's Neighborhood

34°0'51"N 117°33'55"W

approx. 3987, Bethany Way, Ontario, San Bernardino County, California, 91761, United States

Precinct Margin: D+20%

Voter 156's Neighborhood

27°55'11"N 82°47'7"W

approx. Largo Senior High School, 2nd Avenue Northeast, Largo, Pinellas County, Florida, 33770, United States

Precinct Margin: R+3%

Voter 157's Neighborhood

40°45'5"N 96°42'57"W

approx. Wilderness Park Hiker Trail, Lincoln, Lancaster County, Nebraska, 68512, United States

Precinct Margin: D+4%

Voter 158's Neighborhood

40°38'54"N 73°42'51"W

approx. 287, Hungry Harbor Road, Village of Valley Stream, Town of Hempstead, Nassau County, New York, 11581, United States

Precinct Margin: D+17%

Voter 159's Neighborhood

35°8'28"N 80°46'0"W

approx. Cottonwood Nature Trail, Olde Heritage, Charlotte, Mecklenburg County, North Carolina, 28270, United States

Precinct Margin: D+33%

Voter 160's Neighborhood

30°46'23"N 87°25'29"W

approx. 9935, Pilgrim Trail, Escambia County, Florida, 32577, United States

Precinct Margin: R+69%

Voter 161's Neighborhood

40°42'45"N 73°50'51"W

approx. 71-42, Kessel Street, Parkside, Queens, City of New York, New York, 11375, United States

Precinct Margin: D+42%

Voter 162's Neighborhood

34°6'42"N 80°54'59"W

approx. 2061, Bermuda Hills Road, Richland County, South Carolina, 29223, United States

Precinct Margin: D+28%

Voter 163's Neighborhood

38°50'37"N 76°50'25"W

approx. 3126, Squire Road, Westphalia Estates, Upper Marlboro, Prince George's County, Maryland, 20772, United States

Precinct Margin: D+89%

Voter 164's Neighborhood

32°33'0"N 82°56'31"W

approx. Ridge Circle, Dublin, Laurens County, Georgia, 31021, United States

Precinct Margin: R+25%

Voter 165's Neighborhood

33°22'52"N 111°32'25"W

approx. 546, East 37th Avenue, Apache Junction, Pinal County, Arizona, 85119, United States

Precinct Margin: R+24%

Voter 166's Neighborhood

44°4'7"N 121°17'59"W

approx. 456, Northeast Seward Avenue, Bend, Deschutes County, Oregon, 97701, United States

Precinct Margin: D+30%

Voter 167's Neighborhood

41°34'36"N 87°19'3"W

approx. 2232, Mississippi Street, Pulaski, Gary, Lake County, Indiana, 46407, United States

Precinct Margin: D+92%

Voter 168's Neighborhood

33°24'38"N 111°43'24"W

approx. 498, East Boeing, Venture Out, Gilbert, Mesa, Maricopa County, Arizona, 85205, United States

Precinct Margin: R+14%

Voter 169's Neighborhood

40°51'44"N 73°55'46"W

approx. 2, Sherman Avenue, Fort George, Manhattan, New York County, City of New York, New York, 10040, United States

Precinct Margin: D+75%

Voter 170's Neighborhood

42°17'59"N 88°24'14"W

approx. Bentgrass Lane, Woodstock, McHenry County, Illinois, 60098, United States

Precinct Margin: R+8%

Voter 171's Neighborhood

35°21'17"N 119°0'59"W

approx. 91, L Street, Civic Center, Bakersfield, Kern County, California, 93304, United States

Precinct Margin: D+55%

Voter 172's Neighborhood

28°21'53"N 82°41'17"W

approx. 7644, Andrews Street, Club Wildwood, Hudson, Pasco County, Florida, 34667, United States

Precinct Margin: R+30%

Voter 173's Neighborhood

32°47'16"N 96°52'21"W

approx. 3804, Delhi Street, Dallas, Dallas County, Texas, 75212, United States

Precinct Margin: D+80%

Voter 174's Neighborhood

44°0'16"N 91°26'13"W

approx. 24258, Great River Road, Trempealeau, Trempealeau County, Wisconsin, 54661, United States

Precinct Margin: R+9%

Voter 175's Neighborhood

30°28'31"N 91°8'37"W

approx. 2989, Addison Street, Belfair, Prescott Place, Baton Rouge, East Baton Rouge Parish, Louisiana, 70805, United States

Precinct Margin: D+91%

Voter 176's Neighborhood

40°19'42"N 79°44'13"W

approx. Circleville School Site (Historic), Robbins Station Road, Cedar Glenn, Circleville, North Huntingdon Township, Westmoreland County, Pennsylvania, 15642, United States

Precinct Margin: R+32%

Voter 177's Neighborhood

35°6'33"N 106°31'4"W

approx. Walmart Pharmacy, Paseo de las Montañas Trail, Casa Grande/South Glenwood Hills, Enchanted Park, Albuquerque, Bernalillo County, New Mexico, 87184, United States

Precinct Margin: D+23%

Voter 178's Neighborhood

39°11'37"N 77°12'23"W

approx. 20617, Bell Bluff Road, Prathertown, Montgomery Village, Montgomery County, Maryland, 20879, United States

Precinct Margin: D+56%

Voter 179's Neighborhood

33°34'14"N 112°6'33"W

approx. 9228, North 23rd Avenue, Phoenix, Maricopa County, Arizona, 85021, United States

Precinct Margin: D+25%

Voter 180's Neighborhood

26°14'4"N 81°40'47"W

approx. 3472, 3rd Avenue Northwest, Golden Gate Estates, Collier County, Florida, 34120, United States

Precinct Margin: R+34%

Voter 181's Neighborhood

39°15'18"N 74°45'35"W

approx. Mt Pleasant - Tuckahoe Road, Tuckahoe, Upper Township, Cape May County, New Jersey, 08270, United States

Precinct Margin: R+19%

Voter 182's Neighborhood

29°46'40"N 95°47'13"W

approx. 23802, North Newport Bend, Harris County, Texas, 77494, United States

Precinct Margin: R+7%

Voter 183's Neighborhood

27°55'3"N 82°29'59"W

approx. 3464, West San Pedro Street, Palma Ceia, Tampa, Hillsborough County, Florida, 33629, United States

Precinct Margin: D+12%

Voter 184's Neighborhood

42°26'14"N 92°19'2"W

approx. 5391, Hess Road, Waterloo, Black Hawk County, Iowa, 50701, United States

Precinct Margin: D+7%

Voter 185's Neighborhood

44°53'43"N 93°21'35"W

approx. 5318, West 60th Street, Edina, Hennepin County, Minnesota, 55436, United States

Precinct Margin: D+35%

Voter 186's Neighborhood

42°47'46"N 83°14'26"W

approx. 998, Wildbrook Lane, Oakland County, Michigan, 48362, United States

Precinct Margin: R+14%

Voter 187's Neighborhood

40°56'33"N 74°4'40"W

approx. The Ridgewood Country Club, 96, West Midland Avenue, Paramus, Bergen County, New Jersey, 07652, United States

Precinct Margin: R+1%

Voter 188's Neighborhood

35°46'49"N 84°2'3"W

approx. 765, Hi View Lane, Blount County, Tennessee, 37801, United States

Precinct Margin: R+49%

Voter 189's Neighborhood

44°43'17"N 93°26'12"W

approx. 4116, Grainwood Circle Northeast, Grainwood, Prior Lake, Scott County, Minnesota, 55372, United States

Precinct Margin: R+9%

Voter 190's Neighborhood

45°28'44"N 122°29'31"W

approx. 5989, Southeast Jenne Lane, Pleasant Valley, Portland, Multnomah County, Oregon, 97236, United States

Precinct Margin: D+18%

Voter 191's Neighborhood

46°50'16"N 96°44'55"W

approx. 36th Avenue South, Moorhead, Clay County, Minnesota, 56560, United States

Precinct Margin: D+12%

Voter 192's Neighborhood

29°37'11"N 98°31'43"W

approx. 1678, Greystone Ridge, San Antonio, Bexar County, Texas, 78258, United States

Precinct Margin: R+8%

Voter 193's Neighborhood

42°25'22"N 71°4'14"W

approx. 66;80, Charles Street, Malden Centre, Malden, Middlesex County, Massachusetts, 02148, United States

Precinct Margin: D+65%

Voter 194's Neighborhood

39°56'40"N 82°50'41"W

approx. Yorktown Middle School, Red Apple Ridge Road, Columbus, Franklin County, Ohio, 43068-3983, United States

Precinct Margin: D+57%

Voter 195's Neighborhood

38°42'47"N 90°17'30"W

approx. 7341, Wallington Walk, Norwood Court Apartments, Norwood Court, Saint Louis County, Missouri, 63121, United States

Precinct Margin: D+89%

Voter 196's Neighborhood

32°24'26"N 96°51'10"W

approx. Sheaffer Full Life Center, Savell Circle, Waxahachie, Ellis County, Texas, 75165, United States

Precinct Margin: R+37%

Voter 197's Neighborhood

40°44'16"N 74°13'14"W

approx. Munn Avenue, Irvington, Essex County, New Jersey, 07018:07052, United States

Precinct Margin: D+90%

Voter 198's Neighborhood

41°41'56"N 77°35'27"W

approx. 10121, Leetonia Road, Tioga County, Pennsylvania, 16921, United States

Precinct Margin: R+53%

Voter 199's Neighborhood

34°45'41"N 92°25'16"W

approx. 56, Perdido Circle, Saint Charles, Little Rock, Pulaski County, Arkansas, 72211, United States

Precinct Margin: D+26%

Voter 200's Neighborhood

36°17'51"N 80°20'27"W

approx. 395, Hartgrove Road, Stokes County, North Carolina, 27021, United States

Precinct Margin: R+54%

Voter 201's Neighborhood

39°38'57"N 105°4'45"W

approx. Comfort Inn & Suites, West Jefferson Avenue, Lakewood, Jefferson County, Colorado, 80235, United States

Precinct Margin: D+25%

Voter 202's Neighborhood

36°8'27"N 83°51'48"W

approx. 7954, Lett Road, Knox County, Tennessee, 37721, United States

Precinct Margin: R+60%

Voter 203's Neighborhood

29°6'39"N 82°13'11"W

approx. Southwest 61st Avenue, Marion County, Florida, 34476, United States

Precinct Margin: R+21%

Voter 204's Neighborhood

41°23'16"N 79°17'44"W

approx. Rail 66 Country Trail, Roses, Jenks Township, Forest County, Pennsylvania, 16239, United States

Precinct Margin: R+52%

Voter 205's Neighborhood

40°51'47"N 73°49'15"W

approx. 120, Elgar Place, Bronx County, The Bronx, City of New York, New York, 10475, United States

Precinct Margin: D+84%

Voter 206's Neighborhood

35°3'20"N 106°31'55"W

approx. Analytical Solutions Incorporated, 10401, Research Road Southeast, Albuquerque, Bernalillo County, New Mexico, 87123, United States

Precinct Margin: D+22%

Voter 207's Neighborhood

43°5'27"N 89°21'31"W

approx. 1875, East Main Street, Marquette, Madison, Dane County, Wisconsin, 53704, United States

Precinct Margin: D+92%

Voter 208's Neighborhood

43°6'35"N 85°39'32"W

approx. 7954, Krupp Avenue Northeast, Plainfield Charter Township, Kent County, Michigan, 49321, United States

Precinct Margin: R+13%

Voter 209's Neighborhood

39°39'7"N 84°7'51"W

approx. 449, Carters Grove Road, Oak Ridge, Centerville, Montgomery County, Ohio, 45459, United States

Precinct Margin: D+10%

Voter 210's Neighborhood

41°24'39"N 72°8'18"W

approx. Miller Pond Road, Waterford, New London County, Connecticut, 06375, United States

Precinct Margin: D+18%

Voter 211's Neighborhood

35°2'7"N 78°16'31"W

approx. 299, Capers Walk Lane, Sampson County, North Carolina, 28328, United States

Precinct Margin: D+19%

Voter 212's Neighborhood

39°34'12"N 95°8'39"W

approx. Atchison Elementary School, 825, North 17th Street, Atchison, Atchison County, Kansas, 66002, United States

Precinct Margin: R+17%

Voter 213's Neighborhood

42°36'42"N 83°55'24"W

approx. 752, North Barnard Street, Howell, Livingston County, Michigan, 48843, United States

Precinct Margin: R+14%

Voter 214's Neighborhood

32°40'43"N 117°14'47"W

approx. Point Loma Wastewater Treatment Plant, 1902, Lands End Road, San Diego, San Diego County, California, 92106, United States

Precinct Margin: D+23%

Voter 215's Neighborhood

40°33'47"N 74°11'7"W

approx. 83, Jamie Lane, Fresh Kills, Staten Island, City of New York, New York, 10312, United States

Precinct Margin: R+11%

Voter 216's Neighborhood

40°25'49"N 79°54'51"W

approx. Riverview Trail, Squirrel Hill South, Pittsburgh, Allegheny County, Pennsylvania, 15217, United States

Precinct Margin: D+63%

Voter 217's Neighborhood

33°44'15"N 117°53'49"W

approx. Monte Vista Elementary School, South Center Street, Santa Ana, Orange County, California, 92704, United States

Precinct Margin: D+62%

Voter 218's Neighborhood

39°50'49"N 88°53'5"W

approx. 483, Green Way Lane, Country Club, Decatur, Macon County, Illinois, 62521, United States

Precinct Margin: R+17%

Voter 219's Neighborhood

40°19'55"N 76°28'9"W

approx. 522, South Garfield Street, North Cornwall Township, Lebanon County, Pennsylvania, 17042, United States

Precinct Margin: R+24%

Voter 220's Neighborhood

39°35'34"N 89°22'2"W

approx. 1675, North 900 East Road, Christian County, Illinois, 62568, United States

Precinct Margin: R+41%

Voter 221's Neighborhood

45°38'7"N 89°31'45"W

approx. 6932, Beyer Road, Town of Crescent, Oneida County, Wisconsin, 54501, United States

Precinct Margin: R+11%

Voter 222's Neighborhood

27°56'45"N 82°15'12"W

approx. 2077, Florida Street, Valrico, Brandon, Hillsborough County, Florida, 33594, United States

Precinct Margin: R+6%

Voter 223's Neighborhood

34°5'32"N 117°38'49"W

approx. 8th Street, North Ontario, Upland, San Bernardino County, California, 91786, United States

Precinct Margin: D+32%

Voter 224's Neighborhood

43°59'43"N 70°31'36"W

approx. 136, Leach Hill Road, Casco Village, Casco, Cumberland County, Maine, 04015, United States

Precinct Margin: R+6%

Voter 225's Neighborhood

29°39'38"N 95°40'45"W

approx. 10592, Clodine Road, Sugar Land, Fort Bend County, Texas, 77469, United States

Precinct Margin: D+24%

Voter 226's Neighborhood

40°41'30"N 111°51'39"W

approx. 3655, Christine Street, Millcreek, Salt Lake County, Utah, 84106, United States

Precinct Margin: D+47%

Voter 227's Neighborhood

33°53'1"N 117°51'3"W

approx. 1256, Venice Avenue, Placentia, Orange County, California, 92870, United States

Precinct Margin: R+6%

Voter 228's Neighborhood

34°59'27"N 85°16'2"W

approx. 3661, Craig Street, Milbro Heights, East Ridge, Hamilton County, Tennessee, 37412, United States

Precinct Margin: R+14%

Voter 229's Neighborhood

33°17'55"N 111°45'32"W

approx. 1443, East Joseph Way, The Spectrum at Val Vista, Gilbert, Maricopa County, Arizona, 85295, United States

Precinct Margin: R+8%

Voter 230's Neighborhood

35°11'55"N 85°9'33"W

approx. Food City, McConnell School Lane, Lakesite, Hamilton County, Tennessee, 37379, United States

Precinct Margin: R+53%

Voter 231's Neighborhood

33°49'30"N 117°47'12"W

approx. 6363, East Blairwood Lane, Orange, Orange County, California, 92867, United States

Precinct Margin: R+12%

Voter 232's Neighborhood

33°48'25"N 117°50'44"W

approx. 774, East Wilson Avenue, Orange, Orange County, California, 92867, United States

Precinct Margin: D+5%

Voter 233's Neighborhood

28°8'51"N 81°50'55"W

approx. Florida Polytechnic University, 4700, Research Way, Lakeland, Polk County, Florida, 33805-8531, United States

Precinct Margin: R+19%

Voter 234's Neighborhood

35°56'9"N 84°6'7"W

approx. 804, Chateaugay Road, Gulf Park-Belmont West-Plum Creek, Cedar Bluff, Knox County, Tennessee, 37923, United States

Precinct Margin: R+6%

Voter 235's Neighborhood

32°20'12"N 99°34'45"W

approx. 6950, County Road 223, Callahan County, Texas, 79510, United States

Precinct Margin: R+77%

Voter 236's Neighborhood

38°17'37"N 85°57'20"W

approx. Georgetown Lake, Baylor Wissman Road, Georgetown, Floyd County, Indiana, 47122, United States

Precinct Margin: R+21%

Voter 237's Neighborhood

61°11'36"N 149°51'3"W

approx. 2984, Madison Way, College Village, Anchorage, Alaska, 99508, Anchorage

Precinct Margin: D+25%

Voter 238's Neighborhood

39°38'55"N 104°44'24"W

approx. 3601, S Nepal Street, Aurora, Arapahoe County, Colorado, 80013, United States

Precinct Margin: D+18%

Voter 239's Neighborhood

38°23'47"N 121°26'42"W

approx. 5080, Orchid Ranch Way, Elk Grove, Sacramento County, California, 95757, United States

Precinct Margin: D+36%

Voter 240's Neighborhood

36°55'37"N 121°45'7"W

approx. T S MacQuiddy Elementary School, Martinelli Street, Watsonville, Santa Cruz County, California, 95076, United States

Precinct Margin: D+54%

Voter 241's Neighborhood

33°35'13"N 84°37'12"W

approx. Nathaniel Lane, Fulton County, Georgia, 30213, United States

Precinct Margin: D+91%

Voter 242's Neighborhood

40°45'57"N 96°41'41"W

approx. 1899, Center Park Road, Lincoln, Lancaster County, Nebraska, 68512, United States

Precinct Margin: D+20%

Voter 243's Neighborhood

38°47'34"N 90°41'41"W

approx. Dude's Way, O'Fallon, Saint Charles County, Missouri, 63366, United States

Precinct Margin: R+9%

Voter 244's Neighborhood

32°44'28"N 96°46'32"W

approx. 1020, Sargent Road, Sargent, Dallas, Dallas County, Texas, 75203, United States

Precinct Margin: D+85%

Voter 245's Neighborhood

33°36'27"N 117°11'29"W

approx. 26761, Chamomile Street, Greer Ranch, Murrieta, Riverside County, California, 92562, United States

Precinct Margin: R+22%

Voter 246's Neighborhood

35°25'46"N 119°1'38"W

approx. North High School, Galaxy Avenue, Kern County, California, 93301, United States

Precinct Margin: R+53%

Voter 247's Neighborhood

40°2'0"N 75°4'30"W

approx. 1901, Lardner Street, Philadelphia, Philadelphia County, Pennsylvania, 19149, United States

Precinct Margin: D+55%

Voter 248's Neighborhood

41°40'32"N 72°20'2"W

approx. 26, Hunt Road, Columbia, Tolland County, Connecticut, 06237, United States

Precinct Margin: D+8%

Voter 249's Neighborhood

41°16'35"N 72°36'5"W

approx. Island Avenue Elementary School, 20, Island Avenue, Madison, New Haven County, Connecticut, 06443, United States

Precinct Margin: D+27%

Voter 250's Neighborhood

41°43'45"N 83°38'45"W

approx. Pelton Lane, Bedford Township, Monroe County, Michigan, 49267, United States

Precinct Margin: R+12%

Voter 251's Neighborhood

42°22'30"N 71°3'47"W

approx. 8, Cordis Street, Charlestown, Boston, Suffolk County, Massachusetts, 02129, United States

Precinct Margin: D+65%

Voter 252's Neighborhood

34°38'43"N 86°28'20"W

approx. Hays Preserve Trail, Huntsville, Madison County, Alabama, 35763, United States

Precinct Margin: R+40%

Voter 253's Neighborhood

36°2'34"N 86°39'42"W

approx. 5333, Cane Ridge Road, Bell Hollow Apartments, Nashville-Davidson, Davidson County, Tennessee, 37013, United States

Precinct Margin: D+55%

Voter 254's Neighborhood

39°36'13"N 119°47'13"W

approx. 291, Harmony Lane, Sun Valley, Washoe County, Nevada, 89433, United States

Precinct Margin: D+15%

Voter 255's Neighborhood

42°39'25"N 71°19'56"W

approx. 274;276, University Avenue, Pawtucketville, Lowell, Middlesex County, Massachusetts, 01854-5141, United States

Precinct Margin: D+33%

Voter 256's Neighborhood

40°21'9"N 76°8'21"W

approx. 228, West Oak Avenue, Robesonia, Berks County, Pennsylvania, 19551, United States

Precinct Margin: R+26%

Voter 257's Neighborhood

42°34'56"N 73°49'1"W

approx. 79, Crescent Creek Way, Dutch Mills, Town of Bethlehem, Albany County, New York, 12158, United States

Precinct Margin: D+36%

Voter 258's Neighborhood

40°14'50"N 80°9'51"W

approx. 117, Fulton Road, Hill Church, North Strabane Township, Washington County, Pennsylvania, 15317, United States

Precinct Margin: R+19%

Voter 259's Neighborhood

25°46'46"N 80°20'46"W

approx. 1016, Northwest 87th Avenue, Miami-Dade County, Florida, 33172, United States

Precinct Margin: R+3%

Voter 260's Neighborhood

42°54'42"N 87°52'27"W

approx. 1640, Monroe Avenue, South Milwaukee, Milwaukee County, Wisconsin, 53172, United States

Precinct Margin: D+0%

Voter 261's Neighborhood

36°4'31"N 115°18'11"W

approx. 9714, Hawk Cliff Avenue, Spinnaker at Southwest Ranch, Spring Valley, Clark County, Nevada, 89148, United States

Precinct Margin: D+23%

Voter 262's Neighborhood

42°36'42"N 83°20'44"W

approx. 1849, Cass Lake Front Street, Keego Harbor, Oakland County, Michigan, 48320, United States

Precinct Margin: D+5%

Voter 263's Neighborhood

44°58'35"N 123°4'25"W

approx. 2943, Wallace Road Northwest, Salemtowne, Salem, Polk County, Oregon, 97304, United States

Precinct Margin: D+9%

Voter 264's Neighborhood

44°58'50"N 122°49'36"W

approx. 11417, Evergreen Road Northeast, Marion County, Oregon, 97381, United States

Precinct Margin: R+31%

Voter 265's Neighborhood

46°43'13"N 92°27'26"W

approx. 34, 6th Street, Cloquet, Carlton County, Minnesota, 55720, United States

Precinct Margin: D+11%

Voter 266's Neighborhood

40°52'20"N 117°44'46"W

approx. 4746, Tycana Road, Humboldt County, Nevada, 89445, United States

Precinct Margin: R+71%

Voter 267's Neighborhood

27°56'1"N 82°28'30"W

approx. 1539, West Morrison Avenue, Historic Hyde Park North Neighborhood, Hyde Park, Tampa, Hillsborough County, Florida, 33606, United States

Precinct Margin: D+14%

Voter 268's Neighborhood

44°59'54"N 91°43'39"W

approx. Colfax Pharmacy, River Street, Colfax, Dunn County, Wisconsin, 54730, United States

Precinct Margin: R+5%

Voter 269's Neighborhood

38°34'58"N 90°22'4"W

approx. 422, Somerset Avenue, Sherwood Forest, Webster Groves, Saint Louis County, Missouri, 63119, United States

Precinct Margin: D+43%

Voter 270's Neighborhood

34°8'42"N 82°58'58"W

approx. Hughes Road, Elbert County, Georgia, 30634, United States

Precinct Margin: R+26%

Voter 271's Neighborhood

39°23'30"N 76°34'2"W

approx. 1664, Thetford Road, Knettishall, Towson, Baltimore County, Maryland, 21286, United States

Precinct Margin: D+51%

Voter 272's Neighborhood

41°42'40"N 79°50'14"W

approx. 35284, Armstrong Road, Steuben Township, Crawford County, Pennsylvania, 16360, United States

Precinct Margin: R+51%

Voter 273's Neighborhood

43°3'6"N 76°5'51"W

approx. 636, Hazelwood Avenue, Salt Springs, City of Syracuse, Syracuse, Onondaga County, New York, 13224, United States

Precinct Margin: D+82%

Voter 274's Neighborhood

42°52'21"N 87°59'40"W

approx. 6482, West Ryan Road, Franklin, Milwaukee County, Wisconsin, 53132, United States

Precinct Margin: R+7%

Voter 275's Neighborhood

42°47'30"N 71°6'10"W

approx. 30, Bennington Street, Haverhill, Essex County, Massachusetts, 01832, United States

Precinct Margin: D+17%

Voter 276's Neighborhood

35°17'53"N 119°7'25"W

approx. 6299, Long Valley Way, Bakersfield, Kern County, California, 93311, United States

Precinct Margin: D+7%

Voter 277's Neighborhood

25°57'46"N 97°34'14"W

approx. Carmen Avenue, Brownsville, Cameron County, Texas, United States

Precinct Margin: D+18%

Voter 278's Neighborhood

33°41'40"N 86°16'6"W

approx. 129, Turkey Ridge Road, St. Clair County, Alabama, 35131, United States

Precinct Margin: R+81%

Voter 279's Neighborhood

44°59'12"N 92°58'28"W

approx. 2619, Granada Avenue North, Oakdale, Washington County, Minnesota, 55128, United States

Precinct Margin: D+17%

Voter 280's Neighborhood

37°32'6"N 77°17'44"W

approx. 1729, Casey Meadows Terrace, Forest Meadow Mobile Home Park, Henrico County, Virginia, 23150, United States

Precinct Margin: D+38%

Voter 281's Neighborhood

37°24'54"N 77°47'57"W

approx. 6211, Clayville Lane, Chesterfield County, Virginia, 23120, United States

Precinct Margin: R+19%

Voter 282's Neighborhood

43°14'1"N 86°11'49"W

approx. Popeyes, Gordon Street, Shady Park Neighbourhood, Muskegon Township, Muskegon County, Michigan, 49442, United States

Precinct Margin: D+6%

Voter 283's Neighborhood

42°27'25"N 83°12'31"W

approx. 16225, Roanoke Street, Southfield, Oakland County, Michigan, 48075, United States

Precinct Margin: D+89%

Voter 284's Neighborhood

29°57'45"N 90°15'33"W

approx. Moss Lane, Jefferson Parish, Louisiana, 70094, United States

Precinct Margin: D+23%

Voter 285's Neighborhood

39°47'3"N 104°50'47"W

approx. 12150, East 48th Avenue, Montbello, Denver, Colorado, 80239, United States

Precinct Margin: D+77%

Voter 286's Neighborhood

39°50'37"N 80°35'2"W

approx. 129, Grave Creek Road, Loudenville, Marshall County, West Virginia, 26033, United States

Precinct Margin: R+83%

Voter 287's Neighborhood

34°16'36"N 118°40'41"W

approx. 5808, East Malton Avenue, White Oak, Simi Valley, Ventura County, California, 93063, United States

Precinct Margin: D+5%

Voter 288's Neighborhood

44°20'52"N 103°46'51"W

approx. 656, Hearst Avenue, Lead, Lawrence County, South Dakota, 57754, United States

Precinct Margin: R+9%

Voter 289's Neighborhood

33°47'49"N 84°11'56"W

approx. 4614, Hairston Crossing Place, DeKalb County, Georgia, 30083, United States

Precinct Margin: D+82%

Voter 290's Neighborhood

26°1'46"N 80°9'47"W

approx. 2700, Scott Street, Hollywood, Broward County, Florida, 33020, United States

Precinct Margin: D+17%

Voter 291's Neighborhood

28°41'26"N 81°36'33"W

approx. Lake Apopka Wildlife Drive (Laughlin Road), Orange County, Florida, 34778, United States

Precinct Margin: D+29%

Voter 292's Neighborhood

40°44'4"N 73°6'47"W

approx. 103, Matthews Road, West Sayville, Suffolk County, New York, 11769, United States

Precinct Margin: R+16%

Voter 293's Neighborhood

30°34'36"N 90°55'11"W

approx. 10354, D Taylor Street, Livingston Parish, Louisiana, 70706, United States

Precinct Margin: R+75%

Voter 294's Neighborhood

34°6'43"N 84°27'44"W

approx. 1606, Barnes Road, Woodstock, Cherokee County, Georgia, 30188, United States

Precinct Margin: R+23%

Voter 295's Neighborhood

40°37'3"N 74°24'45"W

approx. 318, Franklin Place, Plainfield, Union County, New Jersey, 07060, United States

Precinct Margin: D+74%

Voter 296's Neighborhood

40°26'41"N 99°22'10"W

approx. 1076, East Avenue, Westside Plaza Mobile Home Park, Holdrege, Phelps County, Nebraska, 68949, United States

Precinct Margin: R+55%

Voter 297's Neighborhood

26°6'36"N 80°7'45"W

approx. 1032, Southeast 13th Terrace, Lauderdale Harbors, Fort Lauderdale, Broward County, Florida, 33316, United States

Precinct Margin: R+8%

Voter 298's Neighborhood

35°55'55"N 94°11'6"W

approx. 25, Riverwood Avenue, West Fork, Washington County, Arkansas, 72774, United States

Precinct Margin: R+26%

Voter 299's Neighborhood

40°50'31"N 73°59'3"W

approx. 1235, 15th Street, Fort Lee, Bergen County, New Jersey, 07024, United States

Precinct Margin: D+26%

Voter 300's Neighborhood

36°25'56"N 77°38'46"W

approx. 250, Smith Church Road, Roanoke Rapids, Halifax County, North Carolina, 27870, United States

Precinct Margin: R+16%

Voter 301's Neighborhood

42°35'52"N 73°49'54"W

approx. 801, Feura Bush Road, Houcks Corners, Town of Bethlehem, Albany County, New York, 12054, United States

Precinct Margin: D+40%

Voter 302's Neighborhood

40°46'45"N 97°3'24"W

approx. 404, Cottonwood Avenue, Milford, Seward County, Nebraska, 68405, United States

Precinct Margin: R+47%

Voter 303's Neighborhood

26°13'20"N 98°5'54"W

approx. 217, East Nolana Loop, Arriaga Colonia, Hidalgo County, Texas, 78516, United States

Precinct Margin: D+31%

Voter 304's Neighborhood

36°7'30"N 115°16'18"W

approx. Desert Breeze Community Center, West Spring Mountain Road, Spring Valley, Clark County, Nevada, 89147, United States

Precinct Margin: D+8%

Voter 305's Neighborhood

39°1'22"N 77°2'22"W

approx. 10323, Green Holly Terrace, Northbrook Estates, Forest Estates, Wheaton, Montgomery County, Maryland, 20902, United States

Precinct Margin: D+73%

Voter 306's Neighborhood

41°47'34"N 87°39'31"W

approx. 5528, South Ada Street, West Englewood, Chicago, Lake Township, Cook County, Illinois, 60636, United States

Precinct Margin: D+91%

Voter 307's Neighborhood

40°46'57"N 73°10'34"W

approx. 94, Sportsmen Street, Suffolk County, New York, 11722, United States

Precinct Margin: D+20%

Voter 308's Neighborhood

41°8'31"N 81°46'29"W

approx. 4832, Boneta Road, Granger Township, Medina County, Ohio, 44256, United States

Precinct Margin: R+37%

Voter 309's Neighborhood

34°3'50"N 80°59'1"W

approx. Sunglow Lane, Richland County, South Carolina, 29223, United States

Precinct Margin: D+83%

Voter 310's Neighborhood

40°23'55"N 91°22'15"W

approx. Keokuk Power Plant, Orleans Avenue, Keokuk, Lee County, Iowa, 52632, United States

Precinct Margin: R+25%

Voter 311's Neighborhood

47°39'20"N 122°21'29"W

approx. 120, Northwest 40th Street, Fremont, Seattle, King County, Washington, 98107, United States

Precinct Margin: D+86%

Voter 312's Neighborhood

34°4'6"N 84°37'31"W

approx. 4767, Webster Way Northwest, Baker Ridge, Cobb County, Georgia, 30101, United States

Precinct Margin: D+20%

Voter 313's Neighborhood

42°25'38"N 71°14'13"W

approx. Hayden Woods, Valleyfield Street, Lexington, Middlesex County, Massachusetts, 02421, United States

Precinct Margin: D+68%

Voter 314's Neighborhood

33°29'19"N 101°55'8"W

approx. 4998, 116th Street, Lubbock, Lubbock County, Texas, 79424, United States

Precinct Margin: R+58%

Voter 315's Neighborhood

32°45'7"N 117°8'8"W

approx. 2629, Polk Avenue, University Heights, North Park, San Diego, San Diego County, California, 92104, United States

Precinct Margin: D+74%

Voter 316's Neighborhood

36°31'21"N 79°45'4"W

approx. 900, Hilltop Lane, Eden, Rockingham County, North Carolina, 27288, United States

Precinct Margin: R+22%

Voter 317's Neighborhood

37°55'43"N 122°18'54"W

approx. 2034, Harper Street, El Cerrito, Contra Costa County, California, 94530, United States

Precinct Margin: D+76%

Voter 318's Neighborhood

40°8'14"N 74°39'23"W

approx. Chesterfield Elementary School, 30, Saddle Way, Villages at Chesterfield Greens, Chesterfield Township, Burlington County, New Jersey, 08515, United States

Precinct Margin: D+6%

Voter 319's Neighborhood

33°24'15"N 111°46'25"W

approx. Sun Circle Trail, Lindsay Crossing, Gilbert, Mesa, Maricopa County, Arizona, 85203, United States

Precinct Margin: R+17%

Voter 320's Neighborhood

39°49'57"N 86°10'23"W

approx. 4280, Crown Street, Mapleton, Indianapolis, Marion County, Indiana, 46208, United States

Precinct Margin: D+71%

Voter 321's Neighborhood

38°52'22"N 77°12'43"W

approx. 2824, Wickersham Way, West Falls Church, Fairfax County, Virginia, 22042, United States

Precinct Margin: D+52%

Voter 322's Neighborhood

42°56'8"N 83°38'9"W

approx. 10800, Walker Street, Grand Blanc, Genesee County, Michigan, 48439, United States

Precinct Margin: D+7%

Voter 323's Neighborhood

28°17'54"N 81°39'52"W

approx. 144, Kings Ridge Loop, The Ridge, Polk County, Florida, 33897, United States

Precinct Margin: D+20%

Voter 324's Neighborhood

38°38'44"N 121°19'14"W

approx. 4544, Onyx Way, Sacramento County, California, 95608, United States

Precinct Margin: D+12%

Voter 325's Neighborhood

26°12'11"N 80°8'48"W

approx. Cypress Creek Road, Fort Lauderdale, Broward County, Florida, 33334, United States

Precinct Margin: D+20%

Voter 326's Neighborhood

32°31'53"N 92°12'0"W

approx. 198, Davis Lane, Pine Grove, Ouachita Parish, Louisiana, 71291, United States

Precinct Margin: R+73%

Voter 327's Neighborhood

41°28'34"N 87°29'2"W

approx. 2557, Ticonderoga Street, Schererville, Lake County, Indiana, 46375, United States

Precinct Margin: R+7%

Voter 328's Neighborhood

32°48'47"N 79°44'3"W

approx. 31, Seagrass Lane, Isle of Palms, Charleston County, South Carolina, 29451, United States

Precinct Margin: R+22%

Voter 329's Neighborhood

39°27'1"N 77°22'47"W

approx. Liberty Road, Frederick, Frederick County, Maryland, 21701, United States

Precinct Margin: D+34%

Voter 330's Neighborhood

34°46'33"N 102°57'15"W

approx. 3435, County Road U, Deaf Smith County, Texas, 79035, United States

Precinct Margin: R+61%

Voter 331's Neighborhood

40°32'54"N 105°5'7"W

approx. Meadowlark Church of Christ, 2810, Meadowlark Avenue, Meadow Lark Heights, Fort Collins, Larimer County, Colorado, 80526, United States

Precinct Margin: D+40%

Voter 332's Neighborhood

32°14'21"N 81°14'8"W

approx. HiHo Hill, Coldbrook, Effingham County, Georgia, 31326, United States

Precinct Margin: R+46%

Voter 333's Neighborhood

42°7'27"N 87°49'46"W

approx. 2006, Illinois Road, Northbrook Park, Northbrook, Northfield Township, Cook County, Illinois, 60062, United States

Precinct Margin: D+36%

Voter 334's Neighborhood

40°40'26"N 76°13'27"W

approx. 2115, West Norwegian Street, Yorkville, Pottsville, Schuylkill County, Pennsylvania, 17901, United States

Precinct Margin: D+0%

Voter 335's Neighborhood

40°32'32"N 80°11'17"W

approx. 99, Linden Place, Sewickley, Allegheny County, Pennsylvania, 15143, United States

Precinct Margin: D+19%

Voter 336's Neighborhood

41°30'37"N 81°25'40"W

approx. 6601, Norvale Circle West, Gates Mills, Cuyahoga County, Ohio, 44040, United States

Precinct Margin: D+1%

Voter 337's Neighborhood

40°43'9"N 80°8'41"W

approx. Brush Creek Water Pollution Control Facility, 2306, Powell Road, Cranberry Township, Butler County, Pennsylvania, 16066, United States

Precinct Margin: R+11%

Voter 338's Neighborhood

36°10'22"N 86°12'12"W

approx. 3413, Eastover Road, Wilson County, Tennessee, 37184, United States

Precinct Margin: R+57%

Voter 339's Neighborhood

40°3'9"N 105°18'40"W

approx. 18, Pine Brook Road, Pine Brook Hill, Boulder County, Colorado, 80304, United States

Precinct Margin: D+70%

Voter 340's Neighborhood

43°56'54"N 76°7'33"W

approx. Battlefield History Trail, Sackets Harbor, Hounsfield, Jefferson County, New York, 13685, United States

Precinct Margin: D+11%

Voter 341's Neighborhood

47°43'25"N 122°11'11"W

approx. 13806, 116th Avenue Northeast, Kingsgate, Kirkland, King County, Washington, 98034, United States

Precinct Margin: D+25%

Voter 342's Neighborhood

36°8'9"N 78°55'14"W

approx. 7313, Johnson Mill Road, Durham County, North Carolina, 27503, United States

Precinct Margin: D+4%

Voter 343's Neighborhood

42°26'15"N 83°21'11"W

approx. Norfolk Street, Livonia, Wayne County, Michigan, 48152, United States

Precinct Margin: D+10%

Voter 344's Neighborhood

39°32'45"N 74°45'8"W

approx. Weymouth Elwood Road, Hamilton Township, Atlantic County, New Jersey, 08330, United States

Precinct Margin: D+9%

Voter 345's Neighborhood

34°59'55"N 92°28'35"W

approx. 527, Round Mountain Road, Round Mountain, Faulkner County, Arkansas, 72034, United States

Precinct Margin: R+18%

Voter 346's Neighborhood

41°16'22"N 81°48'59"W

approx. 3672, Lennox Circle, Brunswick, Medina County, Ohio, 44212, United States

Precinct Margin: R+3%

Voter 347's Neighborhood

33°27'24"N 112°15'36"W

approx. 9399, West Baden Street, Tolleson, Maricopa County, Arizona, 85353, United States

Precinct Margin: D+52%

Voter 348's Neighborhood

42°49'45"N 88°8'50"W

approx. 25875, West Loomis Road, Wind Lake, Town of Norway, Racine County, Wisconsin, 53185, United States

Precinct Margin: R+48%

Voter 349's Neighborhood

37°57'31"N 122°3'6"W

approx. Iron Horse Trail, Sherman Acres, Pleasant Hill, Contra Costa County, California, 1355, United States

Precinct Margin: D+49%

Voter 350's Neighborhood

39°59'23"N 82°43'45"W

approx. 6849, Mink Street Southwest, Wagram, Pataskala, Etna Township, Licking County, Ohio, 43062, United States

Precinct Margin: R+8%

Voter 351's Neighborhood

31°17'18"N 81°20'59"W

approx. 934, Champney, Glynn County, Georgia, 31522, United States

Precinct Margin: R+36%

Voter 352's Neighborhood

37°37'14"N 120°19'32"W

approx. Prouty Road, Mariposa County, California, United States

Precinct Margin: R+34%

Voter 353's Neighborhood

37°51'0"N 121°58'31"W

approx. 3257, Stone Valley Road, Contra Costa County, California, 94507, United States

Precinct Margin: D+22%

Voter 354's Neighborhood

41°3'17"N 73°33'16"W

approx. 32, Merrell Avenue, Stamford, Fairfield County, Connecticut, 06902, United States

Precinct Margin: D+65%

Voter 355's Neighborhood

38°51'2"N 77°3'5"W

approx. Capital Bikeshare, 26th Street South, National Landing, Crystal City, Arlington, Arlington County, Virginia, 22202, United States

Precinct Margin: D+61%

Voter 356's Neighborhood

39°54'44"N 75°10'49"W

approx. 1917, Schley Street, Packer Park, South Philadelphia, Philadelphia, Philadelphia County, Pennsylvania, 19145, United States

Precinct Margin: R+44%

Voter 357's Neighborhood

39°5'6"N 94°36'5"W

approx. 2325, Fairmount Avenue, West Side, Kansas City, Jackson County, Missouri, 64108, United States

Precinct Margin: D+65%

Voter 358's Neighborhood

47°45'52"N 117°24'13"W

approx. Pine Acres Par 3, East Regina Road, Fairwood, Spokane County, Washington, 99218-1929, United States

Precinct Margin: R+19%

Voter 359's Neighborhood

46°50'51"N 92°6'21"W

approx. Ridgeview Country Club, 700, West Redwing Street, Duluth, Saint Louis County, Minnesota, 55803, United States

Precinct Margin: D+31%

Voter 360's Neighborhood

36°4'15"N 84°11'47"W

approx. 191, Orchard Crest Circle, Anderson County, Tennessee, 37716, United States

Precinct Margin: R+44%

Voter 361's Neighborhood

30°26'26"N 97°44'59"W

approx. 6511, Melrose Trail, Milwood, Austin, Travis County, Texas, 78727, United States

Precinct Margin: D+48%

Voter 362's Neighborhood

38°58'57"N 77°31'23"W

approx. Bobolink Alley, Brambleton, Loudoun County, Virginia, 20107, United States

Precinct Margin: D+32%

Voter 363's Neighborhood

40°45'46"N 111°34'38"W

approx. 5192, Homestead Road, Jeremy Ranch, Summit County, Utah, 84098, United States

Precinct Margin: D+17%

Voter 364's Neighborhood

43°5'3"N 77°27'10"W

approx. 17, Clarkes Crossing, Village of Fairport, Town of Perinton, Monroe County, New York, 14450, United States

Precinct Margin: D+22%

Voter 365's Neighborhood

41°57'21"N 70°40'5"W

approx. 35, Russell Street, Plymouth, Plymouth County, Massachusetts, 02360, United States

Precinct Margin: D+29%

Voter 366's Neighborhood

25°37'16"N 80°26'23"W

approx. 15264, Southwest 156th Terrace, Miami-Dade County, Florida, 33187, United States

Precinct Margin: R+3%

Voter 367's Neighborhood

34°0'17"N 118°16'7"W

approx. 379, East 43rd Place, Historic South-Central, Los Angeles, Los Angeles County, California, 90011, United States

Precinct Margin: D+72%

Voter 368's Neighborhood

47°19'11"N 122°24'39"W

approx. Picnic Point Beach Trail, Federal Way, King County, Washington, United States

Precinct Margin: D+23%

Voter 369's Neighborhood

33°9'17"N 117°17'47"W

approx. 3414, Four Peaks Street, The Foothills, Calavera, Carlsbad, San Diego County, California, 92010, United States

Precinct Margin: D+15%

Voter 370's Neighborhood

30°13'42"N 92°39'25"W

approx. Song of Praise Church, 4th Street, Jennings, Jefferson Davis Parish, Louisiana, 70546, United States

Precinct Margin: R+68%

Voter 371's Neighborhood

33°57'20"N 117°17'42"W

approx. 21069, Penunuri Place, Moreno Valley, Riverside County, California, 92557, United States

Precinct Margin: D+30%

Voter 372's Neighborhood

25°46'47"N 80°24'20"W

approx. 12932, Northwest 10th Street, Miami-Dade County, Florida, 33182, United States

Precinct Margin: R+24%

Voter 373's Neighborhood

26°1'18"N 80°14'42"W

approx. 7845, Northwest 15th Street, Pembroke Pines, Broward County, Florida, 33024, United States

Precinct Margin: D+7%

Voter 374's Neighborhood

35°22'11"N 118°56'15"W

approx. 763, Crane Street, Kern County, California, 93306, United States

Precinct Margin: D+31%

Voter 375's Neighborhood

42°43'30"N 71°27'56"W

approx. 11, Warton Road, Ward 8, Nashua, Hillsborough County, New Hampshire, 03062, United States

Precinct Margin: D+27%

Voter 376's Neighborhood

43°19'48"N 88°17'6"W

approx. Slinger High School, Beine Street, Slinger, Washington County, Wisconsin, 53086, United States

Precinct Margin: R+43%

Voter 377's Neighborhood

42°47'35"N 83°42'11"W

approx. Millpond Manor, 201, East Elizabeth Street, Fenton, Genesee County, Michigan, 48430, United States

Precinct Margin: R+9%

Voter 378's Neighborhood

41°27'18"N 88°0'14"W

approx. 23822, Manhattan Road, Will County, Illinois, 60442, United States

Precinct Margin: R+19%

Voter 379's Neighborhood

29°57'16"N 81°34'50"W

approx. 8538, Beverly Lane, Saint Johns County, Florida, 32092, United States

Precinct Margin: R+50%

Voter 380's Neighborhood

42°55'31"N 83°42'58"W

approx. 7143, Brewer Road, Mundy Township, Genesee County, Michigan, 48507, United States

Precinct Margin: D+5%

Voter 381's Neighborhood

32°14'2"N 110°53'56"W

approx. 990, North Catalina Avenue, Tucson, Pima County, Arizona, 85711, United States

Precinct Margin: D+49%

Voter 382's Neighborhood

36°55'45"N 76°14'5"W

approx. 8424, Radnor Road, Brookfield Park, Norfolk, Virginia, 23503, United States

Precinct Margin: D+1%

Voter 383's Neighborhood

40°38'47"N 74°11'40"W

approx. 163, Butler Street, Liberty Square, Elizabeth, Union County, New Jersey, 07206, United States

Precinct Margin: D+53%

Voter 384's Neighborhood

36°6'26"N 119°34'3"W

approx. Letts Street, Corcoran, Kings County, California, 93212, United States

Precinct Margin: D+19%

Voter 385's Neighborhood

33°56'53"N 84°54'27"W

approx. 4575, Mc Pherson Church Road, Hanlin, Paulding County, Georgia, 30132, United States

Precinct Margin: R+17%

Voter 386's Neighborhood

40°46'12"N 73°57'22"W

approx. 310, East 75th Street, Manhattan Community Board 8, Lenox Hill, New York County, City of New York, New York, 10021, United States

Precinct Margin: D+57%

Voter 387's Neighborhood

47°41'1"N 116°46'18"W

approx. 1019, North 10th Street, Coeur d'Alene, Kootenai County, Idaho, 83814, United States

Precinct Margin: D+6%

Voter 388's Neighborhood

34°6'14"N 117°51'55"W

approx. 5036, Arroway Avenue, Covina, Los Angeles County, California, 91724, United States

Precinct Margin: D+20%

Voter 389's Neighborhood

40°46'2"N 77°47'17"W

approx. 610, South Academy Street, Boalsburg, Harris Township, Centre County, Pennsylvania, 16827, United States

Precinct Margin: D+21%

Voter 390's Neighborhood

39°56'35"N 76°42'57"W

approx. Irving Road, South Wood Hills, York, Spring Garden Township, York County, Pennsylvania, 17403, United States

Precinct Margin: D+16%

Voter 391's Neighborhood

39°4'38"N 108°35'51"W

approx. 473, Dike Road, Grand Junction, Mesa County, Colorado, 81507, United States

Precinct Margin: R+6%

Voter 392's Neighborhood

42°7'6"N 88°15'0"W

approx. 18, Sparrow Road, Carpentersville, Dundee Township, Kane County, Illinois, 60110, United States

Precinct Margin: D+37%

Voter 393's Neighborhood

37°21'28"N 95°16'41"W

approx. 2719, Pine Avenue, Orchard Park, Parsons, Labette County, Kansas, 67357, United States

Precinct Margin: R+10%

Voter 394's Neighborhood

48°26'27"N 122°20'9"W

approx. 330, Pacific Place, Mount Vernon, Skagit County, Washington, 98273, United States

Precinct Margin: D+14%

Voter 395's Neighborhood

45°45'5"N 122°53'16"W

approx. 33052, Southwest Keyes Road, Scappoose, Columbia County, Oregon, 97056, United States

Precinct Margin: D+7%

Voter 396's Neighborhood

38°52'1"N 77°27'13"W

approx. 5240, Glen Meadow Road, Centreville, Fairfax County, Virginia, 20120, United States

Precinct Margin: D+31%

Voter 397's Neighborhood

30°0'19"N 91°49'16"W

approx. 178, West Washington Street, Leesburg, New Iberia, Iberia Parish, Louisiana, 70560, United States

Precinct Margin: D+56%

Voter 398's Neighborhood

31°10'50"N 94°22'5"W

approx. 282, Dogwood Glen Street, Angelina County, Texas, 75980, United States

Precinct Margin: R+81%

Voter 399's Neighborhood

33°58'9"N 83°22'40"W

approx. 1005, College Avenue, Athens-Clarke County Unified Government, Athens-Clarke County, Georgia, 30601, United States

Precinct Margin: D+61%

Voter 400's Neighborhood

28°29'48"N 82°32'1"W

approx. 4399, Goldcoast Avenue, Spring Hill, Hernando County, Florida, 34609, United States

Precinct Margin: R+18%

Voter 401's Neighborhood

41°32'24"N 74°6'40"W

approx. 550, South Plank Road, Orange Lake, Village of Walden, Town of Newburgh, Orange County, New York, 12586, United States

Precinct Margin: D+8%

Voter 402's Neighborhood

41°28'21"N 93°11'8"W

approx. 340, 85th Avenue, Marion County, Iowa, 50170, United States

Precinct Margin: R+44%

Voter 403's Neighborhood

41°44'30"N 87°35'6"W

approx. 8401-8423, South Stony Island Avenue, Pierces Park, Avalon Park, Chicago, Hyde Park Township, Cook County, Illinois, 60617, United States

Precinct Margin: D+91%

Voter 404's Neighborhood

32°32'58"N 85°7'36"W

approx. 199, County Road 770, Lee County, Alabama, 36877, United States

Precinct Margin: R+38%

Voter 405's Neighborhood

47°42'17"N 117°23'18"W

approx. 1516, East Crown Avenue, Whitman, Hillyard, Spokane, Spokane County, Washington, 99207, United States

Precinct Margin: D+2%

Voter 406's Neighborhood

29°21'34"N 98°25'27"W

approx. 855, Utopia Lane, San Antonio, Bexar County, Texas, 78223, United States

Precinct Margin: D+24%

Voter 407's Neighborhood

45°0'28"N 93°23'38"W

approx. 2723, Ensign Circle, New Hope, Hennepin County, Minnesota, 55427, United States

Precinct Margin: D+42%

Voter 408's Neighborhood

38°52'18"N 90°7'11"W

approx. 699, Niagara Street, East Alton, Madison County, Illinois, 62024, United States

Precinct Margin: R+23%

Voter 409's Neighborhood

38°51'30"N 77°12'27"W

approx. 7609, Trail Run Road, West Falls Church, Fairfax County, Virginia, 22042, United States

Precinct Margin: D+39%

Voter 410's Neighborhood

28°49'8"N 81°9'35"W

approx. Yellow Trail, Volusia County, Florida, 32764, United States

Precinct Margin: R+58%

Voter 411's Neighborhood

41°35'25"N 72°54'26"W

approx. 18, Great Pine Path, Marion Historic District, Southington, Hartford County, Connecticut, 06479, United States

Precinct Margin: R+4%

Voter 412's Neighborhood

39°9'27"N 91°23'5"W

approx. 4898, County Road 424, Pike County, Missouri, 63359, United States

Precinct Margin: R+68%

Voter 413's Neighborhood

45°6'18"N 93°20'59"W

approx. 8345, Scott Avenue North, Brooklyn Park, Hennepin County, Minnesota, 55443, United States

Precinct Margin: D+45%

Voter 414's Neighborhood

40°8'51"N 89°22'44"W

approx. 399, South Adams Street, Lincoln, Logan County, Illinois, 62656, United States

Precinct Margin: R+23%

Voter 415's Neighborhood

47°23'15"N 117°10'36"W

approx. Zion Lutheran Church, West Hamilton Avenue, Fairfield, Spokane County, Washington, United States

Precinct Margin: R+41%

Voter 416's Neighborhood

41°59'53"N 87°42'11"W

approx. 6415-6425, North Richmond Street, West Ridge, Chicago, Rogers Park Township, Cook County, Illinois, 60645, United States

Precinct Margin: D+8%

Voter 417's Neighborhood

29°22'57"N 95°3'21"W

approx. Dump Road, La Marque, Galveston County, Texas, 77510, United States

Precinct Margin: R+8%

Voter 418's Neighborhood

31°53'8"N 101°57'19"W

approx. 10425, South County Road 1138, Midland County, Texas, 79706, United States

Precinct Margin: R+71%

Voter 419's Neighborhood

33°9'54"N 97°8'23"W

approx. 869, Sanders Road, Denton, Denton County, Texas, 76210, United States

Precinct Margin: R+14%

Voter 420's Neighborhood

35°59'34"N 79°56'59"W

approx. 665, West Main Street, Jamestown, Guilford County, North Carolina, 27282, United States

Precinct Margin: R+3%

Voter 421's Neighborhood

33°57'19"N 118°7'21"W

approx. 9730, Downey Avenue, Downey, Los Angeles County, California, 90240, United States

Precinct Margin: D+26%

Voter 422's Neighborhood

29°34'12"N 98°30'3"W

approx. 200, Bluff Hollow, San Antonio, Bexar County, Texas, 78216, United States

Precinct Margin: D+2%

Voter 423's Neighborhood

33°47'5"N 118°8'49"W

approx. 3873, East 14th Street, Long Beach, Los Angeles County, California, 90804, United States

Precinct Margin: D+52%

Voter 424's Neighborhood

45°35'16"N 122°21'5"W

approx. 1990, North Washougal River Road, Washougal, Clark County, Washington, 98671, United States

Precinct Margin: R+1%

Voter 425's Neighborhood

41°49'29"N 72°40'30"W

approx. 637, Matianuck Avenue, Windsor, Hartford County, Connecticut, 06095, United States

Precinct Margin: D+74%

Voter 426's Neighborhood

33°30'30"N 111°55'29"W

approx. FireSky Resort & Spa, East Chaparral Road, Scottsdale, Maricopa County, Arizona, 85251, United States

Precinct Margin: D+17%

Voter 427's Neighborhood

36°18'15"N 115°16'37"W

approx. Aurora Falls Street, Tule Springs, Las Vegas, Clark County, Nevada, 89159, United States

Precinct Margin: R+16%

Voter 428's Neighborhood

29°7'12"N 82°18'7"W

approx. Southwest 110th Avenue, York, Marion County, Florida, 34481, United States

Precinct Margin: R+22%

Voter 429's Neighborhood

40°20'46"N 79°59'38"W

approx. 5147, Curry Road, Baldwin, Allegheny County, Pennsylvania, 15236, United States

Precinct Margin: D+3%

Voter 430's Neighborhood

40°51'50"N 107°48'55"W

approx. County Road 102, Moffat County, Colorado, United States

Precinct Margin: R+70%

Voter 431's Neighborhood

26°0'35"N 80°8'1"W

approx. 1351, Van Buren Street, Hollywood, Broward County, Florida, 33019, United States

Precinct Margin: D+23%

Voter 432's Neighborhood

39°16'20"N 81°31'59"W

approx. 1942, 20th Street, North Parkersburg, Parkersburg, Wood County, West Virginia, 26101, United States

Precinct Margin: R+31%

Voter 433's Neighborhood

35°4'42"N 89°53'4"W

approx. 2671, Mount Moriah Road, Memphis, Shelby County, Tennessee, 38115, United States

Precinct Margin: D+81%

Voter 434's Neighborhood

40°49'38"N 73°5'17"W

approx. 21, Walter Street, Suffolk County, New York, 11741, United States

Precinct Margin: R+24%

Voter 435's Neighborhood

42°55'19"N 84°40'14"W

approx. 7494, Church Road, Riley, Riley Township, Clinton County, Michigan, 48879, United States

Precinct Margin: R+27%

Voter 436's Neighborhood

30°22'24"N 94°20'59"W

approx. 2526, FM 1293, Kountze, Hardin County, Texas, 77625, United States

Precinct Margin: R+88%

Voter 437's Neighborhood

36°5'12"N 115°18'16"W

approx. 9718, Maple Sugar Leaf Place, Spring Valley, Clark County, Nevada, 89148, United States

Precinct Margin: D+21%

Voter 438's Neighborhood

37°24'49"N 76°33'50"W

approx. Fiddlers Green Road, Gloucester County, Virginia, 23061, United States

Precinct Margin: R+35%

Voter 439's Neighborhood

40°48'27"N 75°36'52"W

approx. 291, Harvard Avenue, Palmerton, Carbon County, Pennsylvania, 18071, United States

Precinct Margin: R+24%

Voter 440's Neighborhood

34°59'45"N 82°22'18"W

approx. 337, Virginia Road, Travelers Rest, Greenville County, South Carolina, 29690, United States

Precinct Margin: R+57%

Voter 441's Neighborhood

40°27'32"N 79°59'59"W

approx. 1408, Howard Street, East Allegheny, Pittsburgh, Allegheny County, Pennsylvania, 15212, United States

Precinct Margin: D+29%

Voter 442's Neighborhood

31°27'53"N 91°20'15"W

approx. 12, McCalip-Retirement Pltn Road, Adams County, Mississippi, 39120, United States

Precinct Margin: R+68%

Voter 443's Neighborhood

32°22'31"N 88°44'21"W

approx. 5612, Semmes Road, Complete, Meridian, Lauderdale County, Mississippi, 39307, United States

Precinct Margin: D+63%

Voter 444's Neighborhood

34°6'56"N 79°17'49"W

approx. Olivet Cemetary Road, Marion County, South Carolina, 29589, United States

Precinct Margin: D+34%

Voter 445's Neighborhood

41°52'31"N 73°34'4"W

approx. 445, Cascade Mountain Road, Town of Amenia, Dutchess County, New York, 12501, United States

Precinct Margin: D+2%

Voter 446's Neighborhood

33°19'57"N 87°6'17"W

approx. 6128, Blue Creek Road, Valley Creek, Hueytown, Jefferson County, Alabama, 35444, United States

Precinct Margin: R+32%

Voter 447's Neighborhood

37°28'6"N 122°14'17"W

approx. 1118, Valota Road, Redwood City, San Mateo County, California, 94061, United States

Precinct Margin: D+64%

Voter 448's Neighborhood

27°17'12"N 80°24'4"W

approx. 1749, Southwest Commerce Avenue, Port Saint Lucie, Saint Lucie County, Florida, 34953, United States

Precinct Margin: D+8%

Voter 449's Neighborhood

40°42'18"N 112°5'57"W

approx. Cyprus High School, Spencer Avenue, Magna, Salt Lake County, Utah, 84044, United States

Precinct Margin: D+5%

Voter 450's Neighborhood

38°58'45"N 86°32'44"W

approx. 461, Cedar View Lane, Lawrence County, Indiana, 47421, United States

Precinct Margin: R+52%

Voter 451's Neighborhood

41°41'5"N 86°17'6"W

approx. 2489, Westmoor Street, South Bend, Saint Joseph County, Indiana, 46628, United States

Precinct Margin: D+73%

Voter 452's Neighborhood

40°20'29"N 86°46'29"W

approx. 6825, Wyandotte Road, Tippecanoe County, Indiana, 47905, United States

Precinct Margin: R+44%

Voter 453's Neighborhood

35°2'29"N 107°31'26"W

approx. Indian Service Route 24, Seama, Cibola County, New Mexico, 87007, United States

Precinct Margin: D+66%

Voter 454's Neighborhood

26°49'40"N 80°5'23"W

approx. 1853, Giralda Circle West, Palm Beach Gardens, North Palm Beach, Palm Beach County, Florida, 33410, United States

Precinct Margin: R+5%

Voter 455's Neighborhood

43°42'19"N 114°20'16"W

approx. Trail Creek Golf Course, Prospect Hill Loop, Sun Valley, Blaine County, Idaho, 83353, United States

Precinct Margin: D+33%

Voter 456's Neighborhood

42°8'24"N 72°21'1"W

approx. 152, Hovey Road, Monson, Hampden County, Massachusetts, 01069, United States

Precinct Margin: R+5%

Voter 457's Neighborhood

41°30'43"N 88°9'9"W

approx. Illinois Youth Correction Center, McDonough Street, Joliet, Will County, Illinois, 60435, United States

Precinct Margin: D+44%

Voter 458's Neighborhood

42°33'27"N 83°47'33"W

approx. Woodland Lake Motel, 8029, West Grand River Avenue, Brighton Township, Livingston County, Michigan, 48114, United States

Precinct Margin: R+27%

Voter 459's Neighborhood

29°1'43"N 82°0'31"W

approx. 9073, Southeast 130th Loop, Marion County, Florida, 34491, United States

Precinct Margin: R+27%

Voter 460's Neighborhood

41°7'55"N 81°39'39"W

approx. 199, Lethbridge Circle, Stoney Hill, Copley Township, Summit County, Ohio, 44321, United States

Precinct Margin: D+15%

Voter 461's Neighborhood

40°7'9"N 75°7'55"W

approx. 1081, Edge Hill Road, Mount Vernon Gardens, Abington, Abington Township, Montgomery County, Pennsylvania, 19001, United States

Precinct Margin: D+42%

Voter 462's Neighborhood

36°37'27"N 94°28'36"W

approx. 1781, Hobbs Road, McDonald County, Missouri, 64831, United States

Precinct Margin: R+69%

Voter 463's Neighborhood

39°0'54"N 95°46'0"W

approx. 6220, Southwest 29th Street, Topeka, Shawnee County, Kansas, 66614, United States

Precinct Margin: D+40%

Voter 464's Neighborhood

43°34'59"N 124°5'8"W

approx. 4000 Road, Coos County, Oregon, 97449, United States

Precinct Margin: R+32%

Voter 465's Neighborhood

34°5'23"N 117°56'6"W

approx. San Bernardino Road, West Covina, Los Angeles County, California, 91722, United States

Precinct Margin: D+35%

Voter 466's Neighborhood

34°5'19"N 118°17'48"W

approx. 954, North Kenmore Avenue, Bicycle District, East Hollywood, Los Angeles, Los Angeles County, California, 90029, United States

Precinct Margin: D+53%

Voter 467's Neighborhood

40°54'42"N 73°54'2"W

approx. 6154, Liebig Avenue, Bronx County, The Bronx, City of New York, New York, 10471, United States

Precinct Margin: D+41%

Voter 468's Neighborhood

32°33'34"N 89°5'36"W

approx. 333, Sessions Road, Newton County, Mississippi, 39365, United States

Precinct Margin: R+76%

Voter 469's Neighborhood

32°39'51"N 97°28'17"W

approx. Winscott Road, Benbrook, Tarrant County, Texas, 76126, United States

Precinct Margin: R+28%

Voter 470's Neighborhood

34°4'45"N 118°7'53"W

approx. The Church of Jesus Christ of Latter-day Saints, Shorb Street, Alhambra, Los Angeles County, California, 91801, United States

Precinct Margin: D+39%

Voter 471's Neighborhood

36°55'24"N 76°15'47"W

approx. 8059, West Glen Road, Denby Park, Monticello Village, Norfolk, Virginia, 23505, United States

Precinct Margin: D+45%

Voter 472's Neighborhood

47°2'49"N 122°50'13"W

approx. Dirty Dave's Pizza Parlor, Martin Way East, Olympia, Thurston County, Washington, 98506-5049, United States

Precinct Margin: D+26%

Voter 473's Neighborhood

41°41'17"N 87°47'36"W

approx. 11185, South Worth Avenue, Worth, Worth Township, Cook County, Illinois, 60482, United States

Precinct Margin: R+7%

Voter 474's Neighborhood

43°11'17"N 112°20'20"W

approx. 267, North Stout Avenue, Blackfoot, Bingham County, Idaho, 83221, United States

Precinct Margin: R+58%

Voter 475's Neighborhood

33°55'57"N 118°0'35"W

approx. 15199, Fernview Street, Los Angeles County, California, 90604, United States

Precinct Margin: D+21%

Voter 476's Neighborhood

37°25'7"N 92°48'40"W

approx. Letterman Cemetery, Bowen Creek Road, Webster County, Missouri, 65713, United States

Precinct Margin: R+68%

Voter 477's Neighborhood

40°35'45"N 124°8'53"W

approx. 1700, Stillman Way, Fortuna, Humboldt County, California, 95540, United States

Precinct Margin: R+6%

Voter 478's Neighborhood

32°58'34"N 83°47'22"W

approx. Klopfer Road, Bolingbroke, Monroe County, Georgia, 31004, United States

Precinct Margin: R+56%

Voter 479's Neighborhood

30°12'33"N 97°48'5"W

approx. 1911, Cannonwood Lane, Cherry Creek, Austin, Travis County, Texas, 78745, United States

Precinct Margin: D+65%

Voter 480's Neighborhood

39°43'51"N 74°19'53"W

approx. Micaja S Road, Stafford Township, Ocean County, New Jersey, 08050-2808, United States

Precinct Margin: R+25%

Voter 481's Neighborhood

41°50'5"N 71°24'12"W

approx. Hope High School, 324, Hope Street, College Hill, Providence, Providence County, Rhode Island, 02906, United States

Precinct Margin: D+80%

Voter 482's Neighborhood

35°2'42"N 81°1'51"W

approx. 2095, Driftwood Circle, York County, South Carolina, 29708, United States

Precinct Margin: R+13%

Voter 483's Neighborhood

40°28'0"N 84°17'23"W

approx. 7523, Botkins Road, Botkins, Shelby County, Ohio, 45306, United States

Precinct Margin: R+76%

Voter 484's Neighborhood

39°3'51"N 119°45'33"W

approx. Heybourne Road, Johnson Lane, Douglas County, Nevada, 89705, United States

Precinct Margin: R+36%

Voter 485's Neighborhood

42°37'9"N 82°32'26"W

approx. 927, Columbia Street, Pointe aux Chenes, Algonac, Saint Clair County, Michigan, 48001, United States

Precinct Margin: R+37%

Voter 486's Neighborhood

40°42'27"N 80°17'6"W

approx. 498, Ohio Avenue, Rochester, Beaver County, Pennsylvania, 15074, United States

Precinct Margin: D+10%

Voter 487's Neighborhood

45°5'39"N 94°6'42"W

approx. 10140, 40th Street Southwest, Middleville Township, Wright County, Minnesota, 55349, United States

Precinct Margin: R+56%

Voter 488's Neighborhood

36°8'58"N 96°7'58"W

approx. 129th West Avenue, Sand Springs, Tulsa County, Oklahoma, 74063, United States

Precinct Margin: R+43%

Voter 489's Neighborhood

39°22'23"N 76°41'58"W

approx. 3117, Northbrook Road, Wellwood, Pikesville, Baltimore County, Maryland, 21208, United States

Precinct Margin: R+11%

Voter 490's Neighborhood

35°11'50"N 82°17'37"W

approx. Hogback Mountain Road, Greenville County, South Carolina, United States

Precinct Margin: D+5%

Voter 491's Neighborhood

33°12'15"N 96°57'0"W

approx. 809, Lake Forest Trail, Denton County, Texas, 75068, United States

Precinct Margin: D+13%

Voter 492's Neighborhood

32°44'41"N 97°13'35"W

approx. 2329, Pollard Street, Fort Worth, Tarrant County, Texas, 76112, United States

Precinct Margin: D+66%

Voter 493's Neighborhood

47°40'20"N 122°15'57"W

approx. 6008, 57th Avenue Northeast, Windermere, Seattle, King County, Washington, 98115, United States

Precinct Margin: D+83%

Voter 494's Neighborhood

43°31'38"N 116°5'4"W

approx. BLM Track, Ada County, Idaho, 83715, United States

Precinct Margin: D+12%

Voter 495's Neighborhood

34°13'9"N 81°32'24"W

approx. Lovelace Family Medicine, P.A, 600, North Wheeler Ave, Prosperity, Newberry County, South Carolina, 29127, United States

Precinct Margin: R+10%

Voter 496's Neighborhood

36°37'5"N 80°13'39"W

approx. 440, New Hope Church Road, Patrick County, Virginia, 24171, United States

Precinct Margin: R+56%

Voter 497's Neighborhood

33°38'56"N 112°3'46"W

approx. Bona Venture Mobile Home Park, East Grovers Avenue, Quail Country Place, Phoenix, Maricopa County, Arizona, 85023-1501, United States

Precinct Margin: D+2%

Voter 498's Neighborhood

45°47'28"N 122°33'18"W

approx. 1702, Northwest 14th Circle, Battle Ground, Clark County, Washington, 98604, United States

Precinct Margin: R+26%

Voter 499's Neighborhood

41°48'44"N 87°41'56"W

approx. 4445, South Sacramento Avenue, Brighton Park, Chicago, Lake Township, Cook County, Illinois, 60632, United States

Precinct Margin: D+64%

Voter 500's Neighborhood

40°30'9"N 78°25'3"W

approx. 944, 28th Street, Westmont, Altoona, Blair County, Pennsylvania, 16601, United States

Precinct Margin: R+22%

Voter 501's Neighborhood

34°9'29"N 118°22'29"W

approx. 11210, La Maida Street, Los Angeles, Los Angeles County, California, 91601, United States

Precinct Margin: D+76%

Voter 502's Neighborhood

47°56'29"N 122°14'58"W

approx. Industry Street, Everett, Snohomish County, Washington, 98203, United States

Precinct Margin: D+26%

Voter 503's Neighborhood

38°29'2"N 90°1'22"W

approx. Mine Haul Road, Belleville, Saint Clair County, Illinois, 62220, United States

Precinct Margin: R+14%

Voter 504's Neighborhood

46°41'32"N 95°52'5"W

approx. 50342, Trowbridge Circle, Otter Tail County, Minnesota, 56587, United States

Precinct Margin: R+45%

Voter 505's Neighborhood

29°42'48"N 95°47'52"W

approx. 8753, Willowleaf Garden Crossing, Seven Meadows, Fort Bend County, Texas, 77494, United States

Precinct Margin: R+7%

Voter 506's Neighborhood

32°36'32"N 80°19'35"W

approx. 7793, Russell Creek Road, Charleston County, South Carolina, 29438, United States

Precinct Margin: D+3%

Voter 507's Neighborhood

30°50'16"N 97°39'52"W

approx. 235, Appaloosa Cove, Williamson County, Texas, 76527, United States

Precinct Margin: R+31%

Voter 508's Neighborhood

39°42'8"N 91°22'51"W

approx. 2311, Chestnut Street, Hannibal, Marion County, Missouri, 63401, United States

Precinct Margin: R+19%

Voter 509's Neighborhood

36°21'59"N 76°40'41"W

approx. 436, Perkins Road, Carter, Gates County, North Carolina, 27938, United States

Precinct Margin: R+34%

Voter 510's Neighborhood

41°47'3"N 88°2'57"W

approx. 5605, Katrine Avenue, Woodridge, DuPage County, Illinois, 60516, United States

Precinct Margin: D+32%

Voter 511's Neighborhood

40°15'42"N 77°13'59"W

approx. 1770, Longs Gap Road, Cumberland County, Pennsylvania, 17013, United States

Precinct Margin: R+19%

Voter 512's Neighborhood

33°24'28"N 97°8'46"W

approx. 3989, Huling Road, Denton County, Texas, 76266, United States

Precinct Margin: R+58%

Voter 513's Neighborhood

33°13'8"N 93°15'38"W

approx. 414, Columbia Rd 5, Horsehead, Columbia County, Arkansas, 71753, United States

Precinct Margin: R+27%

Voter 514's Neighborhood

33°53'7"N 118°7'10"W

approx. 16330, Cornuta Avenue, Bellflower, Los Angeles County, California, 90706, United States

Precinct Margin: D+31%

Voter 515's Neighborhood

41°35'58"N 70°56'38"W

approx. 32, Atlantic Street, Redgate Corner, Dartmouth, Bristol County, Massachusetts, 02748, United States

Precinct Margin: D+27%

Voter 516's Neighborhood

33°35'54"N 83°51'30"W

approx. 1157, Elm Street Northeast, Covington, Newton County, Georgia, 30014, United States

Precinct Margin: R+1%

Voter 517's Neighborhood

33°41'38"N 88°45'26"W

approx. Siloam-Una Road, Clay County, Mississippi, United States

Precinct Margin: D+53%

Voter 518's Neighborhood

34°24'46"N 118°32'27"W

approx. The Original Saugus Cafe, 25861, Railroad Avenue, Pardee, Santa Clarita, Los Angeles County, California, 91355, United States

Precinct Margin: D+1%

Voter 519's Neighborhood

34°10'34"N 79°53'44"W

approx. 1098, Whitehall Shores Road, Heritage, Florence County, South Carolina, 29501, United States

Precinct Margin: R+9%

Voter 520's Neighborhood

40°25'49"N 111°50'49"W

approx. Townhomes, East Crosscourt Way, Lehi, Utah County, Utah, United States

Precinct Margin: R+56%

Voter 521's Neighborhood

33°43'13"N 118°2'47"W

approx. 16642, Blanton Street, Huntington Beach, Orange County, California, 92649, United States

Precinct Margin: D+8%

Voter 522's Neighborhood

42°38'8"N 74°20'21"W

approx. 180, Riverview Road, Town of Middleburgh, Schoharie County, New York, 12157, United States

Precinct Margin: R+42%

Voter 523's Neighborhood

45°24'0"N 122°47'17"W

approx. 16565, Southwest 108th Avenue, Cook Park, Tigard, Washington County, Oregon, 97224, United States

Precinct Margin: D+36%

Voter 524's Neighborhood

38°32'24"N 94°33'50"W

approx. 32439, Nelson Road, Cass County, Missouri, 64742, United States

Precinct Margin: R+56%

Voter 525's Neighborhood

27°41'39"N 97°24'38"W

approx. 4130, Walnut Hills Drive, Corpus Christi, Nueces County, Texas, 78413, United States

Precinct Margin: D+4%

Voter 526's Neighborhood

38°17'31"N 78°16'29"W

approx. 77, Bethel Lane, Rochelle, Madison County, Virginia, 22738, United States

Precinct Margin: R+30%

Voter 527's Neighborhood

41°16'41"N 73°55'58"W

approx. Louisa Street, City of Peekskill, Westchester County, New York, 10566, United States

Precinct Margin: D+36%

Voter 528's Neighborhood

41°41'28"N 86°52'6"W

approx. 1722, Welnetz Road, Michigan City, LaPorte County, Indiana, 46360, United States

Precinct Margin: D+48%

Voter 529's Neighborhood

40°41'8"N 73°58'15"W

approx. Brooklyn Bear's Community Gardens - Carlton, Carlton Avenue, Brooklyn, Kings County, City of New York, New York, 11238, United States

Precinct Margin: D+95%

Voter 530's Neighborhood

35°22'6"N 81°23'6"W

approx. 408, West Old Post Road, Cherryville, Gaston County, North Carolina, 28021, United States

Precinct Margin: R+47%

Voter 531's Neighborhood

43°57'24"N 91°0'37"W

approx. Balmer Road, Town of Burns, La Crosse County, Wisconsin, United States

Precinct Margin: R+22%

Voter 532's Neighborhood

37°41'36"N 77°37'39"W

approx. 5739, Pouncey Tract Road, Henrico County, Virginia, 23059, United States

Precinct Margin: R+2%

Voter 533's Neighborhood

42°10'12"N 87°49'2"W

approx. 1598, Grove Avenue, Briergate, Highland Park, Lake County, Illinois, 60035, United States

Precinct Margin: D+61%

Voter 534's Neighborhood

33°4'25"N 96°53'19"W

approx. Tommy Briggs Cougar Stadium, Cougar Alley, The Colony, Denton County, Texas, 75056, United States

Precinct Margin: D+4%

Voter 535's Neighborhood

41°41'33"N 111°50'3"W

approx. Main Street, Millville, Cache County, Utah, 84326, United States

Precinct Margin: R+58%

Voter 536's Neighborhood

34°43'25"N 84°44'6"W

approx. Estelle Mddleton Road, Murray County, Georgia, United States

Precinct Margin: R+77%

Voter 537's Neighborhood

33°44'25"N 117°25'36"W

approx. 13375, Temescal Canyon Road, Alberhill, Lake Elsinore, Riverside County, California, 92883, United States

Precinct Margin: R+4%

Voter 538's Neighborhood

41°44'48"N 87°46'4"W

approx. 5882, 80th Street, Burbank, Stickney Township, Cook County, Illinois, 60459, United States

Precinct Margin: D+4%

Voter 539's Neighborhood

34°6'43"N 84°27'44"W

approx. 1606, Barnes Road, Woodstock, Cherokee County, Georgia, 30188, United States

Precinct Margin: R+23%

Voter 540's Neighborhood

45°37'43"N 122°34'4"W

approx. 10392, Northeast 10th Street, Marrion, Vancouver, Clark County, Washington, 98664, United States

Precinct Margin: D+14%

Voter 541's Neighborhood

42°39'27"N 83°25'26"W

approx. Suburban Ford of Waterford, 6975, Highland Road, Waterford Township, Oakland County, Michigan, 48327, United States

Precinct Margin: D+4%

Voter 542's Neighborhood

35°7'53"N 81°5'54"W

approx. 5898, Hidden Oaks Lane, York County, South Carolina, 29710, United States

Precinct Margin: R+30%

Voter 543's Neighborhood

25°53'45"N 80°11'50"W

approx. 90, Northeast 132nd Street, North Miami, Miami-Dade County, Florida, 33161, United States

Precinct Margin: D+75%

Voter 544's Neighborhood

42°29'9"N 90°40'5"W

approx. 201, River Ridge Street, South End District, Dubuque, Dubuque County, Iowa, 52003, United States

Precinct Margin: D+18%

Voter 545's Neighborhood

37°58'33"N 122°29'9"W

approx. 47, Lochinvar Road, San Rafael, Marin County, California, 94901, United States

Precinct Margin: D+56%

Voter 546's Neighborhood

30°24'27"N 93°28'39"W

approx. Tank Road, Calcasieu Parish, Louisiana, 70633, United States

Precinct Margin: R+67%

Voter 547's Neighborhood

42°18'22"N 71°19'29"W

approx. Crosstown Trail and Cochituate Aqueduct Trail, Overbrook, Wellesley, Norfolk County, Massachusetts, 01500, United States

Precinct Margin: D+60%

Voter 548's Neighborhood

42°51'40"N 96°2'10"W

approx. 13652, Pioneer Avenue, Plymouth County, Iowa, 51031, United States

Precinct Margin: R+61%

Voter 549's Neighborhood

39°44'45"N 75°19'50"W

approx. 115, Delaware Crossing, Woolwich Township, Gloucester County, New Jersey, 08085, United States

Precinct Margin: D+3%

Voter 550's Neighborhood

29°39'5"N 95°33'20"W

approx. 11696, Dover Street, Houston, Harris County, Texas, 77031, United States

Precinct Margin: D+33%

Voter 551's Neighborhood

44°58'14"N 93°15'2"W

approx. Brian Coyle Center, 420, 15th Avenue South, Phillips, Minneapolis, Hennepin County, Minnesota, 55454, United States

Precinct Margin: D+84%

Voter 552's Neighborhood

36°47'49"N 76°7'23"W

approx. Parkway Elementary, Macarthur Road, Salem, Virginia Beach, Virginia, 23456, United States

Precinct Margin: D+43%

Voter 553's Neighborhood

38°44'48"N 121°11'39"W

approx. 5748, Macargo Road, Placer County, California, 95746, United States

Precinct Margin: R+9%

Voter 554's Neighborhood

40°31'41"N 86°51'57"W

approx. 2191, Mert Lane, Tippecanoe County, Indiana, 47920, United States

Precinct Margin: R+26%

Voter 555's Neighborhood

36°0'22"N 83°52'19"W

approx. 129, Pelham Road, Chilhowee Hills, Knoxville, Knox County, Tennessee, 37914, United States

Precinct Margin: D+65%

Voter 556's Neighborhood

34°11'49"N 118°37'11"W

approx. 22629, Marlin Place, Los Angeles, Los Angeles County, California, 91307, United States

Precinct Margin: D+29%

Voter 557's Neighborhood

40°35'24"N 112°0'52"W

approx. 8757, Grizzly Way, West Jordan, Salt Lake County, Utah, 84081, United States

Precinct Margin: R+32%

Voter 558's Neighborhood

35°48'11"N 80°50'20"W

approx. 624, Old Farm Road, Old Farm, Statesville, Iredell County, North Carolina, 28625, United States

Precinct Margin: R+17%

Voter 559's Neighborhood

42°15'38"N 75°32'44"W

approx. 152, Morgan Hill Road, North Afton, Town of Afton, Chenango County, New York, 13730, United States

Precinct Margin: R+33%

Voter 560's Neighborhood

30°24'40"N 95°32'52"W

approx. 12305, Maggie Lane, Montgomery County, Texas, 77318, United States

Precinct Margin: R+68%

Voter 561's Neighborhood

41°50'7"N 87°47'56"W

approx. 3129, Wenonah Avenue, Berwyn, Cook County, Illinois, 60402, United States

Precinct Margin: D+54%

Voter 562's Neighborhood

41°36'53"N 70°51'18"W

approx. 6, Widemarsh Beach Way, Wigwam Beach, Fairhaven, Bristol County, Massachusetts, 02719, United States

Precinct Margin: D+2%

Voter 563's Neighborhood

26°17'9"N 81°44'50"W

approx. 6013, Manchester Place, Carlton Lakes, Collier County, Florida, 34110, United States

Precinct Margin: R+24%

Voter 564's Neighborhood

43°38'46"N 116°19'34"W

approx. 4500, North Tumbleweed Lane, Boise, Ada County, Idaho, 83713, United States

Precinct Margin: R+12%

Voter 565's Neighborhood

37°57'12"N 86°42'47"W

approx. 5087, Sky Blue Lane, Perry County, Indiana, 47520, United States

Precinct Margin: R+30%

Voter 566's Neighborhood

40°50'43"N 72°48'13"W

approx. Patricia Lane, Manor Woods, Suffolk County, New York, 11949, United States

Precinct Margin: R+31%

Voter 567's Neighborhood

40°46'44"N 73°56'49"W

approx. 402, East 90th Street, Manhattan Community Board 8, Yorkville, New York County, City of New York, New York, 10128, United States

Precinct Margin: D+71%

Voter 568's Neighborhood

26°1'41"N 80°16'26"W

approx. 2151, Northwest 96th Terrace, Pembroke Pines, Broward County, Florida, 33024, United States

Precinct Margin: D+25%

Voter 569's Neighborhood

40°47'57"N 74°13'24"W

approx. 47, Cedar Avenue, Montclair, Essex County, New Jersey, 07042, United States

Precinct Margin: D+85%

Voter 570's Neighborhood

41°5'18"N 111°56'26"W

approx. East Primrose Lane, Hidden Hollow, Layton, Davis County, Utah, 84040, United States

Precinct Margin: R+20%

Voter 571's Neighborhood

30°36'53"N 98°28'39"W

approx. Packsaddle Mountain Road, Llano County, Texas, 78639, United States

Precinct Margin: R+51%

Voter 572's Neighborhood

38°52'2"N 77°8'39"W

approx. Arlington Boulevard Service Road, Seven Corners, Fairfax County, Virginia, 22044, United States

Precinct Margin: D+48%

Voter 573's Neighborhood

26°32'37"N 80°10'15"W

approx. 7899, Rockford Road, Palm Beach County, Florida, 33472, United States

Precinct Margin: D+33%

Voter 574's Neighborhood

35°48'26"N 81°18'6"W

approx. 365, Chigger Ridge Road, Alexander County, North Carolina, 28681, United States

Precinct Margin: R+57%

Voter 575's Neighborhood

33°30'30"N 111°55'29"W

approx. FireSky Resort & Spa, East Chaparral Road, Scottsdale, Maricopa County, Arizona, 85251, United States

Precinct Margin: D+17%

Voter 576's Neighborhood

32°44'30"N 93°45'36"W

approx. Cedar Farm Lane, Bossier Parish, Louisiana, 71064, United States

Precinct Margin: R+63%

Voter 577's Neighborhood

39°56'25"N 76°37'48"W

approx. 641, Kendale Road, Freysville, Windsor Township, York County, Pennsylvania, 17356, United States

Precinct Margin: R+29%

Voter 578's Neighborhood

43°39'18"N 93°21'59"W

approx. 303, Johnson Street, Albert Lea, Freeborn County, Minnesota, 56007, United States

Precinct Margin: R+8%

Voter 579's Neighborhood

41°6'18"N 73°33'18"W

approx. 10, Hampshire Lane, Turn of River, Stamford, Fairfield County, Connecticut, 06905, United States

Precinct Margin: D+21%

Voter 580's Neighborhood

37°6'47"N 77°36'7"W

approx. 17415, Chamberlands Road, Dinwiddie County, Virginia, 23841, United States

Precinct Margin: R+33%

Voter 581's Neighborhood

47°53'45"N 122°15'6"W

approx. Arco, Evergreen Way, Fairmont, Holly, Everett, Snohomish County, Washington, 98204, United States

Precinct Margin: D+33%

Voter 582's Neighborhood

35°19'33"N 80°58'39"W

approx. 1469, Hart Road, Shuffletown, Charlotte, Mecklenburg County, North Carolina, 28214, United States

Precinct Margin: D+37%

Voter 583's Neighborhood

32°41'51"N 97°39'17"W

approx. 1819, Old Annetta Road, Annetta, Parker County, Texas, 76008, United States

Precinct Margin: R+57%

Voter 584's Neighborhood

41°44'16"N 86°5'54"W

approx. 11829, Buttercup Circle, Granger, Saint Joseph County, Indiana, 46530, United States

Precinct Margin: R+19%

Voter 585's Neighborhood

34°12'54"N 118°26'10"W

approx. 7944, Clearfield Avenue, Panorama City, Los Angeles, Los Angeles County, California, 91402, United States

Precinct Margin: D+43%

Voter 586's Neighborhood

33°12'10"N 97°9'32"W

approx. Athletic Center (ATHC), South Bonnie Brae Street, Denton, Denton County, Texas, 76203, United States

Precinct Margin: D+28%

Voter 587's Neighborhood

37°58'16"N 122°17'42"W

approx. 4501, Santa Rita Road, Richmond, Contra Costa County, California, 94803, United States

Precinct Margin: D+69%

Voter 588's Neighborhood

44°38'58"N 93°14'1"W

approx. 20708, Hartford Way, Village Creek, Lakeville, Dakota County, Minnesota, 55044, United States

Precinct Margin: R+4%

Voter 589's Neighborhood

26°18'4"N 98°0'24"W

approx. 955, Live Oak Street, Elsa, Hidalgo County, Texas, 78543, United States

Precinct Margin: D+38%

Voter 590's Neighborhood

38°52'56"N 87°14'5"W

approx. Begeman Cemetery, East Wagner Road, Knox County, Indiana, 47596, United States

Precinct Margin: R+60%

Voter 591's Neighborhood

28°36'5"N 81°10'2"W

approx. 4033, Shawn Circle, Tanner Crossings, Orange County, Florida, 32826, United States

Precinct Margin: D+28%

Voter 592's Neighborhood

37°42'51"N 121°56'53"W

approx. 11554, Vista Place, West Dublin, Dublin, Alameda County, California, 94583, United States

Precinct Margin: D+35%

Voter 593's Neighborhood

35°11'37"N 80°42'50"W

approx. 5116, Birchbark Lane, Silverstone, Charlotte, Mecklenburg County, North Carolina, 28227, United States

Precinct Margin: D+43%

Voter 594's Neighborhood

34°10'15"N 117°18'51"W

approx. 1399, Jeffrey Way, San Bernardino, San Bernardino County, California, 92407, United States

Precinct Margin: D+28%

Voter 595's Neighborhood

30°31'2"N 97°44'33"W

approx. Oak Brook Trail, Avery Ranch, Brushy Creek, Williamson County, Texas, 78781, United States

Precinct Margin: D+17%

Voter 596's Neighborhood

48°12'4"N 96°46'11"W

approx. 683, North 4th Street, Warren, Marshall County, Minnesota, 56762, United States

Precinct Margin: R+49%

Voter 597's Neighborhood

39°22'14"N 84°23'49"W

approx. Hamilton Mason Road, Liberty Township, Butler County, Ohio, 45069, United States

Precinct Margin: R+8%

Voter 598's Neighborhood

36°7'47"N 115°17'45"W

approx. 9125, West Desert Inn Road, Las Vegas, Clark County, Nevada, 89117, United States

Precinct Margin: D+15%

Voter 599's Neighborhood

40°42'37"N 73°44'35"W

approx. 106-19, 215th Street, Queens, City of New York, New York, 11429, United States

Precinct Margin: D+88%

Voter 600's Neighborhood

39°10'42"N 75°59'10"W

approx. 545, Ewingtown Road, Queen Anne's County, Maryland, 21623, United States

Precinct Margin: R+26%

Voter 601's Neighborhood

33°48'58"N 117°55'51"W

approx. Goodhue Avenue, Anaheim, Orange County, California, 92802, United States

Precinct Margin: D+29%

Voter 602's Neighborhood

36°0'47"N 95°54'53"W

approx. 10321, South Granite Avenue, Forest Pointe, Tulsa, Tulsa County, Oklahoma, 74137, United States

Precinct Margin: R+44%

Voter 603's Neighborhood

34°1'39"N 118°6'51"W

approx. 865, Marconi Street, Montebello, Los Angeles County, California, 90640, United States

Precinct Margin: D+34%

Voter 604's Neighborhood

44°11'14"N 121°22'19"W

approx. Mariposa lane, Deschutes County, Oregon, United States

Precinct Margin: R+18%

Voter 605's Neighborhood

36°4'48"N 94°11'47"W

approx. 1239, North West End Avenue, Fayetteville, Washington County, Arkansas, 72703, United States

Precinct Margin: D+44%

Voter 606's Neighborhood

36°57'45"N 93°44'26"W

approx. 1036, Autumn Lane, Aurora, Lawrence County, Missouri, 65605, United States

Precinct Margin: R+60%

Voter 607's Neighborhood

32°59'5"N 97°22'30"W

approx. 809, Mexicali Way, Fort Worth, Tarrant County, Texas, 76052, United States

Precinct Margin: R+26%

Voter 608's Neighborhood

25°51'14"N 80°8'18"W

approx. 7300, Trouville Esplanade, Isle of Normandy, Miami Beach, Miami-Dade County, Florida, 33141, United States

Precinct Margin: D+34%

Voter 609's Neighborhood

36°2'28"N 95°52'22"W

approx. Meadowbrook Country Club, 9300, East 81st Street, Highland Park, Tulsa, Tulsa County, Oklahoma, 74014, United States

Precinct Margin: R+21%

Voter 610's Neighborhood

29°35'12"N 98°29'31"W

approx. 241, Limestone Creek, Hill Country Village, Bexar County, Texas, 78232, United States

Precinct Margin: R+34%

Voter 611's Neighborhood

42°15'6"N 83°26'29"W

approx. I-275 Metro Trail, Van Buren Township, Wayne County, Michigan, 48111-1133, United States

Precinct Margin: D+17%

Voter 612's Neighborhood

25°38'3"N 80°19'56"W

approx. 8520, Southwest 146th Street, Rockdale, Palmetto Bay, Miami-Dade County, Florida, 33158, United States

Precinct Margin: D+13%

Voter 613's Neighborhood

39°41'14"N 105°4'26"W

approx. 6945, West Calahan Avenue, Lakewood, Jefferson County, Colorado, 80232, United States

Precinct Margin: D+20%

Voter 614's Neighborhood

28°8'38"N 82°30'52"W

approx. 4126, Highland Park Circle, Cheval, Hillsborough County, Florida, 33558, United States

Precinct Margin: R+9%

Voter 615's Neighborhood

38°46'52"N 89°54'21"W

approx. 7715, Goshen Road, Edwardsville, Madison County, Illinois, 62025, United States

Precinct Margin: R+29%

Voter 616's Neighborhood

35°18'27"N 97°18'58"W

approx. 16198, A Street, Cleveland County, Oklahoma, 73165, United States

Precinct Margin: R+50%

Voter 617's Neighborhood

32°37'34"N 97°23'38"W

approx. 4616, Bellflower Way, Fort Worth, Tarrant County, Texas, 76123, United States

Precinct Margin: D+16%

Voter 618's Neighborhood

38°59'59"N 121°30'24"W

approx. 2911, Leach Road, Yuba County, California, 95961, United States

Precinct Margin: R+56%

Voter 619's Neighborhood

38°38'15"N 76°53'37"W

approx. Salvation Army, Old Washington Road, Mattawoman, Waldorf, Charles County, Maryland, 20601, United States

Precinct Margin: D+59%

Voter 620's Neighborhood

40°34'7"N 74°23'18"W

approx. 30, Westwood Circle, New Petrograd, Edison, Middlesex County, New Jersey, 08820, United States

Precinct Margin: D+24%

Voter 621's Neighborhood

37°40'21"N 121°47'52"W

approx. 341, Jillana Avenue, Livermore, Alameda County, California, 94550, United States

Precinct Margin: D+27%

Voter 622's Neighborhood

41°37'28"N 72°54'57"W

approx. E Grannis Pond Road, Southington, Hartford County, Connecticut, 06010-7403, United States

Precinct Margin: R+13%

Voter 623's Neighborhood

30°5'20"N 81°35'59"W

approx. 499, Chattan Way, Fruit Cove, Saint Johns County, Florida, 32259, United States

Precinct Margin: R+34%

Voter 624's Neighborhood

39°25'52"N 118°45'29"W

approx. 1297, Lazy Heart Lane, Churchill County, Nevada, 89406, United States

Precinct Margin: R+68%

Voter 625's Neighborhood

31°27'40"N 110°17'39"W

approx. 489, East Ramsey Canyon Road, Bledsoe, Sierra Vista, Cochise County, Arizona, 85615, United States

Precinct Margin: R+35%

Voter 626's Neighborhood

32°33'32"N 94°40'58"W

approx. 685, Hickory Creek Lane, Harrison County, Texas, 75605, United States

Precinct Margin: R+75%

Voter 627's Neighborhood

40°31'50"N 74°16'24"W

approx. 913, Amboy Avenue, William Dunlap Homes, Perth Amboy, Woodbridge, Middlesex County, New Jersey, 08861, United States

Precinct Margin: D+44%

Voter 628's Neighborhood

29°35'50"N 98°26'15"W

approx. 17115, Redland Road, San Antonio, Bexar County, Texas, 78247, United States

Precinct Margin: R+4%

Voter 629's Neighborhood

32°41'50"N 96°49'58"W

approx. 542, Early Dawn Trail, Dallas, Dallas County, Texas, 75224, United States

Precinct Margin: D+49%

Voter 630's Neighborhood

30°18'38"N 84°14'55"W

approx. 9458, Old Woodville Road, Lutterloh, Woodville, Leon County, Florida, 32305, United States

Precinct Margin: R+5%

Voter 631's Neighborhood

42°55'33"N 88°2'24"W

approx. 6551, Parkedge Circle, Franklin, Milwaukee County, Wisconsin, 53132, United States

Precinct Margin: R+1%

Voter 632's Neighborhood

42°24'2"N 88°10'29"W

approx. 69, Cora Road, Fox Lake, Lake County, Illinois, 60020, United States

Precinct Margin: R+7%

Voter 633's Neighborhood

32°39'51"N 94°16'0"W

approx. Buckhorn Road, Harrison County, Texas, United States

Precinct Margin: R+60%

Voter 634's Neighborhood

44°37'21"N 123°4'28"W

approx. 2502, 20th Avenue Southeast, Albany, Linn County, Oregon, 97322, United States

Precinct Margin: D+2%

Voter 635's Neighborhood

41°45'5"N 87°37'33"W

approx. South Lafayette Avenue, Greater Grand Crossing, Chicago, Lake Township, Cook County, Illinois, 60621, United States

Precinct Margin: D+96%

Voter 636's Neighborhood

39°9'3"N 84°4'48"W

approx. 5698, Freedom Trail, Jackson Township, Clermont County, Ohio, 45103, United States

Precinct Margin: R+69%

Voter 637's Neighborhood

46°57'27"N 123°46'26"W

approx. 170, H Street, Cosmopolis, Grays Harbor County, Washington, 98537, United States

Precinct Margin: R+7%

Voter 638's Neighborhood

36°25'6"N 79°6'5"W

approx. John Brewer Road, Person County, North Carolina, 27291, United States

Precinct Margin: R+47%

Voter 639's Neighborhood

39°9'34"N 76°39'40"W

approx. BWI Trail, Glenbrook, Glen Burnie, Anne Arundel County, Maryland, 21144-1320, United States

Precinct Margin: D+13%

Voter 640's Neighborhood

34°6'41"N 117°11'4"W

approx. Beattie Middle School, Boulder Avenue, Highland, San Bernardino County, California, 92346-9998, United States

Precinct Margin: D+9%

Voter 641's Neighborhood

41°41'17"N 81°16'7"W

approx. 10325, Johnnycake Ridge Road, Lake County, Ohio, 44077, United States

Precinct Margin: R+25%

Voter 642's Neighborhood

36°0'18"N 114°56'16"W

approx. 1268, Dalene Avenue, River Mountain View Estates, Henderson, Clark County, Nevada, 89002, United States

Precinct Margin: R+28%

Voter 643's Neighborhood

39°33'48"N 105°6'9"W

approx. Falcon Bluffs Middle School, West Remington Place, Jefferson County, Colorado, 80127-5008, United States

Precinct Margin: D+5%

Voter 644's Neighborhood

39°53'4"N 75°31'8"W

approx. 809, Concord Road, Concordville, Concord Township, Delaware County, Pennsylvania, 19342, United States

Precinct Margin: D+9%

Voter 645's Neighborhood

26°8'26"N 81°46'32"W

approx. 1378, Embassy Lane, Collier County, Florida, 34104, United States

Precinct Margin: R+21%

Voter 646's Neighborhood

33°42'21"N 118°0'59"W

approx. 17641, Collins Circle, Huntington Beach, Orange County, California, 92647, United States

Precinct Margin: R+8%

Voter 647's Neighborhood

32°33'50"N 117°3'0"W

approx. Smythe Elementary School, 1880, Smythe Avenue, San Ysidro, San Diego, San Diego County, California, 92173, United States

Precinct Margin: D+51%

Voter 648's Neighborhood

32°28'5"N 86°32'2"W

approx. 551, Golson Road, Prattville, Autauga County, Alabama, 36067, United States

Precinct Margin: R+38%

Voter 649's Neighborhood

41°28'0"N 96°47'9"W

approx. Birchwood Manor, 1120, Walnut Street, North Bend, Dodge County, Nebraska, 68649, United States

Precinct Margin: R+45%

Voter 650's Neighborhood

39°6'46"N 79°59'36"W

approx. 63, Bear Run Road, Philippi, Barbour County, West Virginia, 26416, United States

Precinct Margin: R+57%

Voter 651's Neighborhood

41°52'5"N 88°6'29"W

approx. 201, West Union Avenue, Wheaton, DuPage County, Illinois, 60187, United States

Precinct Margin: D+27%

Voter 652's Neighborhood

36°0'41"N 115°13'4"W

approx. Aldeane Comito Ries Elementary School, West Le Baron Avenue, Enterprise, Clark County, Nevada, 89141, United States

Precinct Margin: D+10%

Voter 653's Neighborhood

29°10'21"N 81°4'9"W

approx. Volusia County Parks, Recreation & Cultural Maintenance / Tradeworkers, Bellevue Avenue, Daytona Beach, Volusia County, Florida, 32124, United States

Precinct Margin: R+20%

Voter 654's Neighborhood

42°9'19"N 72°28'20"W

approx. Healthsouth Rehabilitation Hospital Of Western Massachusetts, 222, State Street, Ludlow, Hampden County, Massachusetts, 01056, United States

Precinct Margin: D+2%

Voter 655's Neighborhood

36°51'59"N 119°46'11"W

approx. 722, East Shepherd Avenue, Fresno, Fresno County, California, 93720, United States

Precinct Margin: D+1%

Voter 656's Neighborhood

45°34'3"N 68°13'12"W

approx. 1032, Kingman Road, Kingman Township, Penobscot County, Maine, 04451, United States

Precinct Margin: R+76%

Voter 657's Neighborhood

47°33'33"N 122°22'10"W

approx. West Seattle Golf Course, Southwest Avalon Way, West Seattle, Seattle, King County, Washington, 98126, United States

Precinct Margin: D+81%

Voter 658's Neighborhood

44°25'32"N 69°26'16"W

approx. 1180, North Palermo Road, Carrs Corner, Palermo, Waldo County, Maine, 04354, United States

Precinct Margin: R+16%

Voter 659's Neighborhood

41°2'22"N 81°25'39"W

approx. Ripley Avenue, Springfield Township, Summit County, Ohio, 44312, United States

Precinct Margin: R+30%

Voter 660's Neighborhood

40°38'34"N 111°50'49"W

approx. 6099, East Village Road, Murray, Salt Lake County, Utah, 84121, United States

Precinct Margin: D+16%

Voter 661's Neighborhood

40°49'56"N 74°9'40"W

approx. 60, Oakley Terrace, Nutley, Essex County, New Jersey, 07110, United States

Precinct Margin: D+3%

Voter 662's Neighborhood

42°49'31"N 71°18'43"W

approx. 49, Londonderry Road, Windham, Rockingham County, New Hampshire, 03087, United States

Precinct Margin: R+6%

Voter 663's Neighborhood

45°13'25"N 71°19'20"W

approx. Indian Stream Road, Pittsburg, Coos County, New Hampshire, United States

Precinct Margin: R+41%

Voter 664's Neighborhood

42°15'20"N 84°25'36"W

approx. 707, Eaton Street, Jackson, Jackson County, Michigan, 49202, United States

Precinct Margin: D+7%

Voter 665's Neighborhood

36°5'40"N 80°9'58"W

approx. 487, Quail Haven Lane, Woodbridge, Winston-Salem, Forsyth County, North Carolina, 27107, United States

Precinct Margin: D+24%

Voter 666's Neighborhood

42°35'33"N 71°7'11"W

approx. 5, Voke Street, North Reading, Middlesex County, Massachusetts, 01864-1298, United States

Precinct Margin: D+19%

Voter 667's Neighborhood

39°53'36"N 75°19'44"W

approx. 512, 6th Avenue, Folsom, Ridley Township, Delaware County, Pennsylvania, 19033, United States

Precinct Margin: R+7%

Voter 668's Neighborhood

33°27'0"N 94°25'1"W

approx. 3, Park Place, Boston, New Boston, Bowie County, Texas, 75570, United States

Precinct Margin: R+65%

Voter 669's Neighborhood

33°52'16"N 84°32'4"W

approx. Smyrna Fire Station #2, 642, Concord Road Southeast, Smyrna, Cobb County, Georgia, 30080, United States

Precinct Margin: D+21%

Voter 670's Neighborhood

45°18'50"N 93°35'25"W

approx. 12619, Meadowvale Road Northwest, Elk River, Sherburne County, Minnesota, 55330, United States

Precinct Margin: R+16%

Voter 671's Neighborhood

45°17'4"N 93°25'20"W

approx. 17319, Sodium Street Northwest, Ramsey, Anoka County, Minnesota, 55303, United States

Precinct Margin: R+16%

Voter 672's Neighborhood

35°2'39"N 106°29'46"W

approx. 1108, Castellano Road Southeast, Four Hills (HOA), Albuquerque, Bernalillo County, New Mexico, 87123, United States

Precinct Margin: R+9%

Voter 673's Neighborhood

40°40'42"N 112°0'6"W

approx. 4698, Condie Park Circle, West Valley City, Salt Lake County, Utah, 84120, United States

Precinct Margin: R+9%

Voter 674's Neighborhood

40°5'23"N 82°50'3"W

approx. 5298, Hanover Close, Columbus, Sharon, Franklin County, Ohio, 43054, United States

Precinct Margin: D+20%

Voter 675's Neighborhood

43°4'11"N 87°52'32"W

approx. 2838, North Summit Avenue, Historic Water Tower Neighborhood, Milwaukee, Milwaukee County, Wisconsin, 53211, United States

Precinct Margin: D+55%

Voter 676's Neighborhood

48°12'0"N 106°31'59"W

approx. Pliley Road, Valley County, Montana, United States

Precinct Margin: R+62%

Voter 677's Neighborhood

27°47'41"N 82°19'41"W

approx. 10869, Candle Stick Lane, Hillsborough County, Florida, 33579, United States

Precinct Margin: D+18%

Voter 678's Neighborhood

34°3'16"N 118°10'27"W

approx. 1393, Machado Avenue, East Los Angeles, Los Angeles County, California, 90063, United States

Precinct Margin: D+68%

Voter 679's Neighborhood

41°52'24"N 87°42'31"W

approx. 3303-3305, West Harrison Street, East Garfield Park, Chicago, Cook County, Illinois, 60624, United States

Precinct Margin: D+94%

Voter 680's Neighborhood

37°1'58"N 120°7'27"W

approx. Avenue 19 1/2, Madera County, California, 93638-0299, United States

Precinct Margin: D+1%

Voter 681's Neighborhood

38°38'56"N 90°15'36"W

approx. 4750, Westminster Place, Central West End, Saint Louis, Missouri, 63108, United States

Precinct Margin: D+75%

Voter 682's Neighborhood

40°28'37"N 88°54'8"W

approx. 1370, South Towanda Barnes Road, McLean County, Illinois, 61704, United States

Precinct Margin: R+31%

Voter 683's Neighborhood

44°36'44"N 75°10'34"W

approx. Remington Recreation Trail, Canton, Town of Canton, Saint Lawrence County, New York, 13617, United States

Precinct Margin: D+42%

Voter 684's Neighborhood

34°48'9"N 84°7'55"W

approx. Benton MacKaye Trail, Union County, Georgia, United States

Precinct Margin: R+66%

Voter 685's Neighborhood

34°13'33"N 80°17'38"W

approx. 399, Traub Road, Lee County, South Carolina, 29010, United States

Precinct Margin: D+10%

Voter 686's Neighborhood

32°15'48"N 90°7'24"W

approx. 2388, Milam Street, Randall Place, Cunningham Heights, Pearl, Rankin County, Mississippi, 39208, United States

Precinct Margin: R+37%

Voter 687's Neighborhood

35°20'46"N 80°39'7"W

approx. 699, Pitts School Road Southwest, Concord, Cabarrus County, North Carolina, 28027, United States

Precinct Margin: R+9%

Voter 688's Neighborhood

42°13'6"N 72°16'56"W

approx. Palmer Wildlife Management Area, Rondeau Street, Palmer, Hampden County, Massachusetts, 01092, United States

Precinct Margin: R+7%

Voter 689's Neighborhood

41°20'42"N 72°56'30"W

approx. 63, Sunset Road, Pine Rock, Hamden, New Haven County, Connecticut, 06514, United States

Precinct Margin: D+74%

Voter 690's Neighborhood

33°32'48"N 82°8'2"W

approx. Columbia County Amphitheater, Evans Library Walking Path, Evans, Columbia County, Georgia, United States

Precinct Margin: R+28%

Voter 691's Neighborhood

39°54'25"N 82°57'45"W

approx. 1191, Evergreen Road, Columbus, Franklin County, Ohio, 43207, United States

Precinct Margin: D+77%

Voter 692's Neighborhood

42°10'9"N 88°3'14"W

approx. 21899, West Hidden Valley Road, Hidden Valley, Kildeer, Lake County, Illinois, 60047, United States

Precinct Margin: R+1%

Voter 693's Neighborhood

35°51'52"N 80°59'32"W

approx. 188, Liberty Hill Road, Statesville, Iredell County, North Carolina, 28625, United States

Precinct Margin: R+54%

Voter 694's Neighborhood

41°53'40"N 88°1'52"W

approx. 516, West Meadow Avenue, Lombard, DuPage County, Illinois, 60148, United States

Precinct Margin: D+16%

Voter 695's Neighborhood

30°17'24"N 97°44'41"W

approx. 2508, Rio Grande Street, The Drag, Austin, Travis County, Texas, 78705-5609, United States

Precinct Margin: D+67%

Voter 696's Neighborhood

44°26'33"N 88°7'13"W

approx. 1918, Sandy Springs Road, Town of Lawrence, Brown County, Wisconsin, 54115, United States

Precinct Margin: R+23%

Voter 697's Neighborhood

33°56'56"N 117°46'53"W

approx. 1099, Hillside Road, Chino Hills, San Bernardino County, California, 91709, United States

Precinct Margin: R+9%

Voter 698's Neighborhood

31°17'56"N 92°37'8"W

approx. 866, Belgard Bend Road, Rapides Parish, Louisiana, 71409, United States

Precinct Margin: R+62%

Voter 699's Neighborhood

33°12'56"N 97°45'12"W

approx. 1301, Irvin Street, Bridgeport, Wise County, Texas, 76426, United States

Precinct Margin: R+53%

Voter 700's Neighborhood

36°34'23"N 121°37'37"W

approx. 208, Pine Canyon Road, Monterey County, California, 93908, United States

Precinct Margin: R+6%

Voter 701's Neighborhood

42°31'13"N 70°55'11"W

approx. 24, Maple Street, Salem, Essex County, Massachusetts, 01970, United States

Precinct Margin: D+41%

Voter 702's Neighborhood

38°28'59"N 81°53'21"W

approx. 2133, Rocky Step Road, Black Lick Estates, Putnam County, West Virginia, 25560, United States

Precinct Margin: R+37%

Voter 703's Neighborhood

41°7'34"N 77°28'27"W

approx. 298, Birch Street, Flemington, Clinton County, Pennsylvania, 17745, United States

Precinct Margin: R+27%

Voter 704's Neighborhood

44°0'51"N 88°35'39"W

approx. 2352, Abbey Avenue, Oshkosh, Winnebago County, Wisconsin, 54904, United States

Precinct Margin: D+15%

Voter 705's Neighborhood

35°8'51"N 101°53'20"W

approx. 4806, Westway Trail, Amarillo, Randall County, Texas, 79109, United States

Precinct Margin: R+49%

Voter 706's Neighborhood

37°21'52"N 122°11'22"W

approx. Coyote Trail, Palo Alto, Santa Clara County, California, 94028, United States

Precinct Margin: D+73%

Voter 707's Neighborhood

35°10'30"N 111°41'21"W

approx. 2455, West Kiltie Lane, Equestrian Estates, Flagstaff, Coconino County, Arizona, 86005, United States

Precinct Margin: D+30%

Voter 708's Neighborhood

26°15'34"N 98°16'2"W

approx. Sharyland North Junior High School, 5100, Dove Avenue, McAllen, Hidalgo County, Texas, 78504, United States

Precinct Margin: D+13%

Voter 709's Neighborhood

38°27'44"N 121°23'0"W

approx. 8606, Delahye Circle, Elk Grove, Sacramento County, California, 95828, United States

Precinct Margin: D+35%

Voter 710's Neighborhood

40°21'31"N 111°42'29"W

approx. 1338, 500 South Drive, Pleasant Grove, Utah County, Utah, 84062, United States

Precinct Margin: R+44%

Voter 711's Neighborhood

30°11'38"N 97°47'37"W

approx. 7107, Cooper Lane, Austin, Travis County, Texas, 78745, United States

Precinct Margin: D+65%

Voter 712's Neighborhood

35°19'29"N 97°25'24"W

approx. 14460, South Sooner Road, Oklahoma City, Cleveland County, Oklahoma, 73165, United States

Precinct Margin: R+43%

Voter 713's Neighborhood

45°4'26"N 93°15'7"W

approx. 691, Marigold Terrace, Fridley, Anoka County, Minnesota, 55432, United States

Precinct Margin: D+34%

Voter 714's Neighborhood

38°38'44"N 90°39'34"W

approx. 18018, Wild Horse Creek Road, Wildwood, Saint Louis County, Missouri, 63005, United States

Precinct Margin: R+19%

Voter 715's Neighborhood

38°39'9"N 76°57'43"W

approx. 10159, Further Lane, Somerset, Waldorf, Charles County, Maryland, 20601, United States

Precinct Margin: D+62%

Voter 716's Neighborhood

44°8'24"N 83°52'42"W

approx. 1927, North Black Road, Mason Township, Arenac County, Michigan, 48766, United States

Precinct Margin: R+43%

Voter 717's Neighborhood

37°45'11"N 122°14'52"W

approx. Marsh Overlook, Alameda, Alameda County, California, 94501, United States

Precinct Margin: D+69%

Voter 718's Neighborhood

40°6'16"N 82°50'0"W

approx. Greenwyck Crossing, Columbus, Sharon, Franklin County, Ohio, 43054, United States

Precinct Margin: D+20%

Voter 719's Neighborhood

41°24'20"N 71°42'48"W

approx. White Trail, Charlestown, South County, Rhode Island, 02808, United States

Precinct Margin: D+15%

Voter 720's Neighborhood

36°5'23"N 119°34'11"W

approx. 1846, Josephine Avenue, Corcoran, Kings County, California, 93212, United States

Precinct Margin: D+9%

Voter 721's Neighborhood

46°40'2"N 120°32'56"W

approx. 1327, West Goodlander Road, Selah, Yakima County, Washington, 98942, United States

Precinct Margin: R+24%

Voter 722's Neighborhood

37°31'49"N 94°18'6"W

approx. 25, Northwest 20th Road, Wimmer, Barton County, Missouri, 64759, United States

Precinct Margin: R+80%

Voter 723's Neighborhood

33°59'16"N 118°23'28"W

approx. Hannum Avenue, Fox Hills, Culver City, Los Angeles County, California, 90230, United States

Precinct Margin: D+68%

Voter 724's Neighborhood

35°23'2"N 78°32'52"W

approx. 202, West Hill Street, Benson, Johnston County, North Carolina, 27504, United States

Precinct Margin: R+46%

Voter 725's Neighborhood

41°19'55"N 96°10'24"W

approx. North 165th Street, Summer Hill Farm, Douglas County, Nebraska, 68007, United States

Precinct Margin: R+8%

Voter 726's Neighborhood

41°3'21"N 73°51'33"W

approx. 2, Carriage Trail, Greystone on Hudson, Village of Tarrytown, Town of Greenburgh, Westchester County, New York, 10591, United States

Precinct Margin: D+43%

Voter 727's Neighborhood

41°31'2"N 74°2'27"W

approx. 89, Creek Run Road, Glenwood Park, Town of Newburgh, Orange County, New York, 12550, United States

Precinct Margin: D+12%

Voter 728's Neighborhood

42°9'2"N 71°14'50"W

approx. 13, School Street, Walpole, Norfolk County, Massachusetts, 02081, United States

Precinct Margin: D+20%

Voter 729's Neighborhood

45°21'23"N 122°39'3"W

approx. 23128, Bland Circle, Savannah Oaks, Willamette, West Linn, Clackamas County, Oregon, 97068, United States

Precinct Margin: D+31%

Voter 730's Neighborhood

32°44'37"N 107°13'32"W

approx. I 25, Derry, Sierra County, New Mexico, 87933, United States

Precinct Margin: R+2%

Voter 731's Neighborhood

47°35'3"N 122°18'23"W

approx. 2106, 20th Avenue South, Beacon Hill, Seattle, King County, Washington, 98144, United States

Precinct Margin: D+63%

Voter 732's Neighborhood

38°58'1"N 90°59'56"W

approx. 99, Southwest Lane, Troy, Lincoln County, Missouri, 63379, United States

Precinct Margin: R+51%

Voter 733's Neighborhood

40°47'8"N 73°58'16"W

approx. 38, West 86th Street, Upper West Side, Manhattan, New York County, City of New York, New York, 10024, United States

Precinct Margin: D+79%

Voter 734's Neighborhood

44°50'16"N 93°18'54"W

approx. 9146, Upton Avenue South, Bloomington, Hennepin County, Minnesota, 55431, United States

Precinct Margin: D+30%

Voter 735's Neighborhood

30°13'26"N 89°46'40"W

approx. Bayou Country General Store, East Howze Beach Road, Slidell, St. Tammany Parish, Louisiana, 70458, United States

Precinct Margin: D+26%

Voter 736's Neighborhood

30°44'53"N 81°36'36"W

approx. 573, East Cardinal Circle, St. Marys, Camden County, Georgia, 31558, United States

Precinct Margin: R+43%

Voter 737's Neighborhood

41°41'10"N 88°10'38"W

approx. 4431, Esquire Circle, River Run, Naperville, Will County, Illinois, 60564, United States

Precinct Margin: D+17%

Voter 738's Neighborhood

26°32'24"N 81°55'23"W

approx. 6913, Deep Lagoon Lane, Lee County, Florida, 33919, United States

Precinct Margin: R+24%

Voter 739's Neighborhood

45°33'3"N 122°30'28"W

approx. 3828, Northeast 149th Avenue, Wilkes, Portland, Multnomah County, Oregon, 97230, United States

Precinct Margin: D+37%

Voter 740's Neighborhood

41°34'22"N 90°35'1"W

approx. 5027, Brown Street, Colony Park, Davenport, Scott County, Iowa, 52806, United States

Precinct Margin: D+18%

Voter 741's Neighborhood

35°6'15"N 106°32'22"W

approx. 9412, Arvada Avenue Northeast, Mesa Village, Albuquerque, Bernalillo County, New Mexico, 87112, United States

Precinct Margin: D+26%

Voter 742's Neighborhood

40°1'8"N 87°47'12"W

approx. 10276, 800 East Road, Vermilion County, Illinois, 61841, United States

Precinct Margin: R+52%

Voter 743's Neighborhood

37°47'10"N 122°24'15"W

approx. Four Seasons, 757, Market Street, Union Square, San Francisco, California, 94103, United States

Precinct Margin: D+52%

Voter 744's Neighborhood

39°11'47"N 76°38'39"W

approx. 20, Archwood Avenue, Shirley Estates, Woodlawn Heights, Anne Arundel County, Maryland, 21061, United States

Precinct Margin: R+20%

Voter 745's Neighborhood

26°8'28"N 80°13'17"W

approx. 1382, Northwest 54th Avenue, Lauderhill, Sunrise, Broward County, Florida, 33313, United States

Precinct Margin: D+88%

Voter 746's Neighborhood

44°53'54"N 93°3'24"W

approx. 509, 18th Avenue North, South St. Paul, Dakota County, Minnesota, 55075, United States

Precinct Margin: D+21%

Voter 747's Neighborhood

42°3'37"N 80°2'29"W

approx. 359, Melvin Road, Proctor Heights, Summit Township, Erie County, Pennsylvania, 16509, United States

Precinct Margin: R+10%

Voter 748's Neighborhood

42°9'19"N 121°39'34"W

approx. 10699, Crystal Springs Road, Klamath County, Oregon, 97603, United States

Precinct Margin: R+72%

Voter 749's Neighborhood

38°50'19"N 94°30'17"W

approx. East 157th Street, Hardee Meadows, Belton, Cass County, Missouri, 64149, United States

Precinct Margin: R+20%

Voter 750's Neighborhood

28°9'53"N 82°21'58"W

approx. 20359, Starfinder Way, Tampa, Hillsborough County, Florida, 33647, United States

Precinct Margin: D+39%

Voter 751's Neighborhood

39°12'2"N 84°33'25"W

approx. 1950, Connecticut Avenue, College Hill, Cincinnati, Hamilton County, Ohio, 45224, United States

Precinct Margin: D+64%

Voter 752's Neighborhood

35°56'21"N 82°5'1"W

approx. 909, Pine Mountain Road, Minpro, Mitchell County, North Carolina, 28777, United States

Precinct Margin: R+55%

Voter 753's Neighborhood

43°0'35"N 78°43'1"W

approx. 101, Farmington Road, Woodstream Farms, Buffalo, Erie County, New York, 14221, United States

Precinct Margin: D+9%

Voter 754's Neighborhood

41°12'3"N 96°12'41"W

approx. 5790, South 190th Terrace, Douglas County, Nebraska, 68135, United States

Precinct Margin: R+6%

Voter 755's Neighborhood

37°31'58"N 122°15'12"W

approx. 564, Island Place, Redwood Shores, Redwood City, San Mateo County, California, 94065, United States

Precinct Margin: D+55%

Voter 756's Neighborhood

27°3'31"N 82°21'31"W

approx. 498, Cardiff Road, Sarasota County, Florida, 34293, United States

Precinct Margin: R+20%

Voter 757's Neighborhood

35°28'45"N 97°29'34"W

approx. The University of Oklahoma (Health Sciences Center), Northeast 13th Street, Oklahoma City, Oklahoma County, Oklahoma, 73117, United States

Precinct Margin: D+49%

Voter 758's Neighborhood

39°50'15"N 86°8'37"W

approx. 4489, Carrollton Avenue, Watson Park, Meridian Kessler, Indianapolis, Marion County, Indiana, 46205, United States

Precinct Margin: D+78%

Voter 759's Neighborhood

41°20'2"N 74°10'57"W

approx. 150, Franklin Avenue, Village of Monroe, Town of Monroe, Orange County, New York, 10950, United States

Precinct Margin: D+3%

Voter 760's Neighborhood

40°49'22"N 84°55'18"W

approx. 347, Stevenson Street, Decatur, Adams County, Indiana, 46733, United States

Precinct Margin: R+27%

Voter 761's Neighborhood

35°41'26"N 105°56'58"W

approx. 683, Jimenez Street, Santa Fe, Santa Fe County, New Mexico, 87501, United States

Precinct Margin: D+84%

Voter 762's Neighborhood

36°6'42"N 97°7'4"W

approx. 920, South Murphy Street, Tradan Heights, Stillwater, Payne County, Oklahoma, 74074, United States

Precinct Margin: R+7%

Voter 763's Neighborhood

34°14'1"N 118°31'38"W

approx. 18101, Osborne Street, Northridge, Los Angeles, Los Angeles County, California, 91325, United States

Precinct Margin: D+42%

Voter 764's Neighborhood

35°14'25"N 89°30'39"W

approx. Fair Oaks Golf Course, Wirt Road, Oakland, Fayette County, Tennessee, 38060, United States

Precinct Margin: R+38%

Voter 765's Neighborhood

42°25'29"N 83°6'28"W

approx. 461, Erle Street, Grixdale Farms, Detroit, Wayne County, Michigan, 48203, United States

Precinct Margin: D+87%

Voter 766's Neighborhood

44°51'11"N 93°26'52"W

approx. 13444, Winchester Place, Eden Prairie, Hennepin County, Minnesota, 55344, United States

Precinct Margin: D+41%

Voter 767's Neighborhood

41°52'56"N 87°48'8"W

approx. 352, Wisconsin Avenue, Samuel A Rothermel Houses, Oak Park, Cook County, Illinois, 60302, United States

Precinct Margin: D+78%

Voter 768's Neighborhood

41°44'55"N 91°35'51"W

approx. Sugar Bottom Bikes, 325, North Dubuque Street, North Liberty, Johnson County, Iowa, 52317, United States

Precinct Margin: D+31%

Voter 769's Neighborhood

38°32'53"N 106°55'41"W

approx. 447, North Wisconsin Street, Gunnison, Gunnison County, Colorado, 81230, United States

Precinct Margin: D+40%

Voter 770's Neighborhood

34°2'36"N 86°2'16"W

approx. 823, Hinds Road, The Highlands, Gadsden, Etowah County, Alabama, 35904, United States

Precinct Margin: R+50%

Voter 771's Neighborhood

39°57'53"N 74°58'54"W

approx. 698, Grand Avenue, Lenola, Moorestown Township, Burlington County, New Jersey, 08057, United States

Precinct Margin: D+23%

Voter 772's Neighborhood

43°0'25"N 73°42'36"W

approx. 50, Putnam Road, Wayville, Town of Stillwater, Town of Saratoga, Saratoga County, New York, 12170, United States

Precinct Margin: R+16%

Voter 773's Neighborhood

41°51'39"N 88°6'57"W

approx. 557, South Carlton Avenue, Wheaton, DuPage County, Illinois, 60187, United States

Precinct Margin: D+32%

Voter 774's Neighborhood

41°9'32"N 96°0'24"W

approx. 2120, Leigh Street, Papillion, Sarpy County, Nebraska, 68133, United States

Precinct Margin: R+13%

Voter 775's Neighborhood

42°51'47"N 93°38'10"W

approx. 2747, 130th Street, Wright County, Iowa, 50421, United States

Precinct Margin: R+26%

Voter 776's Neighborhood

42°16'5"N 88°11'12"W

approx. East State Road, Island Lake, Lake County, Illinois, 60042, United States

Precinct Margin: D+6%

Voter 777's Neighborhood

38°3'10"N 91°29'29"W

approx. 5549, Old Springfield Road, Crawford County, Missouri, 65453, United States

Precinct Margin: R+61%

Voter 778's Neighborhood

38°13'46"N 122°35'53"W

approx. 77, Cader Lane, Petaluma, Sonoma County, California, 94954, United States

Precinct Margin: D+56%

Voter 779's Neighborhood

39°49'7"N 75°8'1"W

approx. 601, South Barlow Avenue, Deptford, Deptford Township, Gloucester County, New Jersey, 08096, United States

Precinct Margin: D+13%

Voter 780's Neighborhood

33°40'17"N 84°58'59"W

approx. 154, Martin Road, Carroll County, Georgia, 30116, United States

Precinct Margin: R+45%

Voter 781's Neighborhood

32°48'51"N 116°55'52"W

approx. 1346, Groveland Terrace, Bostonia, El Cajon, San Diego County, California, 92021, United States

Precinct Margin: R+13%

Voter 782's Neighborhood

41°19'17"N 96°9'31"W

approx. Gilbert Boarding Kennels, 6904, North 156th Street, Bennington, Douglas County, Nebraska, 68007, United States

Precinct Margin: R+9%

Voter 783's Neighborhood

27°22'3"N 82°30'38"W

approx. 3705, Voorne Street, Beverley Terrace, Sarasota County, Florida, 34234, United States

Precinct Margin: R+15%

Voter 784's Neighborhood

31°22'11"N 84°55'48"W

approx. 253, Lancelot Lane, Blakely, Early County, Georgia, 39823, United States

Precinct Margin: D+27%

Voter 785's Neighborhood

47°32'20"N 122°16'13"W

approx. Myrtle Street Apartments, South Myrtle Street, Brighton Beach, Seattle, King County, Washington, 98118, United States

Precinct Margin: D+69%

Voter 786's Neighborhood

33°20'39"N 92°39'26"W

approx. 897, Hayes City Road, Union County, Arkansas, 71762, United States

Precinct Margin: R+66%

Voter 787's Neighborhood

38°40'16"N 121°46'33"W

approx. 732, Dingle Lane, Woodland, Yolo County, California, 95695, United States

Precinct Margin: D+18%

Voter 788's Neighborhood

25°41'6"N 80°28'12"W

approx. Southwest 88th Street, Miami-Dade County, Florida, 33176, United States

Precinct Margin: R+5%

Voter 789's Neighborhood

40°42'54"N 73°57'42"W

approx. 136, North 1st Street, Brooklyn, Kings County, City of New York, New York, 11249, United States

Precinct Margin: D+77%

Voter 790's Neighborhood

33°13'33"N 86°55'1"W

approx. Coalmont Road, Coalmont, Helena, Shelby County, Alabama, 35080, United States

Precinct Margin: R+39%

Voter 791's Neighborhood

38°57'3"N 76°46'3"W

approx. Warners Discovery Way, Fairwood, Prince George's County, Maryland, United States

Precinct Margin: D+84%

Voter 792's Neighborhood

39°17'12"N 83°58'52"W

approx. South Wright Street, Blanchester, Clinton County, Ohio, 45107, United States

Precinct Margin: R+66%

Voter 793's Neighborhood

35°47'49"N 78°31'45"W

approx. Coffey Street, Green Pines, Milburnie, Wake County, North Carolina, 27604, United States

Precinct Margin: D+36%

Voter 794's Neighborhood

42°33'42"N 71°1'38"W

approx. 5, Surrey Lane, Peabody, Essex County, Massachusetts, 01949, United States

Precinct Margin: R+3%

Voter 795's Neighborhood

41°11'25"N 73°16'2"W

approx. 381, Hollydale Road, Fairfield, Fairfield County, Connecticut, 06824, United States

Precinct Margin: D+24%

Voter 796's Neighborhood

37°23'14"N 93°8'19"W

approx. 537, Cottonwood Street, Fair Grove, Greene County, Missouri, 65648, United States

Precinct Margin: R+52%

Voter 797's Neighborhood

33°8'27"N 117°4'19"W

approx. 1219, Armstrong Circle, Escondido, San Diego County, California, 92027, United States

Precinct Margin: D+35%

Voter 798's Neighborhood

34°56'10"N 89°57'27"W

approx. 5298, Iraon Circle, Southaven, DeSoto County, Mississippi, 38671, United States

Precinct Margin: R+30%

Voter 799's Neighborhood

41°9'32"N 96°0'24"W

approx. 2120, Leigh Street, Papillion, Sarpy County, Nebraska, 68133, United States

Precinct Margin: R+13%

Voter 800's Neighborhood

41°52'52"N 88°1'15"W

approx. 199, West Willow Street, Lombard, DuPage County, Illinois, 60148, United States

Precinct Margin: D+28%

Voter 801's Neighborhood

40°2'27"N 75°24'16"W

approx. Warren Filipone Memorial Park Tennis Courts, South Devon Avenue, West Wayne, Wayne, Radnor Township, Delaware County, Pennsylvania, 19087-3305, United States

Precinct Margin: D+38%

Voter 802's Neighborhood

42°37'48"N 70°38'45"W

approx. 12, Heritage Way, Gloucester, Essex County, Massachusetts, 01930-3540, United States

Precinct Margin: D+37%

Voter 803's Neighborhood

40°10'14"N 105°5'27"W

approx. Kensington Ditch Trail, Longmont, Boulder County, Colorado, 80501-4919, United States

Precinct Margin: D+45%

Voter 804's Neighborhood

39°3'24"N 76°59'9"W

approx. Jackson Road, East Springbrook, White Oak, Montgomery County, Maryland, 20904, United States

Precinct Margin: D+67%

Voter 805's Neighborhood

33°11'19"N 97°7'3"W

approx. 1881, Concord Lane, Denton, Denton County, Texas, 76205, United States

Precinct Margin: R+7%

Voter 806's Neighborhood

38°41'32"N 121°47'13"W

approx. 69, West Kentucky Avenue, Woodland, Yolo County, California, 95695, United States

Precinct Margin: D+27%

Voter 807's Neighborhood

40°53'18"N 73°7'16"W

approx. 25, Annandale Road, Suffolk County, New York, 11790, United States

Precinct Margin: D+11%

Voter 808's Neighborhood

37°59'38"N 81°7'29"W

approx. 941, Gatewood Road, East Oak Hill, Oak Hill, Fayette County, West Virginia, 25840, United States

Precinct Margin: R+49%

Voter 809's Neighborhood

44°35'12"N 123°15'54"W

approx. Linus Pauling Middle School, Northwest Cleveland Avenue, Corvallis, Benton County, Oregon, 97330, United States

Precinct Margin: D+62%

Voter 810's Neighborhood

32°54'14"N 79°49'14"W

approx. 2318, Kings Gate Lane, Mount Pleasant, Charleston County, South Carolina, 29466, United States

Precinct Margin: R+25%

Voter 811's Neighborhood

26°6'4"N 80°12'40"W

approx. 1561, Southwest 46th Avenue, Fern Crest Village, Broadview Park, Sunrise, Broward County, Florida, 33317, United States

Precinct Margin: D+13%

Voter 812's Neighborhood

40°2'9"N 86°1'10"W

approx. 399, Chestnut Street, Noblesville, Hamilton County, Indiana, 46060, United States

Precinct Margin: R+28%

Voter 813's Neighborhood

44°49'47"N 93°15'11"W

approx. 1526, East 96th Street, Bloomington, Hennepin County, Minnesota, 55425, United States

Precinct Margin: D+18%

Voter 814's Neighborhood

41°52'27"N 84°4'19"W

approx. 2573, West Cadmus Road, Madison Township, Lenawee County, Michigan, 49221, United States

Precinct Margin: R+41%

Voter 815's Neighborhood

39°34'34"N 104°53'12"W

approx. 8745, East Kettle Place, Centennial, Arapahoe County, Colorado, 80112, United States

Precinct Margin: D+28%

Voter 816's Neighborhood

44°53'51"N 123°6'41"W

approx. River Road South, Salem, Marion County, Oregon, United States

Precinct Margin: D+26%

Voter 817's Neighborhood

42°13'51"N 72°19'40"W

approx. Herman Covey Wildlife Management Area, Bondsville Road, Ware, Hampshire County, Massachusetts, 01009, United States

Precinct Margin: R+9%

Voter 818's Neighborhood

30°40'22"N 94°45'34"W

approx. Pauline Avenue, Polk County, Texas, United States

Precinct Margin: R+72%

Voter 819's Neighborhood

35°51'1"N 79°10'51"W

approx. 191, Wild Rose Lane, Town of Pittsboro, Chatham County, North Carolina, 27312, United States

Precinct Margin: D+45%

Voter 820's Neighborhood

39°35'48"N 76°54'5"W

approx. 2610, Shiloh Road, Shiloh, Carroll County, Maryland, 21074, United States

Precinct Margin: R+38%

Voter 821's Neighborhood

39°10'45"N 77°5'43"W

approx. Our House Residential Job Training Center For Youth, Olney Laytonsville Road, Olney, Montgomery County, Maryland, 20832, United States

Precinct Margin: D+27%

Voter 822's Neighborhood

38°8'51"N 75°45'36"W

approx. Mount Olive Cemetery, Revells Neck Road, Somerset County, Maryland, 21890, United States

Precinct Margin: R+58%

Voter 823's Neighborhood

42°58'47"N 83°42'31"W

approx. 1343, Lynton Avenue, Flint, Genesee County, Michigan, 48507, United States

Precinct Margin: D+14%

Voter 824's Neighborhood

34°47'21"N 97°36'11"W

approx. N3022 Road, Garvin County, Oklahoma, United States

Precinct Margin: R+80%

Voter 825's Neighborhood

39°12'38"N 84°35'56"W

approx. 3533, Blue Rock Road, White Oak, Colerain Township, Hamilton County, Ohio, 45247, United States

Precinct Margin: R+5%

Voter 826's Neighborhood

35°23'12"N 80°41'35"W

approx. 598, Pitts School Road Northwest, Riverwalk, Concord, Cabarrus County, North Carolina, 28027, United States

Precinct Margin: R+7%

Voter 827's Neighborhood

28°55'56"N 81°45'14"W

approx. 11914, Lizard Lane, Lake County, Florida, 32784, United States

Precinct Margin: R+36%

Voter 828's Neighborhood

42°18'37"N 122°49'43"W

approx. The Church of Jesus Christ of Latter-day Saints, 2900, Juanipero Way, Medford, Jackson County, Oregon, 97504, United States

Precinct Margin: D+8%

Voter 829's Neighborhood

38°10'14"N 77°37'47"W

approx. Dixon Lane, Spotsylvania County, Virginia, 22551, United States

Precinct Margin: R+15%

Voter 830's Neighborhood

42°10'2"N 83°23'57"W

approx. Albert Lane, New Boston, Huron Township, Wayne County, Michigan, United States

Precinct Margin: R+30%

Voter 831's Neighborhood

45°0'5"N 84°39'6"W

approx. 516, West McCoy Road, Gaylord, Bagley Township, Otsego County, Michigan, 49735, United States

Precinct Margin: R+36%

Voter 832's Neighborhood

33°24'7"N 86°52'46"W

approx. 1593, Melton Road, Shannon, Hoover, Jefferson County, Alabama, 35022, United States

Precinct Margin: R+8%

Voter 833's Neighborhood

41°54'53"N 74°2'23"W

approx. Wiltwyck Golf Club, 404, Stewart Lane, City of Kingston, Town of Ulster, Ulster County, New York, 12401, United States

Precinct Margin: D+17%

Voter 834's Neighborhood

45°12'51"N 93°15'24"W

approx. 563, 134th Lane Northeast, Ham Lake, Anoka County, Minnesota, 55304, United States

Precinct Margin: R+23%

Voter 835's Neighborhood

43°9'1"N 76°20'36"W

approx. 111, Pebblewood Ln, Village of Baldwinsville, Town of Van Buren, Onondaga County, New York, 13027, United States

Precinct Margin: D+15%

Voter 836's Neighborhood

37°18'13"N 79°58'1"W

approx. 4882, Ring Road Northwest, Fairland, Roanoke, Virginia, 24012, United States

Precinct Margin: D+31%

Voter 837's Neighborhood

34°15'48"N 118°27'7"W

approx. 14674, Kingsbury Street, Los Angeles, Los Angeles County, California, 91345, United States

Precinct Margin: D+47%

Voter 838's Neighborhood

33°22'28"N 117°12'56"W

approx. 552, Tumble Creek Terrace, Fallbrook, San Diego County, California, 92028, United States

Precinct Margin: R+18%

Voter 839's Neighborhood

29°53'9"N 97°57'23"W

approx. 999, North Loop Street, San Marcos, Hays County, Texas, 78666, United States

Precinct Margin: D+46%

Voter 840's Neighborhood

33°42'0"N 117°57'20"W

approx. Orange Coast Memorial Medical Center, 18111, Brookhurst Street, Fountain Valley, Orange County, California, 92708, United States

Precinct Margin: D+3%

Voter 841's Neighborhood

32°37'59"N 83°46'31"W

approx. 2531, Powersville Road, Powersville, Peach County, Georgia, 31008, United States

Precinct Margin: R+25%

Voter 842's Neighborhood

33°45'29"N 117°47'43"W

approx. 1291, Banbury Cross Road, Lemon Heights, North Tustin, Orange, Orange County, California, 92705, United States

Precinct Margin: R+13%

Voter 843's Neighborhood

40°42'19"N 73°48'14"W

approx. 88-02, 153rd Street, Jamaica, Queens, City of New York, New York, 11432, United States

Precinct Margin: D+79%

Voter 844's Neighborhood

41°53'44"N 87°38'17"W

approx. Superior House, 366, West Superior Street, River North, Near North Side, Chicago, Cook County, Illinois, 60654, United States

Precinct Margin: D+50%

Voter 845's Neighborhood

41°34'48"N 93°48'18"W

approx. 860, 71st Street, Reed's Crossing, West Des Moines, Dallas County, Iowa, 50266, United States

Precinct Margin: D+11%

Voter 846's Neighborhood

41°32'0"N 75°59'10"W

approx. Lake Wilderness Road, Wyoming County, Pennsylvania, 18657, United States

Precinct Margin: R+30%

Voter 847's Neighborhood

40°23'14"N 122°29'6"W

approx. 3316, Hunter Road, Shasta County, California, 96022, United States

Precinct Margin: R+53%

Voter 848's Neighborhood

44°49'26"N 122°58'58"W

approx. 8771, Parrish Gap Road Southeast, Marion County, Oregon, 97392, United States

Precinct Margin: R+33%

Voter 849's Neighborhood

40°43'16"N 74°12'40"W

approx. University High School, Millington Avenue, Newark, Essex County, New Jersey, 07108, United States

Precinct Margin: D+90%

Voter 850's Neighborhood

33°55'35"N 118°15'28"W

approx. 954, East 118th Street, Green Meadows, Los Angeles, Los Angeles County, California, 90059, United States

Precinct Margin: D+70%

Voter 851's Neighborhood

42°14'55"N 83°38'28"W

approx. 1850, Whittier Road, College Heights, Ypsilanti, Washtenaw County, Michigan, 48197, United States

Precinct Margin: D+69%

Voter 852's Neighborhood

39°26'4"N 77°49'10"W

approx. Walgreens, Martinsburg Pike, Shepherdstown, Jefferson County, West Virginia, 25443, United States

Precinct Margin: D+33%

Voter 853's Neighborhood

29°31'17"N 98°21'27"W

approx. Crestway Road, Windcrest, Bexar County, Texas, 78239, United States

Precinct Margin: D+24%

Voter 854's Neighborhood

30°11'50"N 93°10'32"W

approx. Lake Charles Loop, Greinwich Village, Lake Charles, Calcasieu Parish, Louisiana, 70602, United States

Precinct Margin: D+88%

Voter 855's Neighborhood

38°51'41"N 77°15'24"W

approx. Chichester's Mill Race, Cross County Trail, Mantua, Fairfax County, Virginia, 22031, United States

Precinct Margin: D+39%

Voter 856's Neighborhood

29°6'14"N 82°4'6"W

approx. 46, Juniper Loop Way, Marion County, Florida, 34480, United States

Precinct Margin: R+22%

Voter 857's Neighborhood

40°23'11"N 74°7'8"W

approx. 15, Wychwood Road, Middletown, Middletown Township, Monmouth County, New Jersey, 07748, United States

Precinct Margin: R+11%

Voter 858's Neighborhood

42°26'9"N 71°5'3"W

approx. 23, McCormack Street, Malden Highlands, Malden, Middlesex County, Massachusetts, 02176-6104, United States

Precinct Margin: D+50%

Voter 859's Neighborhood

41°22'10"N 81°20'0"W

approx. 8658, Taylor May Road, Bainbridge Township, Geauga County, Ohio, 44023, United States

Precinct Margin: R+7%

Voter 860's Neighborhood

40°6'34"N 75°54'2"W

approx. 74, Todd Road, Honey Brook Township, Chester County, Pennsylvania, 19344, United States

Precinct Margin: R+30%

Voter 861's Neighborhood

33°24'54"N 79°57'45"W

approx. State Highway 45, Old Peru, Berkeley County, South Carolina, 29468, United States

Precinct Margin: D+65%

Voter 862's Neighborhood

29°12'7"N 82°3'28"W

approx. Silver Springs Conservation Area, Northeast 51st Avenue, Marion County, Florida, 34470, United States

Precinct Margin: R+40%

Voter 863's Neighborhood

47°57'15"N 117°25'2"W

approx. 307, West Deer Park-Milan Road, Spokane County, Washington, 99006, United States

Precinct Margin: R+42%

Voter 864's Neighborhood

43°9'45"N 93°9'28"W

approx. 2572, 12th Street Northeast, College Heights, Mason City, Cerro Gordo County, Iowa, 50401, United States

Precinct Margin: D+0%

Voter 865's Neighborhood

41°54'59"N 87°42'0"W

approx. 1927, North Richmond Street, Logan Square, Chicago, Cook County, Illinois, 60647, United States

Precinct Margin: D+77%

Voter 866's Neighborhood

33°30'14"N 112°1'25"W

approx. Camelback High School, East Campbell Avenue, Camelback East, Phoenix, Maricopa County, Arizona, 85018-8830, United States

Precinct Margin: D+14%

Voter 867's Neighborhood

42°59'23"N 72°42'53"W

approx. 196, Hobby Hill Road, Newfane, Windham County, Vermont, 05345, United States

Precinct Margin: D+51%

Voter 868's Neighborhood

39°46'56"N 75°53'16"W

approx. 97, Hollow Rock Lane, New London, New London Township, Chester County, Pennsylvania, 19352, United States

Precinct Margin: D+0%

Voter 869's Neighborhood

40°55'46"N 90°19'42"W

approx. 3198, Grand Avenue, Galesburg, Knox County, Illinois, 61401, United States

Precinct Margin: D+10%

Voter 870's Neighborhood

42°24'33"N 75°49'31"W

approx. Upper Round Pond Road, Smithville Flats, Town of Smithville, Chenango County, New York, 13841, United States

Precinct Margin: R+34%

Voter 871's Neighborhood

40°14'21"N 75°33'30"W

approx. Pottstown Heritage Field, 3310, West Ridge Pike, Limerick, Limerick Township, Montgomery County, Pennsylvania, 19464, United States

Precinct Margin: D+11%

Voter 872's Neighborhood

36°9'58"N 80°20'20"W

approx. 4015, Talcott Avenue, Old Town, Winston-Salem, Forsyth County, North Carolina, 27106, United States

Precinct Margin: D+17%

Voter 873's Neighborhood

38°42'18"N 75°6'31"W

approx. 52, Windsor Road, Rehoboth Beach Yacht & Country Club, Silver View Farm, Sussex County, Delaware, 19971, United States

Precinct Margin: D+24%

Voter 874's Neighborhood

30°26'46"N 97°49'42"W

approx. 10801, Foundation Road, Austin, Travis County, Texas, 78726, United States

Precinct Margin: D+36%

Voter 875's Neighborhood

37°42'53"N 122°26'25"W

approx. 10, Curtis Street, Crocker-Amazon, San Francisco, California, 94112, United States

Precinct Margin: D+57%

Voter 876's Neighborhood

29°51'52"N 95°35'57"W

approx. 12798, Watercress Park, Villages at Lakepointe, Harris County, Texas, 77041, United States

Precinct Margin: D+8%

Voter 877's Neighborhood

26°42'57"N 80°9'34"W

approx. Riverwalk Circle, Riverwalk, West Palm Beach, Palm Beach County, Florida, United States

Precinct Margin: R+1%

Voter 878's Neighborhood

46°48'39"N 95°50'13"W

approx. 1298, Richard Avenue, Detroit Lakes, Becker County, Minnesota, 56501, United States

Precinct Margin: R+8%

Voter 879's Neighborhood

39°44'35"N 105°1'54"W

approx. 1615, Julian Street, West Colfax, Denver, Colorado, 80204, United States

Precinct Margin: D+64%

Voter 880's Neighborhood

32°13'25"N 80°58'27"W

approx. 198, Scarlet Oak, Meadows at New Riverside, Beaufort County, South Carolina, 29910, United States

Precinct Margin: R+20%

Voter 881's Neighborhood

33°32'9"N 112°3'59"W

approx. 496, East Lamar Road, Phoenix, Maricopa County, Arizona, 85012, United States

Precinct Margin: D+13%

Voter 882's Neighborhood

40°25'9"N 101°18'34"W

approx. Avenue 348 A, Hayes County, Nebraska, United States

Precinct Margin: R+83%

Voter 883's Neighborhood

42°15'49"N 72°10'16"W

approx. 58, John Gilbert Road, West Brookfield, Worcester County, Massachusetts, 01585, United States

Precinct Margin: D+0%

Voter 884's Neighborhood

39°32'30"N 87°7'29"W

approx. INDIANA OXIDE CORP, North Forest Avenue, Brazil, Brazil Township, Clay County, Indiana, 47834, United States

Precinct Margin: R+54%

Voter 885's Neighborhood

40°42'34"N 111°49'48"W

approx. 2130, Atkin Avenue, Canyon Rim, Millcreek, Salt Lake County, Utah, 84109, United States

Precinct Margin: D+36%

Voter 886's Neighborhood

43°4'58"N 94°15'2"W

approx. 220th Street, Algona, Kossuth County, Iowa, 50511, United States

Precinct Margin: R+25%

Voter 887's Neighborhood

41°41'5"N 71°31'12"W

approx. 109, Church Street, Centerville, Crompton, West Warwick, Kent County, Rhode Island, 02893, United States

Precinct Margin: D+6%

Voter 888's Neighborhood

38°22'34"N 75°8'56"W

approx. 11798, Manklin Creek Road, Ocean Pines, Worcester County, Maryland, 21811, United States

Precinct Margin: R+12%

Voter 889's Neighborhood

33°37'32"N 117°51'25"W

approx. 1842, Port Margate Place, Newport Center, Newport Beach, Orange County, California, 92660, United States

Precinct Margin: R+11%

Voter 890's Neighborhood

39°38'20"N 84°13'13"W

approx. Extended Stay America Dayton South, Lois Circle, Shanersville, Miami Township, Montgomery County, Ohio, 45459, United States

Precinct Margin: R+20%

Voter 891's Neighborhood

41°41'3"N 86°14'41"W

approx. 620, North Niles Avenue, South Bend, Saint Joseph County, Indiana, 46617, United States

Precinct Margin: D+52%

Voter 892's Neighborhood

38°28'35"N 90°12'40"W

approx. 320, Brellinger St, Brellinger Estates, Columbia, Monroe County, Illinois, 62236, United States

Precinct Margin: R+20%

Voter 893's Neighborhood

40°16'0"N 75°12'34"W

approx. 121, Cambridge Place, New Britain Walk, New Britain Township, Bucks County, Pennsylvania, 18914, United States

Precinct Margin: D+7%

Voter 894's Neighborhood

38°46'8"N 77°13'14"W

approx. School Track, Dog Walking Path, West Springfield, Fairfax County, Virginia, 22152, United States

Precinct Margin: D+45%

Voter 895's Neighborhood

40°8'34"N 105°6'32"W

approx. 891, Quebec Avenue, Longmont, Boulder County, Colorado, 80501, United States

Precinct Margin: D+37%

Voter 896's Neighborhood

41°41'27"N 72°24'9"W

approx. 343, East Street, Hebron, Tolland County, Connecticut, 06248, United States

Precinct Margin: D+10%

Voter 897's Neighborhood

40°56'46"N 73°57'42"W

approx. 325, Piermont Road, Cresskill, Bergen County, New Jersey, 07626, United States

Precinct Margin: D+16%

Voter 898's Neighborhood

34°33'27"N 112°20'22"W

approx. 7210, East Sienna Springs Lane, Prescott Valley, Yavapai County, Arizona, 86314, United States

Precinct Margin: R+39%

Voter 899's Neighborhood

41°25'26"N 81°27'28"W

approx. 5012, Crofton Avenue, Solon, Cuyahoga County, Ohio, 44139, United States

Precinct Margin: D+40%

Voter 900's Neighborhood

35°36'27"N 82°25'55"W

approx. Upper River Trail, Buncombe County, North Carolina, 28778, United States

Precinct Margin: D+12%

Voter 901's Neighborhood

39°4'49"N 94°32'48"W

approx. True Vine Baptist Church, East 25th Street, Washington Wheatley, Kansas City, Jackson County, Missouri, 64127, United States

Precinct Margin: D+89%

Voter 902's Neighborhood

39°55'44"N 104°58'33"W

approx. 12840, Clarkson Circle, Hunters Glen Lakeshore, Thornton, Adams County, Colorado, 80241, United States

Precinct Margin: D+12%

Voter 903's Neighborhood

34°1'42"N 84°12'50"W

approx. 368, Dewpoint Lane, Johns Creek, Fulton County, Georgia, 30022, United States

Precinct Margin: R+2%

Voter 904's Neighborhood

30°28'35"N 85°7'23"W

approx. 16795, Northwest Magnolia Church Road, Calhoun County, Florida, 32421, United States

Precinct Margin: R+65%

Voter 905's Neighborhood

30°0'36"N 81°32'12"W

approx. Leo Maguire Road, Elwood, Saint Johns County, Florida, 32092, United States

Precinct Margin: R+32%

Voter 906's Neighborhood

39°47'9"N 75°37'13"W

approx. 62, Westbrae Lane, New Castle County, Delaware, 19807, United States

Precinct Margin: D+21%

Voter 907's Neighborhood

30°26'26"N 87°12'3"W

approx. 1565, East Scott Street, Pensacola, Escambia County, Florida, 32503, United States

Precinct Margin: D+15%

Voter 908's Neighborhood

37°3'2"N 94°30'4"W

approx. 1398, East 34th Street, Dennis Acres, Joplin, Newton County, Missouri, 64804, United States

Precinct Margin: R+37%

Voter 909's Neighborhood

34°11'57"N 118°24'42"W

approx. 7095, Goodland Avenue, Valley Glen, Los Angeles, Los Angeles County, California, 91605, United States

Precinct Margin: D+41%

Voter 910's Neighborhood

41°11'18"N 111°55'55"W

approx. 1808, Acorn Circle, Ogden, Weber County, Utah, 84403, United States

Precinct Margin: D+3%

Voter 911's Neighborhood

36°11'37"N 115°14'23"W

approx. 1999, Joliet Circle, Inner Northwest, Las Vegas, Clark County, Nevada, 89108, United States

Precinct Margin: D+33%

Voter 912's Neighborhood

37°9'47"N 94°40'52"W

approx. Southeast Wyandotte Road, Cherokee County, Kansas, 66728, United States

Precinct Margin: R+63%

Voter 913's Neighborhood

37°33'51"N 121°52'56"W

approx. 3735, Andrade Road, Alameda County, California, 94586, United States

Precinct Margin: D+23%

Voter 914's Neighborhood

34°26'49"N 83°48'51"W

approx. 5481, Northwoods Road, Hall County, Georgia, 30527, United States

Precinct Margin: R+75%

Voter 915's Neighborhood

42°32'1"N 90°50'13"W

approx. 17897, Brehm Lane, Dubuque County, Iowa, 52002, United States

Precinct Margin: R+14%

Voter 916's Neighborhood

40°41'26"N 73°42'59"W

approx. 8, Frick Street, Alden Manor, Town of Hempstead, Nassau County, New York, 11003, United States

Precinct Margin: D+80%

Voter 917's Neighborhood

31°45'58"N 89°10'24"W

approx. 3, Greenbriar Lane, Jones County, Mississippi, 39440, United States

Precinct Margin: R+40%

Voter 918's Neighborhood

35°44'5"N 81°25'25"W

approx. 9094, Arary Est Road, Hildebran, Burke County, North Carolina, 28612, United States

Precinct Margin: R+58%

Voter 919's Neighborhood

42°36'10"N 82°51'48"W

approx. Elmo Street, Clemens Park, Charter Township of Clinton, Clinton Township, Macomb County, Michigan, 48043-5640, United States

Precinct Margin: D+0%

Voter 920's Neighborhood

42°2'8"N 91°42'26"W

approx. Saint Lukes Northridge Family Medicine, South Blairsferry Crossing, Heritage Creek, Cedar Rapids, Hiawatha, Linn County, Iowa, 52233, United States

Precinct Margin: D+8%

Voter 921's Neighborhood

33°43'19"N 84°11'9"W

approx. 2399, Creekview Trail, DeKalb County, Georgia, 30035, United States

Precinct Margin: D+92%

Voter 922's Neighborhood

39°3'52"N 104°48'36"W

approx. Forest Chime Place, El Paso County, Colorado, 80132-7725, United States

Precinct Margin: R+32%

Voter 923's Neighborhood

41°52'8"N 84°46'36"W

approx. 8494, Quackenbush Road, Reading Township, Hillsdale County, Michigan, 49274, United States

Precinct Margin: R+39%

Voter 924's Neighborhood

40°46'6"N 76°19'10"W

approx. 1090, Beaver Dam Road, Butler Township, Schuylkill County, Pennsylvania, 17921, United States

Precinct Margin: R+44%

Voter 925's Neighborhood

29°49'23"N 95°11'45"W

approx. Crosby Freeway Frontage Road, Beaumont Place, Harris County, Texas, 77049, United States

Precinct Margin: D+53%

Voter 926's Neighborhood

32°28'6"N 86°17'37"W

approx. 5237, Coosada Ferry Road, Montgomery, Montgomery County, Alabama, 36110, United States

Precinct Margin: R+13%

Voter 927's Neighborhood

42°15'35"N 85°37'59"W

approx. 3565, Parkview Avenue, Kalamazoo, Oshtemo Township, Kalamazoo County, Michigan, 49008, United States

Precinct Margin: D+44%

Voter 928's Neighborhood

39°29'15"N 77°56'2"W

approx. 98, Trafalgar Circle, Princeton Shoals, Martinsburg, Berkeley County, West Virginia, 25404, United States

Precinct Margin: R+31%

Voter 929's Neighborhood

38°48'51"N 104°46'23"W

approx. 1180, Server Drive, Colorado Springs, El Paso County, Colorado, 80910, United States

Precinct Margin: D+13%

Voter 930's Neighborhood

30°29'24"N 90°26'42"W

approx. 17090, Parker Lane, Hammond, Tangipahoa Parish, Louisiana, 70403, United States

Precinct Margin: R+43%

Voter 931's Neighborhood

37°18'34"N 121°46'45"W

approx. Evergreen Elementary School, 3010, Fowler Road, Evergreen, San Jose, Santa Clara County, California, 95135, United States

Precinct Margin: D+45%

Voter 932's Neighborhood

33°4'58"N 117°3'46"W

approx. 410, Park Ranch Place, Escondido, San Diego County, California, 92025, United States

Precinct Margin: D+2%

Voter 933's Neighborhood

43°20'29"N 72°7'5"W

approx. 101, Nutting Road, Sunapee, Sullivan County, New Hampshire, 03782, United States

Precinct Margin: D+9%

Voter 934's Neighborhood

32°54'40"N 117°5'20"W

approx. 10455, Mountain Glen Terrace, San Diego, San Diego County, California, 92131, United States

Precinct Margin: D+25%

Voter 935's Neighborhood

44°4'36"N 93°12'24"W

approx. 844, Minnesota Avenue, Owatonna, Steele County, Minnesota, 55060, United States

Precinct Margin: R+19%

Voter 936's Neighborhood

30°27'18"N 91°1'39"W

approx. 14019, Katherine Avenue, Sherwood Garden Homes, Baton Rouge, East Baton Rouge Parish, Louisiana, 70815, United States

Precinct Margin: D+29%

Voter 937's Neighborhood

38°34'48"N 121°27'29"W

approx. Blues Alley, Sacramento, Sacramento County, California, 95816, United States

Precinct Margin: D+59%

Voter 938's Neighborhood

35°0'14"N 79°48'6"W

approx. 547, Dockery Road, Richmond County, North Carolina, 28379, United States

Precinct Margin: R+30%

Voter 939's Neighborhood

40°20'15"N 79°50'58"W

approx. 2316, Riverview Avenue, Eden Park, McKeesport, Allegheny County, Pennsylvania, 15132, United States

Precinct Margin: D+38%

Voter 940's Neighborhood

35°59'52"N 115°17'15"W

approx. West Cactus Avenue, Clark County, Nevada, 89178, United States

Precinct Margin: D+13%

Voter 941's Neighborhood

33°23'21"N 96°36'58"W

approx. 2501, Hitching Post Trail, Anna, Collin County, Texas, 75409, United States

Precinct Margin: R+24%

Voter 942's Neighborhood

38°35'28"N 121°18'0"W

approx. 10486, Investment Circle, Rancho Cordova, Sacramento County, California, 95670, United States

Precinct Margin: D+19%

Voter 943's Neighborhood

37°2'56"N 121°53'19"W

approx. Aptos Creek Fire Road, Santa Cruz County, California, United States

Precinct Margin: D+51%

Voter 944's Neighborhood

34°1'57"N 117°45'43"W

approx. 93, Quiet Hollow Road, Pomona, Los Angeles County, California, 91766, United States

Precinct Margin: D+28%

Voter 945's Neighborhood

44°57'58"N 93°17'12"W

approx. Parsonage, Groveland Avenue, Loring Park, Minneapolis, Hennepin County, Minnesota, 554, United States

Precinct Margin: D+79%

Voter 946's Neighborhood

30°26'58"N 91°5'16"W

approx. 9114, Woodbine Street, Broadmoor, Castlewood, Baton Rouge, East Baton Rouge Parish, Louisiana, 70815, United States

Precinct Margin: R+11%

Voter 947's Neighborhood

41°15'37"N 80°50'52"W

approx. McGuffey PK-8, Tod Avenue Northwest, Hardscrabble, Warren, Trumbull County, Ohio, 44485, United States

Precinct Margin: D+34%

Voter 948's Neighborhood

37°58'55"N 122°32'42"W

approx. 143, Solano Street, San Rafael, Marin County, California, 94901, United States

Precinct Margin: D+72%

Voter 949's Neighborhood

34°2'1"N 118°21'55"W

approx. 2504, South Curson Avenue, West Adams, Los Angeles, Los Angeles County, California, 90016, United States

Precinct Margin: D+79%

Voter 950's Neighborhood

33°34'37"N 82°11'53"W

approx. Columbia Land Corporation Lake, Cumberland Court, Lake Cumberland West, Columbia County, Georgia, 30809, United States

Precinct Margin: R+40%

Voter 951's Neighborhood

41°37'43"N 86°16'14"W

approx. 440, West Ireland Road, South Bend, Saint Joseph County, Indiana, 46614, United States

Precinct Margin: R+28%

Voter 952's Neighborhood

40°21'40"N 74°16'19"W

approx. 222, Tennent Road, Marlboro Summit, Marlboro Township, Monmouth County, New Jersey, 07751, United States

Precinct Margin: D+1%

Voter 953's Neighborhood

39°49'2"N 75°2'18"W

approx. 50, Kelly Driver Road, Village of Glen Oaks, Gloucester Township, Camden County, New Jersey, 08021, United States

Precinct Margin: D+20%

Voter 954's Neighborhood

36°25'59"N 81°26'6"W

approx. 623, Ashe Central School Road, Ashe County, North Carolina, 28640, United States

Precinct Margin: R+44%

Voter 955's Neighborhood

29°32'35"N 98°19'5"W

approx. Kitty Hawk Middle School, 840, Old Cimarron Trail, Universal City, Bexar County, Texas, 78148, United States

Precinct Margin: D+14%

Voter 956's Neighborhood

33°59'51"N 84°34'8"W

approx. Noonday Church, Noonday Church Road, Marietta, Cobb County, Georgia, 30066, United States

Precinct Margin: D+40%

Voter 957's Neighborhood

34°15'32"N 117°12'55"W

approx. 26998, Golf Course Lane, Lake Arrowhead, San Bernardino County, California, 92352, United States

Precinct Margin: R+18%

Voter 958's Neighborhood

33°54'51"N 118°19'13"W

approx. 13001, Purche Avenue, Gardena, Los Angeles County, California, 90249, United States

Precinct Margin: D+81%

Voter 959's Neighborhood

36°2'21"N 115°14'22"W

approx. 6778, Cavatina Avenue, Enterprise, Clark County, Nevada, 89139, United States

Precinct Margin: D+21%

Voter 960's Neighborhood

41°39'3"N 83°37'17"W

approx. 3341, Inverness Avenue, Secor Gardens, Vulcan, Toledo, Lucas County, Ohio, 43607, United States

Precinct Margin: D+88%

Voter 961's Neighborhood

44°4'30"N 123°5'48"W

approx. 1199, Lorella Avenue, Eugene, Lane County, Oregon, 97401, United States

Precinct Margin: D+44%

Voter 962's Neighborhood

42°59'39"N 85°55'25"W

approx. 5349, Warner Street, Allendale, Allendale Charter Township, Ottawa County, Michigan, 49401, United States

Precinct Margin: R+15%

Voter 963's Neighborhood

40°38'49"N 74°23'21"W

approx. Forest Road Building, Forest Road, Fanwood, Union County, New Jersey, 07023, United States

Precinct Margin: D+36%

Voter 964's Neighborhood

42°55'1"N 88°10'39"W

approx. Stonecrest Road, Glen Oaks Estates, Muskego, Waukesha County, Wisconsin, 53150, United States

Precinct Margin: R+41%

Voter 965's Neighborhood

39°16'4"N 76°51'10"W

approx. 3799, Garand Road, Gray Rock, Howard County, Maryland, 21042, United States

Precinct Margin: D+37%

Voter 966's Neighborhood

34°45'46"N 111°55'59"W

approx. North Oak Creek Valley Road, Yavapai County, Arizona, 86325, United States

Precinct Margin: R+16%

Voter 967's Neighborhood

42°7'39"N 85°56'40"W

approx. 40910, 80th Avenue, Decatur Township, Van Buren County, Michigan, 49045, United States

Precinct Margin: R+16%

Voter 968's Neighborhood

32°46'22"N 97°20'2"W

approx. 1301, Poindexter Avenue, Fort Worth, Tarrant County, Texas, 76196, United States

Precinct Margin: D+20%

Voter 969's Neighborhood

44°16'57"N 88°6'12"W

approx. Greenleaf Road, Askeaton, Town of Holland, Brown County, Wisconsin, 54123, United States

Precinct Margin: R+40%

Voter 970's Neighborhood

40°4'50"N 75°10'43"W

approx. 8639, Temple Road, Ivy Hill, Philadelphia, Philadelphia County, Pennsylvania, 19150, United States

Precinct Margin: D+93%

Voter 971's Neighborhood

40°11'5"N 82°53'40"W

approx. 8158, Oxbow Road, Genoa Township, Delaware County, Ohio, 43082, United States

Precinct Margin: R+24%

Voter 972's Neighborhood

29°35'12"N 98°29'31"W

approx. 241, Limestone Creek, Hill Country Village, Bexar County, Texas, 78232, United States

Precinct Margin: R+34%

Voter 973's Neighborhood

34°6'13"N 117°41'22"W

approx. North Central Avenue, College Heights, Upland, San Bernardino County, California, 91786, United States

Precinct Margin: D+42%

Voter 974's Neighborhood

40°16'22"N 74°31'39"W

approx. 189, Park Avenue, Hightstown, Mercer County, New Jersey, 08520, United States

Precinct Margin: D+39%

Voter 975's Neighborhood

41°43'26"N 71°18'48"W

approx. 98, Bluff Road, Barrington, Bristol County, Rhode Island, 02806, United States

Precinct Margin: D+47%

Voter 976's Neighborhood

39°19'10"N 89°32'22"W

approx. 8207, North 22nd Avenue, Raymond, Montgomery County, Illinois, 62560, United States

Precinct Margin: R+50%

Voter 977's Neighborhood

45°6'21"N 93°22'6"W

approx. 6785, 83rd Place North, Brooklyn Park, Hennepin County, Minnesota, 55445, United States

Precinct Margin: D+48%

Voter 978's Neighborhood

32°21'48"N 86°17'36"W

approx. Alabama State University, 915, South Jackson Street, Montgomery, Montgomery County, Alabama, 36104, United States

Precinct Margin: D+79%

Voter 979's Neighborhood

42°7'14"N 72°44'33"W

approx. 32, George Street, Westfield, Hampden County, Massachusetts, 01085-3899, United States

Precinct Margin: D+19%

Voter 980's Neighborhood

39°33'15"N 119°57'47"W

approx. Hawk Meadow Trail, Verdi-Mogul, Washoe County, Nevada, 89523-3829, United States

Precinct Margin: R+9%

Voter 981's Neighborhood

35°52'57"N 78°44'42"W

approx. 3168, Glen Royal Road, Raleigh, Wake County, North Carolina, 27617, United States

Precinct Margin: D+40%

Voter 982's Neighborhood

28°41'24"N 81°22'18"W

approx. 1600, Orlando Avenue, Seminole County, Florida, 32750, United States

Precinct Margin: R+6%

Voter 983's Neighborhood

40°43'55"N 73°51'41"W

approx. 97th Street & 62nd Drive, 97th Street, Rego Park, Queens, City of New York, New York, 11374, United States

Precinct Margin: D+3%

Voter 984's Neighborhood

44°16'30"N 70°30'11"W

approx. 32, Richards Lane, Paris, Oxford County, Maine, 04281, United States

Precinct Margin: R+7%

Voter 985's Neighborhood

45°1'56"N 87°11'49"W

approx. 3435, Fairview Road, Town of Baileys Harbor, Door County, Wisconsin, 54202, United States

Precinct Margin: D+19%

Voter 986's Neighborhood

37°9'42"N 76°30'57"W

approx. 448, Waverly Place, Windsor Great Park, Newport News, Virginia, 23608, United States

Precinct Margin: D+21%

Voter 987's Neighborhood

44°2'58"N 123°0'25"W

approx. 1299, D Street, Springfield, Lane County, Oregon, 97477, United States

Precinct Margin: D+20%

Voter 988's Neighborhood

35°19'41"N 119°3'42"W

approx. 5448, Cherry Tree Lane, Bakersfield, Kern County, California, 93309, United States

Precinct Margin: D+19%

Voter 989's Neighborhood

33°38'29"N 112°4'45"W

approx. WinCo Foods, 330, West Bell Road, Central Park Village, Phoenix, Maricopa County, Arizona, 85023, United States

Precinct Margin: D+0%

Voter 990's Neighborhood

39°30'39"N 75°40'47"W

approx. Jamison Corner Road, New Castle County, Delaware, 19709, United States

Precinct Margin: D+28%

Voter 991's Neighborhood

35°29'35"N 80°50'44"W

approx. 577, Greenway Street, Downtown, Davidson, Mecklenburg County, North Carolina, 28036, United States

Precinct Margin: D+35%

Voter 992's Neighborhood

40°19'40"N 75°19'36"W

approx. 246, East Broad Street, Telford, Bucks County, Pennsylvania, 18969, United States

Precinct Margin: R+4%

Voter 993's Neighborhood

33°50'21"N 84°21'14"W

approx. 1019, Crane Road Northeast, Atlanta, Fulton County, Georgia, 30324, United States

Precinct Margin: D+40%

Voter 994's Neighborhood

42°45'38"N 71°3'58"W

approx. 263, Salem Street, South Groveland, Haverhill, Essex County, Massachusetts, 01835, United States

Precinct Margin: D+13%

Voter 995's Neighborhood

37°20'38"N 108°35'51"W

approx. Bravo! Cleaning & Restoration, 723, West 4th Street, Cortez, Montezuma County, Colorado, 81321-3299, United States

Precinct Margin: R+14%

Voter 996's Neighborhood

27°17'56"N 80°20'40"W

approx. 267, Southeast Ray Avenue, Port Saint Lucie, Saint Lucie County, Florida, 34983, United States

Precinct Margin: R+2%

Voter 997's Neighborhood

40°35'13"N 73°40'6"W

approx. 145, West Olive Street, City of Long Beach, Nassau County, New York, 11561, United States

Precinct Margin: D+42%

Voter 998's Neighborhood

40°46'57"N 73°31'52"W

approx. 20, 18th Street, Birchwood at Jericho, Hicksville, Town of Oyster Bay, Nassau County, New York, 11753, United States

Precinct Margin: D+9%

Voter 999's Neighborhood

36°48'47"N 76°44'25"W

approx. 47, Virginia Avenue, Windsor, Isle of Wight County, Virginia, 23487, United States

Precinct Margin: R+36%

Voter 1000's Neighborhood

29°4'5"N 81°2'17"W

approx. Port Orange Fire / Rescue Station 4, Airport Road, Sabal Creek, Port Orange, Volusia County, Florida, 32128, United States

Precinct Margin: R+26%